Most of the common users don't know what DNS is exactly; let alone how to change it on Windows. In the following content, I'll introduce the DNS to you and tell you 3 different ways to change DNS in Windows 10 easily.
Please resort to MiniTool if you have any data & disk problems and backup needs.
DNS Settings Windows 10
What Is DNS
First of all, I'll tell you what does the word DNS mean. DNS, short for Domain Name System, can be regarded as the phonebook of the internet. This is actually a hierarchical and decentralized naming system designed for any resources connected to the internet/private network, such as computers and services.
What's the exact function of DNS?
In general, people can get access to the information on the internet through domain names (such as apple.com and microsoft.com). Well, all the browsers can interact via Internet Protocol (IP) addresses. What DNS does is translating the domain names to corresponding IP addresses so that the internet resources can be loaded correctly.
How to fix if you encountered a 404 not found error after entering the URL to address bar:
In order to make the information access process more secure and reliable, people desire to know how to change DNS on Windows 10. That's what I will talk about in the new few paragraphs.
How to Change DNS on Windows 10
In addition to better security and reliability, there are also some benefits that explain why people want to change DNS in Windows 10.
Go to enjoy the parental control features.
Make use of the web filtering business features.
Make browsing faster and get better browsing experience.
Method 1: Change DNS in Windows 10 via Settings App
Press Win and I buttons on the keyboard to open Settings app (there are other ways to open Settings in Windows 10).
Look for Network & Internet (Wi-Fi, airplane mode, VPN) and click on it.
Select Ethernet (in some devices, it is displayed as Wi-Fi) from the left sidebar.
Look for the Related settings area on the right panel.
Click Network and Sharing Center link under it.
Select Change adapter settings from the left sidebar.
Your network connections will be listed in order.
Right click on the certain network and choose Properties.
Keep Networking tab selected and choose Internet Protocol Version 4 (TCP/IPv4) under This connection uses the following items.
Click on the Properties button below.
Check Use the following DNS server address, instead of Obtain DNS server address automatically.
Enter the preferred DNS server and Alternate DNS server you want to use.
Click on the OK button at the bottom to confirm changes.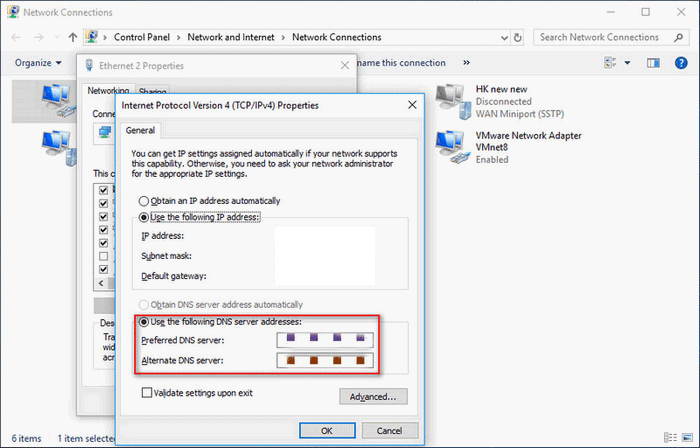 Method 2: Change DNS Settings through Control Panel
Click on the Windows logo button in the lower left corner.
Scroll down to find Windows System Then, expand it.
Select Control Panel under it.
View by Category and click Network and Internet.
Click Network and Sharing Center on the right pane.
Select Change adapter settings from the left sidebar and repeat step 7 ~ step 13 mentioned in method 1.
Method 3: Change DNS Settings Windows 10 by Using Command Prompt
Open Windows 10 search box and type cmd into it.
Right click on Command Prompt app from the search result.
Choose the first option – Run as administrator – from the context menu.
Type netsch and press Enter.
Type interface show interface and press Enter.
Type interface ip set dns name="ADAPTER-NAME" source="static" address="X.X.X.X" (ADAPTER-NAME is the name of the certain network adapter while X.X.X.X is the IP address of the DNS you want to use) and press Enter.
Type interface ip add dns name="ADAPTER-NAME" addr="X.X.X.X" index=2 and press Enter.
Wait a few seconds for the operations to complete.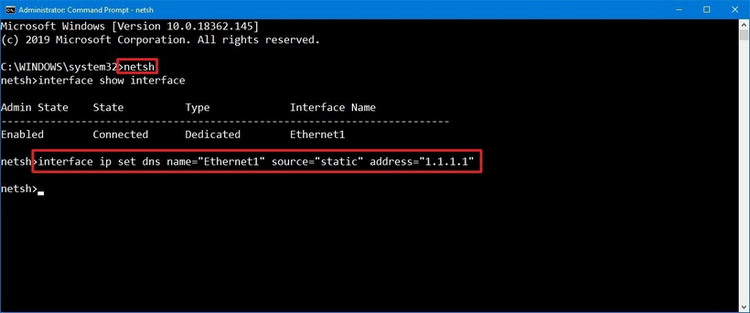 By the way, the built-in Command Prompt utility can also be used as a wonderful tool to recover lost files on your PC. Please click here to know how to retrieve files in different cases.
That's all about how to change DNS settings on Windows 10 device.