Probably you have noticed that there is a list of files & folders that you have opened recently in Windows 10 File Explorer or taskbar. It is handy for you to quickly access some files but you may don't like this situation and try to clear recent files in Windows 10 and disable recent items. In this post, MiniTool will provide some easy options for you.
Windows Shows Recent Items
When you right-click on an app icon on the taskbar, Windows will show you a list of recent items that you have opened with this program. Additionally, when you open Windows 10 File Explorer, you will find the frequently accessed places and recently opened files.
These makes it easy to access files that you use often. This way, you can access the recent items to choose the file you want to use and get right back to work rather than burrow through File Explorer.
However, some of you don't like the display of your recent files or apps and frequent places because of privacy. You can clear Windows 10 recent files or turn them off.
How to Clear Recent Files in Windows 10 via File Explorer
Step 1: Open File Explorer, click File and choose Change folder and search options.
Step 2: Under the General tab, click the Clear button to clear File Explorer history immediately.
This way can easily help remove recent files from Quick Access. But there will be some newly added files after you use the computer for a period time and you need to clear recent files in Windows 10 again.
If you don't want to do this work again and again, you can uncheck these two options – Show recently used files in Quick access and Show frequently used folders in Quick access.
How to Disable Recent Items and Frequent Places
Additionally, some recent items can be viewed in the taskbar, so how to remove them? Here are 3 methods for you to disable them in Windows 10.
Clear Recent Items via Settings
Step 1: Go to Settings > Personalization.
Step 2: Click Start in the left pane and then switch the option – Show recently opened items in Jump Lists on Start or the taskbar from on to off.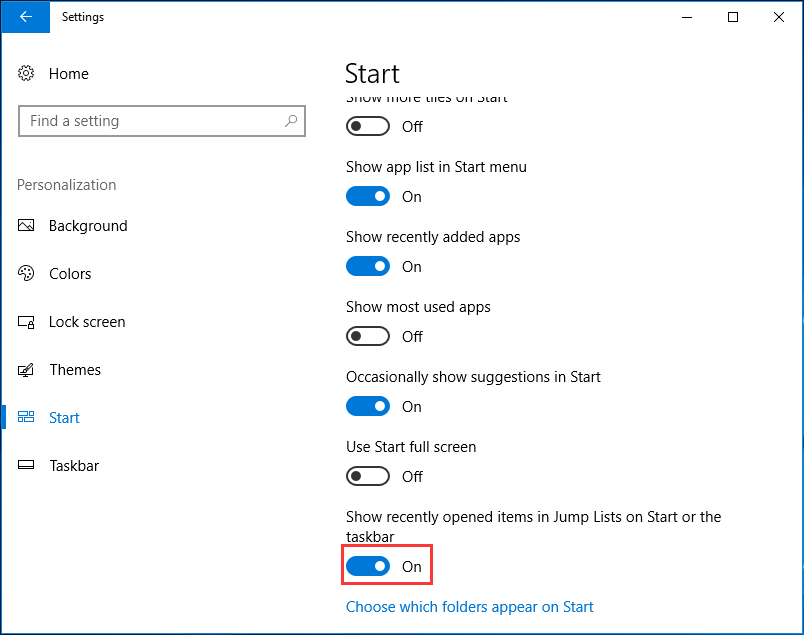 This way, all the recent items will be cleared. Of course, anything that you have explicitly pinned will still be kept. But, the way cannot turn off recent items and frequent places for all users. To achieve this aim, resort to the next two methods.
Clear Recent Files Windows 10 via Group Policy
Step 1: Search for gpedit.msc in the search box and press Enter to open Local Group Policy Editor.
Step 2: Navigate to User Configuration > Administrative Templates > Start Menu and Taskbar.
Step 3: In the right panel, double-click on Do not keep a history of recently opened documents and check the Enabled option.
Step 4: Click OK. To let the change take effect, restart your computer.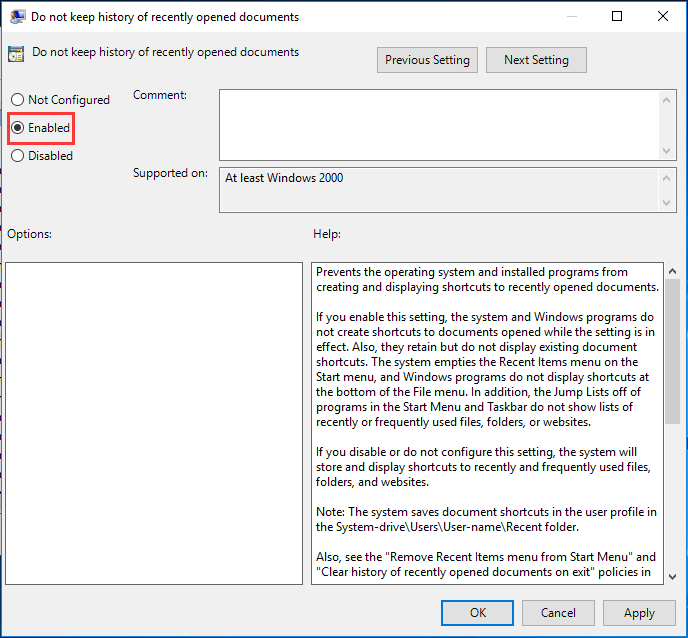 Disable Recent Items and Frequent Places via Windows Registry
If you are using Windows 10 Home Edition and want to turn off recent items and frequent places for all users, you can do it with Windows Registry.
Tip:
Before you do, you should
back up registry keys
firstly since a correct operation to Registry may cause the system to crash.
Step 1: Open the Run window by pressing Win + R keys, type regedit.exe and click OK.
Step 2: Go to Computer\HKEY_LOCAL_MACHINE\SOFTWARE\Microsoft\Windows\CurrentVersion\Policies\Explorer.
Step 3: Double-click on the key – NoRecentDocsHistory and change the value data to 1.
The End
After reading this post, you have known how to clear recent files in Windows 10 and how to disable recent items. Just try the methods above based on your actual needs.