Cricket 22, a cricket video game developed in 2021, has won people's admiration worldwide. However, so far, many players have complained about the crashing issue of this game. If you also struggle with this problem, you can refer to this article on MiniTool Website.
Cricket 22 can generate a wonderful sensation of excitement in you, and also, at the same time, a sudden crash can destroy your delightful experience. So, why does that happen?
Why is Your Cricket 22 Constantly Crashing?
You may encounter some accidents when you are engrossed in the game experience of cricket 22, such as a sudden crash, freezing, or not launching on Windows PC.
As usual, if you find your cricket 22 crashes on Windows PC, you may consider if the game files are lost or corrupted, if your game patch version is outdated, or whether your PC configuration is compatible or not.
Apart from that, there may be other potential causes for cricket 22 crashing, such as antivirus software, outdated graphics drivers, or unnecessary background tasks.
You can apply different methods according to the specified situation. So, how to fix the cricket 22 crashing issue.
Solutions to Cricket 22 Crashing
Check System Requirements
Cricket 22 crashing can happen when your system is unable to support the game. Therefore, first of all, you need to check if your system is capable to run this game.
Minimum requirements:
OS: Windows 10 or higher
Processor: Intel Core i3/AMD Ryzen 3 or higher
Memory: 8 GB RAM
GPU: AMD Radeon R7 260/NVIDIA GTX 650Ti or equivalent, minimum 2GB VRAM
DirectX: Version 11
Storage: 45 GB of available space
Recommended requirements:
OS: Windows 10 or higher
Processor: Intel Core i5/AMD Ryzen 5 or higher
Memory: 16 GB RAM
GPU: AMD Radeon RX 5500 XT/NVIDIA RTX 2060 or higher
DirectX: Version 12
Storage: 45 GB of available space
Run as Administrator
If you find the system is compatible, you can try to run the game as an administrator and see if cricket 22 can run well on Windows.
Step 1: Right-click on the Cricket 22 exe shortcut file on your PC.
Step 2: Open the Properties box and click the Compatibility tab.
Step 3: In the Settings part, check the box of Run this program as an administrator.
Step 4: Click on Apply and select OK to save changes.
Update Graphics Drivers
As we have mentioned above, your cricket 22 crashing may owe to the outdated GPU drivers. So you can try to update graphics drivers.
Step 1: Press the Windows and X keys together and click Device Manager from the list.
Step 2: Double click on Display adapters and right-click on the dedicated graphics card that you're using.
Step 3: Select Update driver and choose to Search automatically for drivers.
After that, the system will automatically download the available version and then you need to restart your PC.
Run a Clean Boot
When you encounter the cricket 22 crashing, some apps may be eating up a lot of internet connection and system resources. You can perform a clean boot, helping eliminate software conflicts that occur when you install a program or an update or when you run a program.
Step 1: Press Windows + R keys to open the Run box.
Step 2: Type msconfig to open System Configuration.
Step 3: Switch to the Services tab and check the box of Hide all Microsoft services. Click on Disable all and then OK to save your choices.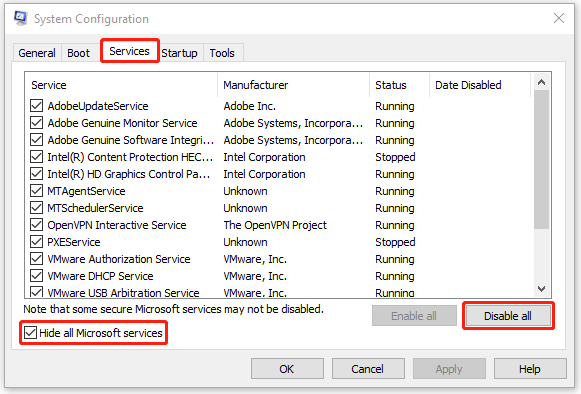 Step 4: Switch to the Startup tab and click on Open Task Manager.
Step 5: In the pop-up window, go to the Startup tab and check their Startup impact. Select those with higher startup impact and disable them.
Then, you can restart your PC.
Close Unnecessary Background Applications
You can reduce the consumption of the CPU usage by closing some unnecessary running tasks to tackle the cricket 22 crashing issue.
Step 1: Type Task Manager in the Search box and open it.
Step 2: In the Processes tab, choose what you want to close and click End task.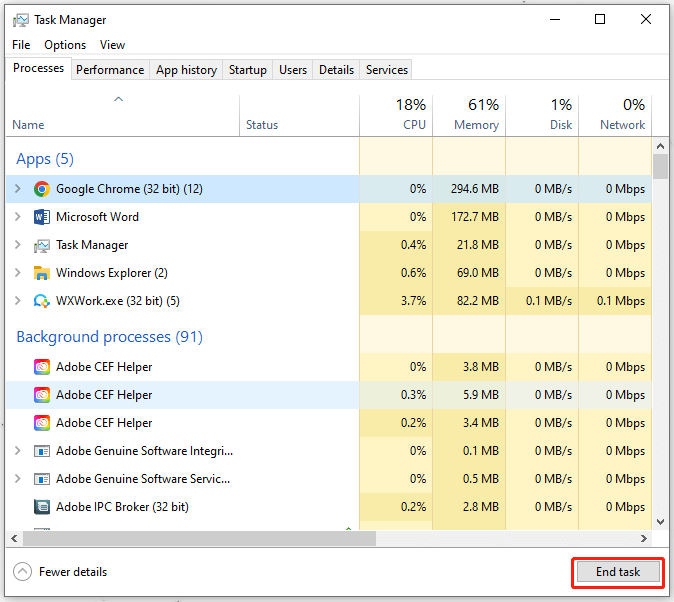 After finishing, please reboot your PC.
Check the Integrity of Game Files
You can check if any corrupted files obstruct the well functioning of cricket 22.
Step 1: Launch Steam on your PC and click on Library.
Step 2: Right-click on Cricket 22 and choose Properties from the menu.
Step 3: In the Local Files tab, click on the Verify Integrity of Game Files button.
With the process completed, you can try your game.
Temporarily Disable Antivirus Programs
There is some security protection software being too aggressive to allow games to run properly. Therefore, if the above methods turn out to be useless, just try to disable the antivirus program.
It is recommended to turn on the antivirus program to protect your PC after resolving your problem.
Step 1: Open Settings and select Update & security.
Step 2: In Windows Security, click Virus & threat protection.
Step 3: Click on Manage settings and turn off the Real-time protection.
Once done, you can reboot your PC.
Update Windows
It is worthwhile to check your Windows update when you find your cricket 22 can't run well on Windows. If there is any available version, you'd better update and install it.
Step 1: Open the Settings and then click on Update & Security.
Step 2: Click Check for updates.
Then you can see the latest version. Please download and install it.
Bottom Line:
Cricket 22 is a popular game. When you are immersed in the game experience, none of you want to be interrupted by a sudden crash. Now, you have learned multiple solutions to fix the cricket 22 crashing issue. Let's have a try!