You may add some contacts to your Google account. Contacts you saved to your Google Account are synced with Google Contacts. If you want, you can edit or delete your contacts in Google Contacts.
How to Delete Google Contacts?
Step 1. Open Chrome browser and go to Google Contacts page.
Step 2. Select the contact you want to delete. You can select a single contact or several contacts. Or you can select all contacts by checking any contact and click the down-arrow icon at the top left and click All to delete all Google contacts from your Google account.
Step 3. Then you can click More -> Delete to delete Google contacts to Trash.
Step 4. The deleted Google contacts will in Trash for 30 days. After 30 days, they will be deleted forever. If you want to delete the contacts permanently, you can select the contact in Trash and click Delete forever.
How to Edit Google Contacts?
Still, you can open Google Contacts page and click the contact name you'd like to edit.
Next click Edit icon and edit the Google contact. After editing, you can click Save to save the changes.
How to Undo All Changes to Your Google Contacts
Google allows you to undo all the changes you made to your Google contacts in the past 30 days. But please be aware that those Google contacts you permanently deleted from Google Contacts Trash column are unrecoverable.
To undo Google Contacts changes, you can go to Google Contacts page, and click Settings icon at the upper-right corner. Select Undo changes, and select a past time you want to go back to. Click Confirm to undo changes to your Google contacts.
However, if you restore Google contacts to a past time like 10 days ago, then the contacts you added in the past 10 days are not showing up. Therefore, it's advised you export your Google contacts before you undo changes to contacts.
How to Export Your Current Google Contacts
In Google Contacts page, you can select a single contact, multiple contacts or all contacts.
Next you can click Export in the left column, choose Google CSV, and click Export to export your Google contacts to a CSV file.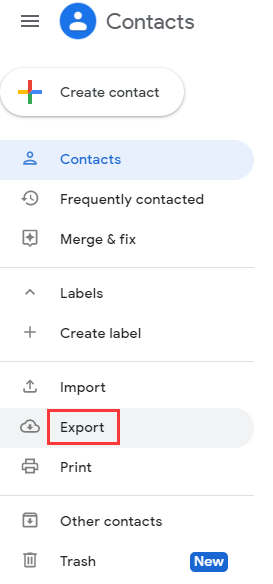 Recommended Free Software to Recover Deleted/Lost Files
MiniTool Power Data Recovery is a professional free data recovery software that is compatible with Windows 10. This program lets you recover any deleted/lost files from Windows computer, external hard drive, SSD, USB, SD card, memory card, and more. It helps you recover data under various data loss situations. It's 100% clean and extremely easy-to-use.
You can connect your device to your Windows computer, choose the target device and click Scan button. After the scan, you can check the recovery result and check needed files, then click Save button to store the recovered files to a safe place.
However, if you are a Mac user, you should turn to a top Mac data recovery software to recover data on Mac.