COD Vanguard Dev Error 10323
You may encounter COD Vanguard dev error 10323 when gaming. As the name suggests, this error is one of the dev errors so there are no specific ways to fix it. Luckily, you can find some possible solutions in this post. Let's start now!
How to Fix Dev Error 10323 Vanguard?
Fix 1: Update Graphics Driver
It is very important to keep the graphics driver up-to-date when gaming and the cause of dev error 10323 Vanguard may be due to the outdated or corrupted graphics driver.
Step 1. Right-click on the Windows icon and highlight Device Manager in the drop-down menu.
Step 2. Expand Display adapters to show your graphics driver.
Step 3. Right-click on your graphics driver and choose Update driver.
Step 4. Hit Search automatically for drivers and follow the on-screen instructions to update the GPU driver automatically.
Fix 2: Disable Texture Streaming
Another unofficial way to change graphics settings is to disable the Texture Streaming feature.
Step 1. Open Call of Duty Vanguard and go to its main page.
Step 2. Click Settings > Graphics > Display.
Step 3. Scroll down to find On-Demand Texture Streaming, hit it and then turn off On-Demand Texture Streaming.
Fix 3: Refresh Game Files
Like any other game error, dev error 10323 Vanguard can be the direct result of missing or corrupted game files. You can make use of the Scan and Repair feature in the Battle.net client to help verify the integrity of game files.
Step 1. Run Battle.net Client and choose Call of Duty Vanguard.
Step 2. Press Options > Scan and Repair > Begin Scan. This scanning and repairing process may take some time, please wait patiently.
Fix 4: Disable Overlay
It is reported that dev error 10323 Vanguard may appear when you are using some applications with overlay functions. In this case, it is highly recommended to disable those apps with overlay, for example, Discord, MSI Afterburner, NVIDIA GeForce Experience and Spotify.
Fix 5: Delete Battle.net Cache
It is a good option to delete the Battle.net cache when suffering from dev error 10323 Vanguard.
Step 1. Close all the apps and programs associated with the game.
Step 2. Press Win + R at the same time to open the Run box.
Step 3. Type %ProgramData% and hit Enter.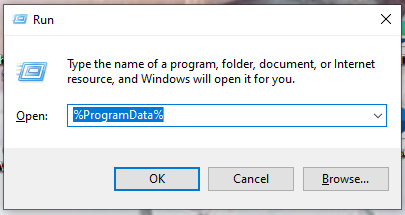 Step 4. Locate the Blizzard Entertainment folder and right-click it to choose Delete.
Step 5. Restart your device and relaunch the game again to see if the error is gone.
Fix 6: Reinstall the Game
If dev error 10323 Vanguard still persists, the last resort is to reinstall Call of Duty. Here's how to do it:
Step 1. Press Win + I to open Windows Settings.
Step 2. In the settings menu, scroll down to find Apps and press it.
Step 3. In Apps & features, find Call of Duty Vanguard and hit it to choose Uninstall.
Step 4. Download & install the game from Battle.net Client to see if dev error 10323 Vanguard is fixed.