Have you ever enjoyed playing Valorant with your friends? If so, encountering an error message that shows Riot Vanguard has crashed must be a very frustrating experience. If you have the same trouble, you can look through these solutions on MiniTool Website for help.
Riot Vanguard Crashed
Valorant is a very exciting shooting game which is very similar to Counter-Strike. Since its release on June 2, 2020, it has gained large popularity among people all over the world. However, this game is also known for some bugs and glitches. In this post, we'll focus on the Riot Vanguard crashed Valorant error and find more solutions for you.  
What to Do When Riot Vanguard Crashed?
Solution 1: Reinstall Riot Vanguard
The Vanguard file will get corrupted when there is a high CPU or Memory usage on this game. In this condition, you had better reinstall Riot Vanguard.
Step 1. Press Win + R at the same time to evoke the Run dialog.
Step 2. Type appwiz.cpl and click OK to open Programs and Features.
Step 3. Find and choose Riot Vanguard and click on it to choose Uninstall.
Step 4. Hit Uninstall again to confirm this action.
Step 5. Launch Valorant after the installation process is done and it will automatically install Vanguard for you.
Step 6. Check if the Riot Vanguard crashed error occurs again.
Solution 2: Remove Cache Files and Crashes Reports
In addition to the vanguard file, the corrupted cache files can also trigger the Riot Vanguard crashed error so you can also delete them.
Step 1. Press Win + R to launch the Run box.
Step 2. Type appdata and hit Enter.
Step 3. Go to the Local folder > VALORANT > Saved.
Step 4. Choose the Crashes folder and right-click to select Delete.
Step 5. Open the webcache folder and choose to delete GPUCache folder.
Step 6. Delete the Cache folder and reopen Valorant to see if encountering Riot Vanguard crashed again.
Solution 3: Turn off the Hyper-V Feature
Hyper-V is a feature that allows the virtualization of a hardware server into several virtual servers. However, this feature will decrease the gaming performance and result in the Riot Vanguard crashed error. Therefore, you must disable it when gaming.
Step 1. Press Win + S to open the search bar.
Step 2. Type turn windows feature on or off and hit Enter.
Step 3. Untick Hyper-V and click OK to apply the changes.
Step 4. Reboot your PC.
Solution 4: Disable Windows Testing Mode
Windows Testing Mode allows you to run the unsigned drivers on Windows operating system but at the same time, it will also cause the Riot Vanguard crashed error. It is advisable to disable this mode.
Step 1. Type cmd in the search bar to locate Command Prompt. Right-click on it to choose Run as administrator.
Step 2. Now, copy & paste the two commands one by one and hit Enter after each command.
bcdedit -set TESTSIGNING OFF
bcdedit -set NOINTEGRITYCHECKS OFF
Step 3. Reboot your computer to see if this error is fixed.
Solution 5: Verify Graphics Drivers
Unverified drivers might trigger the Riot Vanguard crashed error because Valorant doesn't support them. If there are some unverified graphics drivers, you need to reinstall them.
Move 1: Verify Graphics Drivers
Step 1. Open the Run box, type sigverif and then hit Enter to open File Signature Verification.
Step 2. Press Start to begin the signature verification progress.
Step 3. As soon as an unverified driver is detected, it will show you the file name. You can search the file name on Google Chrome to see if it belongs to your graphics driver. If it belongs to your graphics driver, you can execute the next move.
Move 2: Reinstall the Graphics Driver
Step 1. Install Display Driver Uninstaller from the official website.
Step 2. Click on Start and hit the power option.
Step 3. Press Shift and choose Restart to open Windows in the safe mode.
Step 4. Extract the Display driver uninstaller, navigate to the required folder and then double-click on the DDU v18.0.4.9 application.
Step 5. Click Extract and run the Display driver uninstaller application.
Step 6. Select your device type according to your graphics card manufacturer.
Step 7. Press Clean and Restart. This action will uninstall the detected graphics driver and reset your computer.
Solution 6: Run Disk Cleanup
Some corrupted Valorant temporary files may be the culprit of the Riot Vanguard crash so you need to get rid of them in time.
Step 1. Open File Explorer, locate the disk where your Valorant is installed and right-click on it.
Step 2. In the drop-down menu, choose Properties and then choose Disk Cleanup.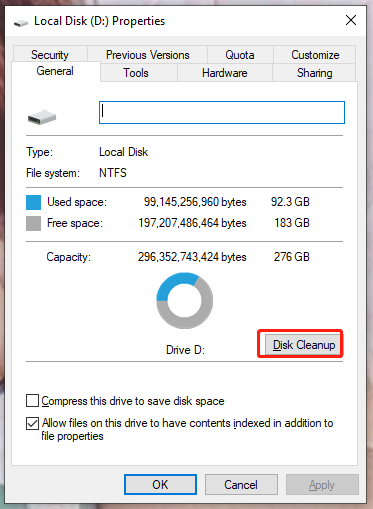 Step 3. Tick all the files in the list and hit OK & Delete Files.
Solution 7: Add Valorant in Exclusion
The chances are that the Riot Vanguard crashed error is caused by the bloc of Windows Defender. As a result, you had better add Valorant to the exclusion list.
Step 1. Go to Windows Settings > Update & Security > Windows Security.
Step 2. Click on Virus & threat protection > Manage settings.
Step 3. Hit Add or remove exclusions under Exclusions.
Step 4. Press Add an exclusion and locate Riot Games > Riot Client > RiotClientServices.exe.