This essay outlined by MiniTool official website mainly introduces the light mode of Discord including its history, disadvantages, memes, and rescue. It also teaches you how to switch between night mode Discord and daytime mode.
Discord Light Mode – a Theme was Almost Abandoned Once
Discord light mode, also known as Discord light theme or Discord white theme, is a kind of background color mode for the Discord app. Originally, it is the default and only background theme of Discord. Until August 6th, 2015, Discord dark mode was released to the world.
Discord dark mode, also called Discord dark theme or Discord night mode, quickly became the main theme and take the most attention from Discord users. Eventually, it became a Discord community inside joke that light mode Discord was bad and you were bad for using it. So, "are you kidding me light theme on Discord" was usually heard.
Besides, Discord officials themselves also thought that work on light theme sucked. "Why work on something that barely anybody uses, that we get made fun of for, and needlessly slows us down?" Moreover, they even once made a joke on April Fool's Day in 2019 by tweeting a post saying "we deleted light theme."
Discord Light Mode vs Dark Mode
In this part, it will talk about which mode do you prefer, the light one or the night one. This topic is hot on not only Discord's official community, but also on third-party forums, discussion websites, social media, etc. like Reddit, Quora, Twitter, Facebook…
In general, more users prefer Discord dark mode for the following reasons.
Everything is easier to see.
Battery-saving.
Night theme looks cooler.
Still, there are a few users that use the Discord white theme because:
They are used to it.
Light mode gives a bright atmosphere.
When they are outside.
Also read: [Wiki-Level Review] Discord Streamer Mode Definition & Function
Discord Light Mode Memes
Many users and enthusiasts had created some Discord light theme memes like below.
"Rare photo of a Discord developer working on the light theme."
And these: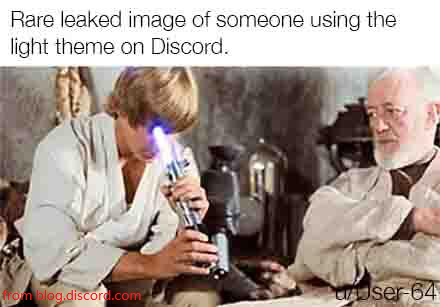 Light Theme Discord Rescue
Those humiliations to Discord light mode irritated their users. They claimed to the official Discord and acknowledged the mistake the officials had made. Thus, Discord turned light them back on earlier than intended. Two engineers and a designer began to work through a total refresh of the interface and underlying code of the light mode.
After the refresh, changes had been made to the top bar, server list, as well as channels list. Next, Discord decided to give the light mode a facelift. They changed the culture around the light theme, which was altered fun to work on.
After referring to the advice of users, Discord has changed its dark sidebar on the light theme to a light sidebar, further adjusted the light color contrast, bumped up the small and thin fonts, and so on. After the Discord light theme update, now, the new Discord light theme is much better and is attracting more users.
Related article: How to Turn on or off Discord Developer Mode on Windows 10/11
How to Change Between Discord Light Mode and Dark Mode?
It is easy to switch between the Discord light theme and dark theme. Just navigate to User Settings > Appearance in the Discord app and select Light or Dark under the THEME section in the right area.
You may also like