Summary :
If you have upgraded Android from 11 to 12 but don't like this new system, you can choose to revert back to Android 11. How can you downgrade Android 12 to 11 without losing data? Go to find methods from this post and you can see two ways mentioned by MiniTool Solution.
Google has released a brand Android system – Android 12 and currently, it is in beta. This new system can bring more personal, safe, and effortless experiences for you with many new features. If you are using a Google Pixel device, you can get Android 12 on your device.
In general, it is always a good choice to keep the firmware latest. But as mentioned, Android 12 is in beta, it may not be stable and you may run into some system issues. In this situation, you may choose to roll back Android 12. In the following part, we will show you two ways to go back to Android 11 from Android 12.
How to Downgrade Android 12 to 11 Without Losing Data
Back up Your Device Before You Uninstall Android 12
Before starting, you should pay attention to one thing – back up your data.
Android system downgrade can wipe all the current data stored on your Android device, including device settings, app data, and all the contents you have saved on the internal storage. So the first thing you can do is to back up your data to Google Drive. Go to Settings > Google > Backup, enable the toggle for Backup by Google One, and click Back up now.
Next, it's time to go back to Android 11 from Android 12 by following the methods for this task.
Method 1: Quit the Android 12 Beta Program
This is an easy way to downgrade Android 12 to 11. If you install Android 12 Beta by enrolling in the Android 12 Beta Program, you can choose this way. If not, you can only go to the next method.
Here is what you should do to uninstall Android 12:
Step 1: Click the link to visit the Android Beta Program website.
Step 2: Log into your Google account that should be associated with the phone running Android 12. Then, you can see eligible devices and know which device is enrolled in the beta. Locate it and click Opt out.
Step 3: A pop-up appears to tell you that you will remove the device from the Android Beta Program and revert the device to Android 11. Just click the Leave beta button to perform the operation.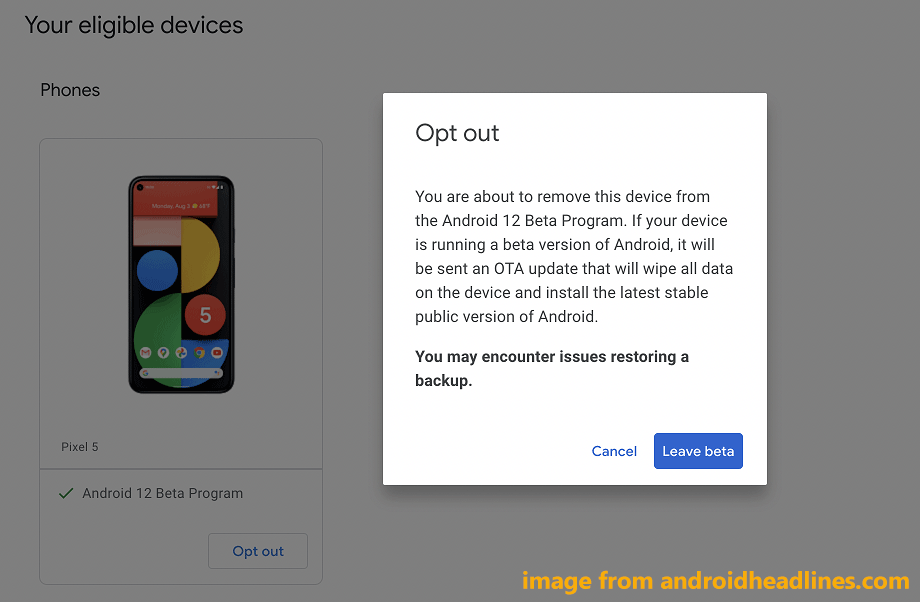 Method 2: Flash Android 11 Image
This way is complicated and will take more time. How to roll back Android from 12 to 11? Take it easy and you can do this task by following the detailed step-by-step instructions.
Step 1: Download Android SDK Platform Tools & Android 11 Factory Image
Go to download a proper version of Android SDK Platform Tools via the download page based on the operating system you are using. After download, unzip the folder to the desired location.
Go to download an Android 11 factory image based on your Pixel device model. To know your device information, go to Settings > About phone.
Unzip the Android image folder and make sure all the contents in that folder are saved to the SDK Platform Tools folder.
Step 2: Enable USB Debugging and OEM Unlocking
Open the Settings app on your phone and go to About phone.
Quickly tap on Build number seven times and then you can see the message "You are now a developer".
Go back to Settings and click System.
Tap on Developer options, enable the toggle for OEM unlocking, and scroll down to find USB debugging, then enable it.
Related article: What Is USB Debugging & How to Enable/Disable It
Step 3: Unlock Bootloader of Your Phone
Connect your phone to a computer. (Related article: What To Do When Your Phone Won't Connect To Computer)
Open the SDK Platform Tools folder, type in cmd in the address bar, and press Enter.
In the CMD window, type adb reboot bootloader and press Enter. Then, your phone will boot into the fastboot mode.
Type fastboot flashing unlock in the CMD window and press Enter after the phone is in the fastboot mode.
Next, a warning message will appear on your phone to ask if you need to unlock the bootloader. Ignore it, use the volume buttons to choose Unlock the bootloader, and press the power button to confirm the selection. This can reboot your phone.
After a phone reboot, make sure USB debugging is still enabled.
Step 4: Flash Android 11 Factory Image
Make sure your phone is in the fastboot mode by executing adb reboot bootloader again in the CMD window.
Type in flash-all and press Enter in CMD. Then, your Pixel device will start the process of downgrading Android 12 to 11.
Step 5: Relock the Bootloader
Enable USB debugging on your phone after flashing the Android factory image.
Ensure the phone is connected to your Windows PC.
Open CMD in the SDK Platform Tools folder.
Execute the command adb reboot bootloader.
Run the command fastboot flashing lock.
Confirm the selection of locking the bootloader on your phone. After the phone reboot, you can use your Android 11 phone.
Final Words
That's all the information about ways to downgrade Android 12 to 11 without losing data. Just choose one way to have a try based on your situation. In terms of method 2, it is complex and you should follow the instructions above step by step.