Is ExpressVPN not connecting on iPhone, Android phone, Mac, or Windows PC? What should you do if ExpressVPN won't connect or work? Take it easy and go to find solutions from this post. Here, MiniTool collects multiple ways to solve this internet issue.
ExpressVPN Not Connecting to Internet
ExpressVPN is a VPN service that has gained much popularity due to its high speed, security, and powerful features. It can be used on various platforms including Windows, macOS, Linux, iOS, Android, Chrome OS, etc. Although it is excellent, this doesn't mean it is exempted from malfunctions and issues.
When using ExpressVPN, you may run into a situation – ExpressVPN not connecting. On the screen, you may see an error message like: "Not Connected" or "Unable to Connect". Sometimes ExpressVPN gets stuck on the "connecting" state or takes a long time to connect. Even sometimes you encounter this situation – ExpressVPN connected but not working.
Well then, what should you do if ExpressVPN not working/connecting happens on your PC, Mac, or phone? Go to find some useful solutions here.
Fixes for ExpressVPN Not Connecting Mac, Windows, iPhone, & Android
Check Your Internet Connection
This is the first thing you should do. If there is no stable internet connection, ExpressVPN won't connect or work properly. Just disable ExpressVPN and go to check the network by visiting a page in the web browser. If you can search the internet, try other methods.
Switch to Another Server Location
In some situations, servers in the network may encounter some technical issues. You can try to use another server location when you can't connect to ExpressVPN. To do this thing:
Launch ExpressVPN and sign in to this VPN service.
Click the three-horizontal-lines menu and choose VPN Locations.
Choose a server from Recommended or All Locations.
Alternatively, when seeing the error "Not Connected", you can also enter the interface of choosing a server location by double-clicking the current server location.
Change ExpressVPN's Protocol
When ExpressVPN not working or connecting happens, changing to another protocol may be useful to fix the issue, and here you can also have a shot.
In ExpressVPN, click the menu icon to choose Options.
Under the Protocol tab, choose another protocol although this VPN service recommends Automatic.
Then click OK and connect to a server to see if ExpressVPN VPN can connect.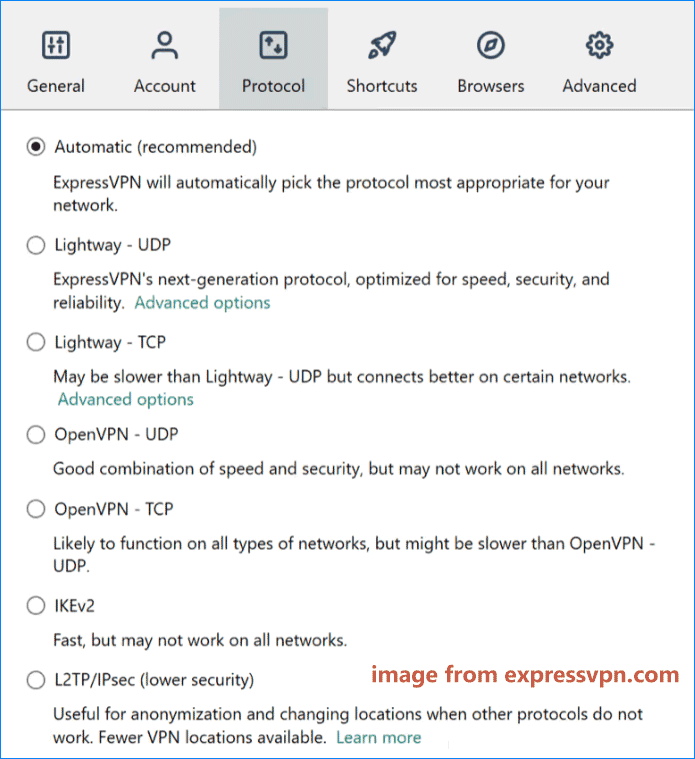 Upgrade ExpressVPN to Its Latest Version
If you are running an old version of ExpressVPN, make sure you upgrade it to the latest version. Just go to visit the official website of ExpressVPN to download the installation file for your device and install it. Then, reconnect this VPN to a server to see if it can work. If the issue of ExpressVPN not connecting still appears, try another fix below.
Related post: ExpressVPN Download & Install for Windows/Mac/Chrome Browser
Disable Anti-Malware and Firewall
If you run anti-malware when using ExpressVPN, it may block the VPN connection. To make sure of a successful connection, you should disable this software. Also, disable the firewall.
On your mobile device, you can uninstall ExpressVPN, uninstall the antivirus program and reinstall ExpressVPN. If you are using a Windows PC, you can disable Windows Defender Firewall by following the post – How to Disable and Enable Windows Defender Firewall.
Send Diagnostic Information
If all of these ways cannot fix your issue, you can contact the support team. Just click the menu icon to choose Help & Support > Diagnostic Information. Then, click Contact Support, check the box of Include diagnostic information, type in the issue you are encountering, and click Send to Support.
Bottom Line
That's the information about ExpressVPN not connecting to internet. If ExpressVPN won't connect to a server, try these fixes mentioned above. Hope this post could help you. Of course, if you find some other useful solutions, welcome to share them with us.