What is Fiddler used for? Is Fiddler free to download? To know more information about this web debugger, read this post, then MiniTool will show you a guide on the tool and Fiddler download for Windows/Mac/Linux & install.
What Is Fiddler Web Debugger?
Fiddler is a free web debugging proxy tool that is used to capture the network traffic between the Internet and test computers to inspect outgoing and incoming data. This can help to modify requests before a browser receives them.
With Fiddler, you can debug traffic from almost any application that supports a proxy like Chrome, IE, Firefox, Opera, and Safari. Besides, Fiddler can be used to debug traffic from multiple platforms like Windows, Mac, Linux, and mobile devices.
This tool supports all the frameworks and makes sure of a proper transfer of cookies, cache, and headers between the client and server.
Telerik offers five Fiddler products – one family for endless debugging and troubleshooting capabilities. And they are Fiddler Everywhere, Fiddler Classic, Fiddler Jam, Fiddler Cap, and Fiddler Core.
Fiddler Everywhere: a web debugging proxy for macOS, Windows, and Linux
Fiddler Classic: a web debugging proxy for Windows
Fiddler Jam: a web-based end-to-end troubleshooting solution
Fiddler Cap: a desktop-based capture app for Windows
Fiddler Core: embeddable .NET library
To know more information about these 5 products, refer to the official website of Telerik Fiddler - https://www.telerik.com/fiddler. Among the family, Fiddler Everywhere and Fiddler Classic are the web debugging proxy tools you may need. Just install one of them on your PC/Mac to get started. If you don't know how to download Fiddler for Windows or macOS, refer to the following part.
Fiddler Download Windows/Mac/Linux – Fiddler Everywhere and Fiddler Classic
Fiddler Everywhere Download
As mentioned above, Fiddler Everywhere is compatible with macOS, Windows, and Linux. Just go to download the proper version based on your PC.
Step 1: Navigate to the Fiddler Everywhere download page.
Step 2: Enter your email, choose a country/territory and state/province, then accept the Fiddler end-user license agreement and click the Download for Windows button to get the .exe file.
If you are using a Mac or Linux PC, click the Download button on the right and get the download file by following the on-screen instructions.
After downloading click the .exe file or .dmg file to start the installing process on Windows or macOS. On Linux, it is required to set the installation file as executable before the installation. After that, create your Fiddler account, style the tool, and capture secure traffic.
If you don't know how to use Fiddler Everywhere, refer to the official help document where you can find how to get started with this tool on Windows, macOS, and Linux from the Cross-Platform Support section.
To uninstall Fiddler Everywhere or Fiddler Classic, go to Control Panel > Uninstall a program and right-click on the Fiddler app to select Uninstall.
Fiddler Classic Download
Fiddler Classic is only available on Windows. To get this web debugger, go to its official download website and then click the Download For Windows button to get the .exe file after entering some information. Next, double-click on this file, agree to the license and then click the Install button to start the process.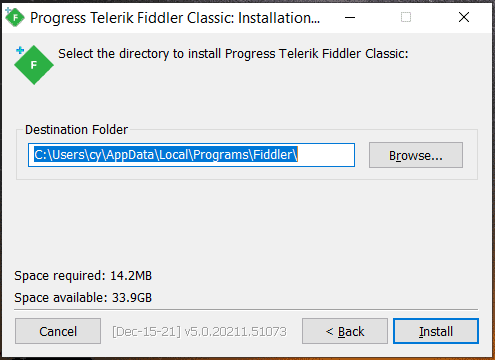 Final Words
That's the basic guide on Telerik Fiddler and Fiddler download Mac/Linux/Windows – Fiddler Everywhere and Fiddler Classic download & installation. Just get one based on your needs for web debugging.