It is important to have a data disaster recovery plan and back up your data in advance. There are two ways to save a copy of your data: file-level and image level backup. In this guide on MiniTool Website, we will show you a detailed introduction on file-level backup. If you are curious about it, scroll down to get more information now!
What Is File-Level Backup?
With the increasing number of malware or virus attacks, backing up your data is becoming more and more important. If you have backed up your data, it is much easier to recover them. Today, we will introduce one type of backup – file-level backup for you.
As the name suggests, file level backup allows you to save individual files or folders to another location. This is the most common backup type and is fast to carry out. File-level backup is quite flexible when you need to recover files including pictures, videos, spreadsheets, Word documents and more in an accidental data deletion or loss.
This type of backup is best suited for personal laptops that don't involve complex system configurations. With a scheduled backup, your critical files or folders are easy to restore. In a word, file level backup is a great solution for saving copies of your files in a healthy operating system.
What Are the Advantages & Disadvantages of File-Level Backup?
Advantages of File Level Backup
It allows you to create a file-level backup several times a day.
Since the backup source is files or folders, the backup size is relatively low and it requires less storage space.
Compared with image-file level backup, restoring files will take less time.
Disadvantages of File Level Backup
It cannot process any database or develop a disk image.
If you need to back up the complete system, this type of backup is not a good choice for you.
File-level backup is only suited to restore limited amounts of data.
Is File-Level Backup Omnipotent?
Although file-level backup is a good choice, its shortcoming is quite evident. For example, when there are some radical changes such as system crashes or hardware failures on your computer, you will not be able to recover your entire system hence the data in the crashed system also cannot be recovered. 
In this case, it is a good option to create an image-level backup of your computer with a reliable backup software – MiniTool ShadowMaker. This useful backup is aimed to back up files, folders, systems, selected partitions and even the whole disk on Windows machines. It allows you to back up your system in just a few clicks. Here's how the one-click system backup works:
Step 1. Launch this tool and click on Keep Trial to get a 30-day free trial.
Step 2. In the Backup page, you can choose the backup source and destination. Since MiniTool ShadowMaker is designed to back up system by default, you only need to choose a destination path in DESTINATION.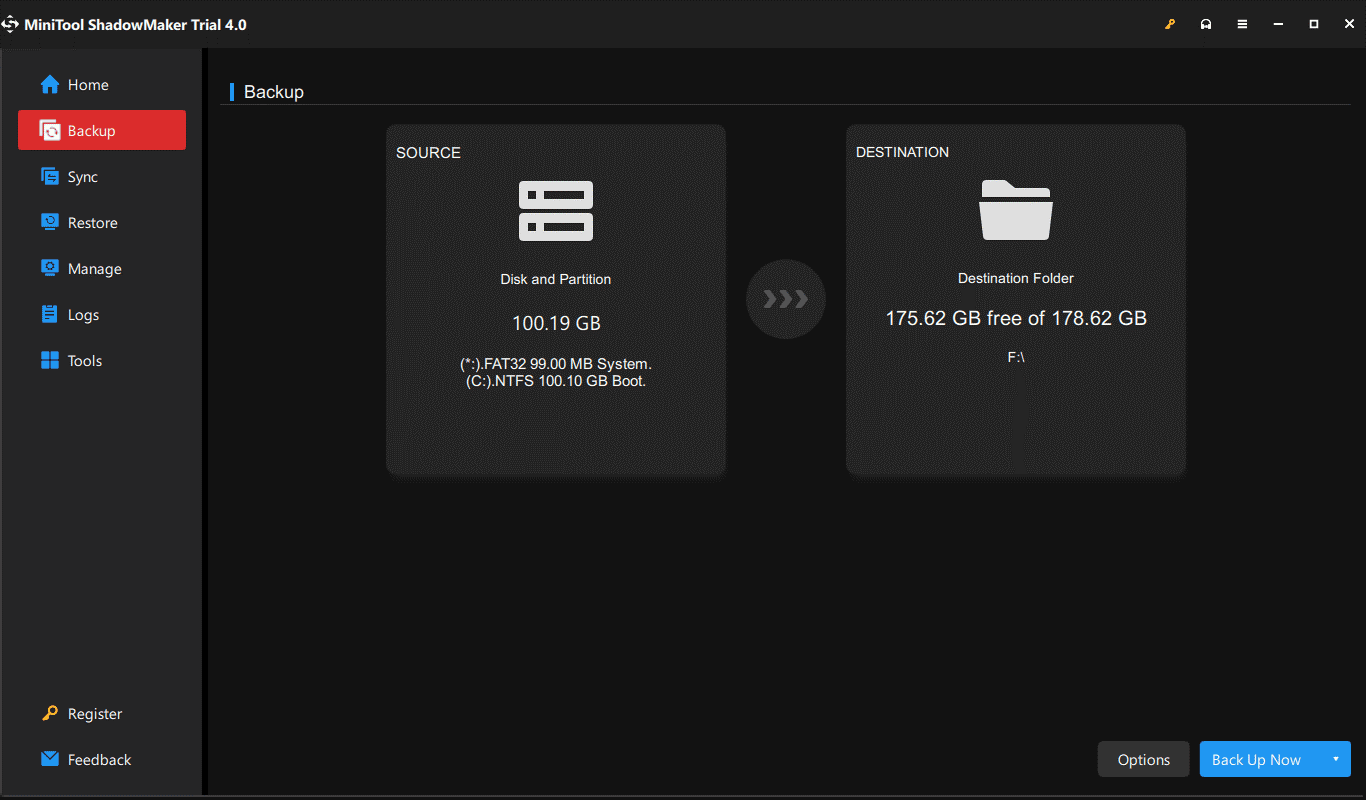 Step 3. Click on Back Up Now to start the backup process at once.
You need to create a bootable disk with MiniTool ShadowMaker. When your computer fails to boot, you can boot your computer from this disk and perform a system recovery with the system image you backed up.
Final Word
Compared with other types of backups, you can perform file-level backup faster because the uploading process is faster. File-level backup is a good choice for restoring files in a healthy system. In case that your system is crashed by accident in the future, you had better create an image backup for your system.