Mozilla Firefox is one of the best and most popular web browsers that can be used in Windows 10/8/7. However, many users have reported that Firefox keeps crashing on startup. If you also have this crashing problem, now get solutions from this post on the MiniTool website.
Firefox Crashing on Startup in Windows 10
If you are a user of Firefox, perhaps you have encountered such a case: when launching Firefox, it can open for a second and immediately closes. Sometimes Firefox opens for a few minutes but crashes finally.
And the Mozilla Crash Reporter window appears saying "Firefox had a problem and crashed. We'll try to restore your tabs and windows when it restarts". When you click Restart Firefox, this web browser crashes at once on startup.
Generally, Firefox keeps crashing in Windows 7, 8, 8.1 and 10. Why does Firefox keep crashing? The reasons for this crash problem contain mismatched cache, incorrect installation, a broken add-on, outdated software, etc.
In the following part, we will discuss some potential fixes for the Firefox crashing problem.
Firefox Keeps Crashing Windows 10 Fixes
Method 1: Check Your Firefox Client Is Up-to-Date
You know some software develops bugs that give rise to strange behavior. The new updates from the supplier can fix these bugs. Thus, if your Firefox crashes constantly, you can check if it is the latest version. If not, update this web browser.
Step 1: In Firefox, click the three-lines menu and click Help.
Step 2: Choose About Firefox to see if it is up-to-date. If yes, you can see a message. If not, there will be an option for you to update the browser.
Method 2: See If You Can Start Firefox in Safe Mode
You should also see if this web browser can start in Firefox Start Mode that temporarily disable hardware acceleration among other settings and turn off installed extensions that may stop Firefox from launching.
If you can run Firefox in Safe Mode, refer to this post - Troubleshoot extensions, themes and hardware acceleration issues to solve common Firefox problems.
Method 3: Restart with Add-ons Disabled
If Firefox crashes constantly, the reason behind it may be a broken extension. To fix this issue, you can restart with add-ons disabled in Safe Mode. In Firefox, go to its menu, navigate to Help > Restart with Add-ons disabled and click Restart.
Method 4: Uninstall and Reinstall Firefox
Sometimes Firefox crashes even in Safe Mode, thus, you can perform a clean install of Firefox in your Windows 10 computer.
Step 1: Go to Control Panel > Uninstall a program to uninstall Firefox from your PC.
Step 2: In File Explorer, go to C:\Program Files\Mozilla Firefox or C:\Program Files (x86)\Mozilla Firefox to delete the installation folder.
Step 3: Go to the official website of Mozilla and download the .exe file.
Step 4: Double-click the file and follow the on-screen wizards to finish the installation process.
Method 5: Clear Firefox Cache
The cache of the websites on your system is helpful to reduce the loading time. But a mismatch in cache computing can cause cache miss and give rise to many problems. Besides, if the cache is corrupted, Firefox keeps crashing in Windows 10.
To fix the problem, you can delete the cache.
Step 1: Click the menu and choose Library > History > Clear Recent History.
Step 2: Set the range to Everything and choose all the checkboxes. Then, click Clear Now.
Additionally, you can clear Firefox cache in File Explorer.
Step 1: Press Win + R, input C:\Users\User_Name\AppData\Local and click OK. User_Name should be replaced with your name.
Step 2: Locate the Mozilla folder and go to Firefox > Profiles.
Step 3: Open the folder ending with .default-release and delete these four folders - cache2, jumpListCache, OfflineCache, startupCache.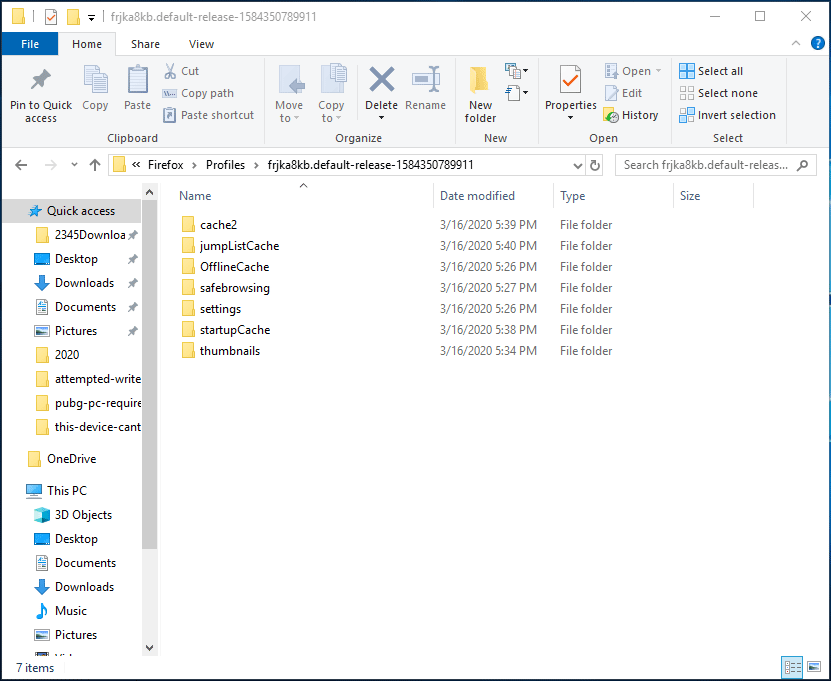 Method 6: Check for Faulty Software and Scan for Viruses
Some programs are known to cause crashes in Firefox. Besides, some viruses or malware can also lead to crashed Firefox. In this case, you should do two things.
Check the release notes to see if any known issues for your version of Firefox exist.
Use an antivirus tool to scan your computer for viruses and malware.
Other solutions
Update Windows
Update your drivers
Refresh Firefox
Check Troubleshooting Information
Final Words
Firefox keeps crashing in Windows 10? Now after reading this post, you clearly know some solutions and you should try these methods above to get rid of the crashing problem. Hope this post is helpful for you.