Summary
The error message of Destination Path Too Long can prevent you from copying or moving files or folders successfully. MiniTool Software collects some solutions that are proved to be effective to fix Destination Path Too Long. You can try them one by one to find the most appropriate one.
Why Destination Path Too Long Happens?
When you copy or move a file or a folder to another path on your Windows, you may receive an error message saying Destination Path Too Long.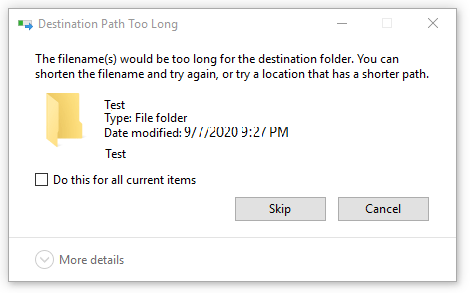 Why does this issue happen?
In theory, Windows has a 256/260 folder and name restriction and this is the main cause of the Destination Path Too Long Windows issue.
This error will interrupt your operation. You need to first fix this issue and then copy or move your file or folder. In this post, we show you some methods that can effectively solve this issue.
Solution 1: Shorten the Name for the Parent Folder
This is the easiest method to fix Destination Path Too Long. But, you should know that it is not available all the time especially when you have numerous files that exceed the length restriction.
If you only have individual files or folders that are bothered by this issue, you can just shorten their names and then execute your operation to see whether the issue goes away.
If you still see the Destination Path Too Long error message, you need to try the next solution.
Solution 2: Change the File Extension to Text Temporarily
If the issue happens to a single .zip or .rar file, you can change the file extension to text and then change it back after moving the file.
If you don't know how to do this job, you can follow this guide:
1. Double-click on the file name and you can enter the edit mode.
2. Change the extension to txt.

3. Move the file to the destination location.
4. Rename the extension to its original format.
While, if you still receive this error message of Destination Path Too Long, go to the third solution to get Destination Path Too Long fixed.
Are you bothered by Windows cannot complete the extraction when you want to extract files in Windows File Explorer? Here are 7 useful solutions.
Method 3: Enable the Long Path Support in Registry Editor
If you are using Windows 10 1607 or the later version, you can enable the Long Path Support via Registry Editor to solve the issue. To be specific, you can disable the MAX_PATH limit in Windows. Before modifying Registry keys, you'd better back up the key for accidents.
Here is a simple guide:
1. Press Win + R to open Run.
2. Input regedit and press Enter to open Registry Editor.
3. Navigate to the following path:
Computer > HKEY_LOCAL_MACHINE > SYSTEM > CurrentControlSet > Control > FileSystem.
4. Find LongPathsEnabled and double-click on it.
5. Modify the value data to 1.
6. Click OK to keep the change.

Then, you can quit Registry Editor and operate the file or folder to see whether you can copy or move them successfully.
Method 4: Use the xcopy Command
When we search for this issue on the internet, we find that some users reflect that they solve it using the xcopy command in an elevated command prompt. This method is worth trying.
If you don't know how to do this work, you can follow this guide:
1. Click Start and search for cmd.
2. Right-click the first result and select Run as Administrator.
3. Copy and paste the following command line to the elevated Command Prompt:
xcopy *path to source files* *path to destination* /O /X /E /H /K
Here, *path to source files* and *path to destination* are simply placeholders for the exact paths. You need to replace the placeholders with the real locations before hitting Enter.
4. Press Enter.
We believe that Destination Path Too Long should be solved after using the above methods.
Added Recommendation
If you delete your files or folders by mistake, you can use professional data recovery software to get them back. MiniTool Power Data Recovery is such a good choice. This software can solve your data loss issue without hurting your computer.