Summary :
It is reported that 0x8009002d is a common error code you may see when you are trying to sign in to your computer running Windows systems. The exact error messages may be different, but the situations are similar. It's PIN or Password related and I would like to share some effective methods for even ordinary users to fix the problem.
You may come across 0x8009002d on your device screen all of sudden. And in general, there will be a brief message to describe the problem, with which you can track down more details. Though the triggers and messages for code 0x8009002d are different, the root reason for causing such error is misconfigured system file.
How To Repair Corrupted Or Missing System Files On Windows 10?
Please let MiniTool take good care of your system!
Fix 0x8009002d When Signing in to Windows Account
The 0x8009002d error code occurs usually when you try to sign in to your Windows account after the computer wakes up from Sleep or Hibernate by using a PIN or Password; it also appears when you change the PIN. When that really shows up on your device, it indicates that there's Windows system files damage.
You may receive this error message:
Something went wrong. We weren't able to set up your PIN. Sometimes it helps to try again or you can skip for now and do this latter.

Other examples of this sign in error:
PIN error 0x80070032: 0x80070032 is one of the most common codes indicating PIN-related problems.
PIN login not showing: you should log in with your password when the PIN login window doesn't show up.
Add PIN does nothing: sometimes, you may be not able to do anything on the PIN login window.
Something went wrong code 0x8009002d restart your device to see if that fixes the problem.
1] Restart Your Computer
Although 0x80070032 is not a fatal error (it won't force the system to crash/freeze), you'll find it's quite annoying. The first thing you should try is to rebooting.
Some users have reported that simply shutting down and restarting the computer has helped fix the error. If one reboot didn't work, please arrange several rounds of it.
Related reading:
If your computer encounters boot problems, how can you recover your files from the internal drive?
For users who keep asking how to recover data from hard disk without OS, this post is enough to help them get rid of data loss troubles.
2] Remove PIN
This works when the error code 0x8009002d is caused by conflict.
Open Settings app by pressing Win + I or other methods.
Select Accounts from the menu you see.
Shift to Sign-in options in the left sidebar.
Scroll down in the right panel to find the PIN section.
Click on the Remove button here and click Remove again to confirm.
Type the password for your account and click on the OK button to confirm.
After that, you can choose to use a password only or try to add another PIN.
What if you forget the correct PIN?
Repeat step 1 to step 4 mentioned just now.
Click I forgot my PIN link under Change and Remove button.
Type the password for your account and press OK (please click Continue if you see an Are you sure window and then click Sign in).
Set a new PIN code and type it twice. Then, click OK to confirm.
In some cases, you still need to go to this path and delete everything in it:
C:WindowsServiceProfilesLocalServiceAppDataLocalMicrosoftNGC folder
3] Turn off Sleep Mode and Reset PIN
How to turn off the sleep mode on your computer:
Open Control Panel in your usual way.
Choose to view by Large icons/Small icons.
Select Power Options from the list.
Click Change plan settings link in the right panel within Preferred plans section.
Look for the Put the computer to sleep option and select Never from the drop-down list.
Click on the Save changes button below to confirm your action.
After that, you should follow the steps mentioned in solution 2 to remove your PIN.
How to Reset PIN:
Stay in the Accounts window in Settings app and keep Sign-in options selected.
Click on the Add button under the PIN section in the right panel.
Enter your password to verify your identity and click OK.
In the Set up a PIN window, type your new PIN twice and click OK.
Wait a second for the action to finish.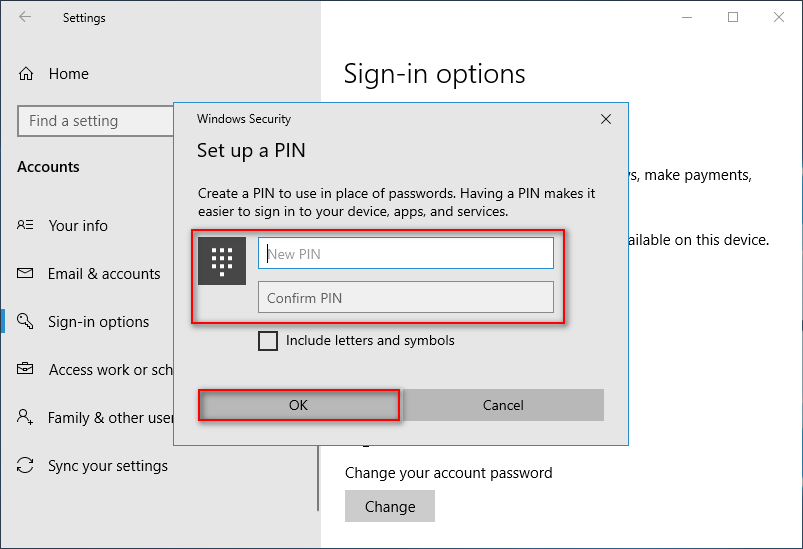 The following methods are available if you need fix 0x8009002d on Windows 10 phone.
Turn off cellular data.
Use Find my phone feature.