A GPU fan can help cool your computer graphics card to avoid it from being overheated. However, some users report the GPU fans not spinning issue.
Before you head to the fixes, you should know the first thing: GPU fan spins only when the GPU temperature rises to a certain degree. You can play a game for a long time and the GPU fans should start up. If the GPU fans still don't spin when the graphics card is heavily stressed, then you may consider there are some other causes for GPU fan not working.
If you are facing the GPU fan not spinning issue, you can check the possible solutions below to help you fix this problem. The solutions can be applied to Nvidia GeForce RTX 2060/2070/2080, GTX 1060/1070 and other series graphics card.
Trick 1. Restart Computer
Sometimes a computer restart can help resolve many computer problems. You may restart your Windows computer to see if it can help fix GPU fans stop working issue. Just click Start -> Power -> Restart to reboot PC.
Trick 2. Install Latest Versions of Drivers
You can make sure all related drivers of computer hardware devices are updated.
You can press Windows + X, and select Device Manager to open Device Manager in Windows 10.
Next expand each device category, right-click the device that you want to update the driver, and choose Update driver. You can also choose Uninstall device, and later reinstall the driver for the device.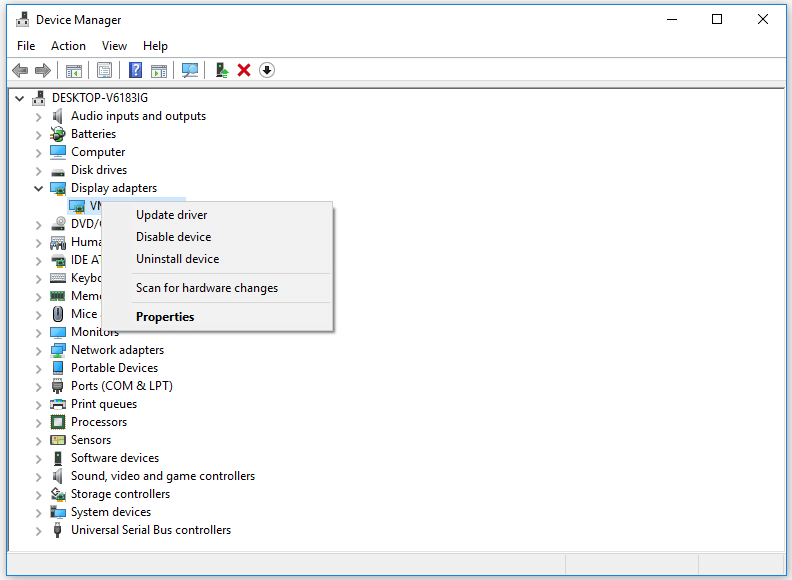 Another alternative way to update device drivers to latest versions is to perform a Windows update. You can click Start -> Settings -> Update & Security -> Windows Update -> Check for updates. Windows will automatically search and install all available latest drivers for your computer.
After that, you can check if the GPU fans not spinning issue has been fixed, if not, try other tips below.
Trick 3. Make Sure the PCle Power Cable Is Plugged In
One of the reason for Nvidia GeForce RTX 2060/2070/2080, GTX 1060/1070 GPU fan not working is that you might forget to plug the PCle power cables from your PSU to GPU. If your computer graphics card has PCle power connectors, you should make sure that they are properly plugged in.
Trick 4. Clean the GPU Fans
If your computer has been used for a long time, then the dust may cause the GPU fans not spinning well. You can remove the GPU and clean it. You can also apply some lightweight mechanical oil on the GPU fans. Then you can install the graphics card and start computer system to see if the GPU fans can work.
Trick 5. Test Graphics Card with Another Computer
If you know how to assemble computer components, you can also remove the GPU and install it to another computer to test if the GPU fan work well.
If none of the tips above can help you fix GeForce GTX/RTX series GPU fans not spinning/working problem, then you may send your computer to professional computer test and repair store for solutions, or replace a new GPU fan.