If you have trouble in connecting to your VPN on Windows 10, this post gathers 6 solutions to help you fix VPN not connecting Windows 10 issue.
What Causes VPN Not Connecting on Windows 10
VPN connection error can be caused by various reasons, e.g. an overloaded VPN server, outdated VPN software, using the wrong protocol, etc. You can eliminate the causes one by one to fix Windows 10 VPN not connecting problem.
Related: Download Free Turbo VPN for Windows 10/11 PC, Mac, Android, iOS
How to Fix VPN Not Connecting Windows 10 – 6 Ways
#1. Check Your Regular Network Connection
The first basic troubleshooting step is to make sure your regular network connection is working well. If your network connection has problems, you can troubleshoot Internet connection problems like reboot rooter and modem, reset TCP/IP, flush DNS, run Windows network troubleshooter, conduct a Netsh Winsock reset, etc.
You can also update or reinstall your network drivers, update your Windows 10 system to the latest version to see it they can fix the VPN issues.
If your regular network connection is working well, you can then continue to check the solutions below to fix VPN not connecting Windows 10 problem.
#2. Make Sure the VPN Login Credentials Is Correct
Check again if you've typed the correct username and password for VPN connection. After that, if you use a free VPN service, you can further check the VPN service provider website to see if the credentials have some changes, find and input up-to-date VPN login credentials to try to connect again.
#3. Try a Different VPN Server
A VPN service often provides many servers you can connect. If the current VPN server you are connecting can't work well or can't connect due to overloaded traffic, you can change to connect to another VPN server to see if it can connect well.
#4. Reinstall VPN Software
If you are using a third-party VPN software, you can check for updates to update the VPN software to the latest version or reinstall it, since VPN software is frequently updated. After you updated the VPN software, you can check if the VPN not connecting issue is fixed on Windows 10.
#5. Disable IPv6 Protocol
VPNs generally only support IPv4. If you are using IPv6, it may cause some VPN connection problems. You can check your network settings and disable IPv6.
Step 1. You can open Control Panel Windows 10, click Network and Internet in Control Panel window, and click Network and Sharing Center.
Step 2. Next click Change adapter settings from the left panel. Then right-click your VPN network adapter, and choose Properties.
Step 3. Tap Networking tab, and uncheck the box next to Internet Protocol Version 6 (TCP /IPv6).
Step 4. Reboot your Windows 10 PC and try to connect the VPN again.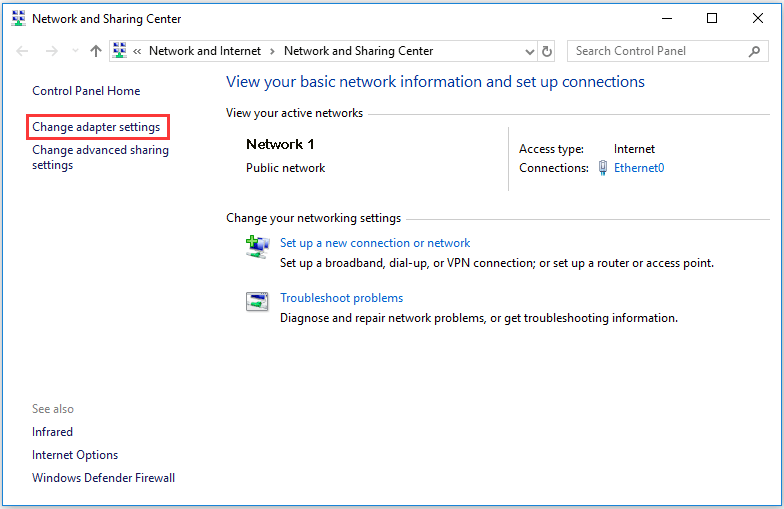 #6. Troubleshoot VPN Not Connecting Windows 10 by Temporarily Disabling Firewall
Windows Firewall will prevent unsecured or unauthorized connection from accessing your computer. Windows Firewall might block the VPN software. To eliminate this cause of can't connect to VPN Windows 10, you can try to temporarily disable firewalls or third-party antivirus software.
You can open Control Panel -> System and Security -> Windows Defender Firewall, and click Turn Windows Defender Firewall on or off in the left panel and disable Windows Defender Firewall.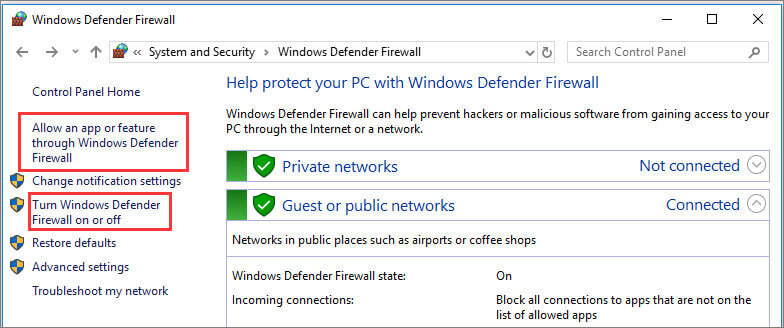 You can also click Allow an app or feature through Windows Defender Firewall in the left pane, and click Change settings button. Find your VPN software and check whether Public and Private Networks are enabled. You can also manually find your VPN software by clicking Allow another app.
Then you can check if it fixed VPN not connecting on WiFi in Windows 10. After that, remember to follow the same steps to enable Windows Defender firewall again since it can protect your computer from malware or virus attack.
Bottom Line
At last, you can also contact your VPN service provider for help. If you have better ways to fix VPN not connecting on Windows 10, you can share with us.