What is Google Chat? How to download Google Chat app and install it on your Windows 10 PC, Mac, Android, or iOS device? It is easy to handle and just follow the guide on Google Chat download & install, as well as on how to use Google Chat. Let's read this post written by MiniTool to find details.
What Is Google Chat?
Google Chat, designed by Google, is used to be a communication service. Initially, it is only available for Google Workspace customers and now it is also available for general consumers. It can offer direct messages, spaces, and group conversations, allows users to share files and create/assign tasks, build collaborative chat rooms, deliver presentations, etc.
Google Chat is a spin-off from Google Hangouts and it is one of two apps to replace Google Hangouts – another app is Google Meet.
Related post: Google Meet vs Zoom: What Are the Features & How to Use Them
Google Chat can be used on a Windows PC, Mac, and mobile platforms (Android & iOS). You can access it via its official website or the app. If you need to use the app on your machine or mobile device, how to download Google Chat for PC/phone and install it? Go to follow the guide below.
Google Chat Download for PC/Mac & Install
The operation is very simple and see the steps on Google Chat app free download & install:
Visit the official website – google.com and sign in with your Google account.
If this app hasn't already been installed on your machine, a popup will appear to ask you to install the app. Just click the Install Then, the app opens automatically after the installation.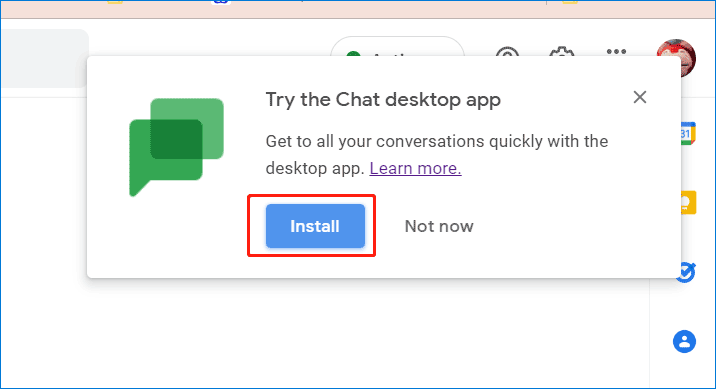 If you cannot see the popup, how to free download Google Chat app & install it for PC/Mac? Try two simple ways:
1. In the address bar, visit google.com and click the Download icon to open a popup. Then, click the Install button.
2. Or you can click the three dots and choose Install Google Chat on the official website to open the popup to install this app on your PC.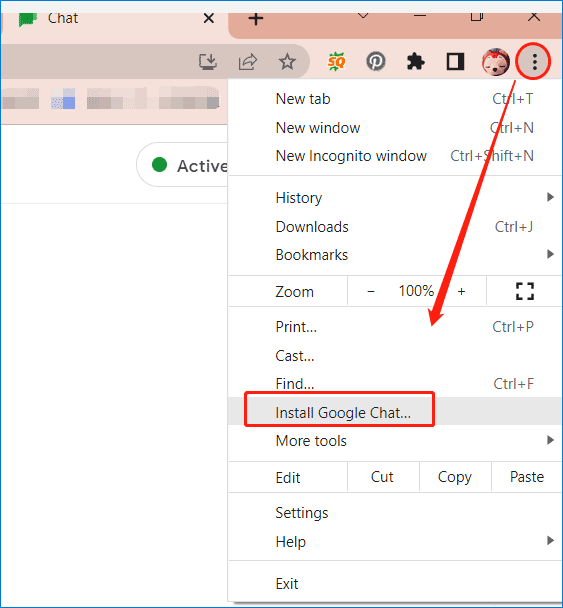 After installing this app, it can open as a separate window on your desktop, like any other app on the computer. Then, you can use Google Chat on your Windows 10 PC or Mac.
How to Use Google Chat
After Google Chat downloading & installing for Windows 10/Mac, you may ask: how to use Google Chat to send a message to a person? Do these steps:
Step 1: Open this app on your machine and go to the Chat section.
Step 2: Find the person you want to send a message to and click it to start the communication. If the person isn't in the list, click the Plus icon > Start group conversation, type the name or email, and press Enter. Then, you can enter a message and click the send icon. Besides, you can send an emotion icon, upload a file and send a video meeting.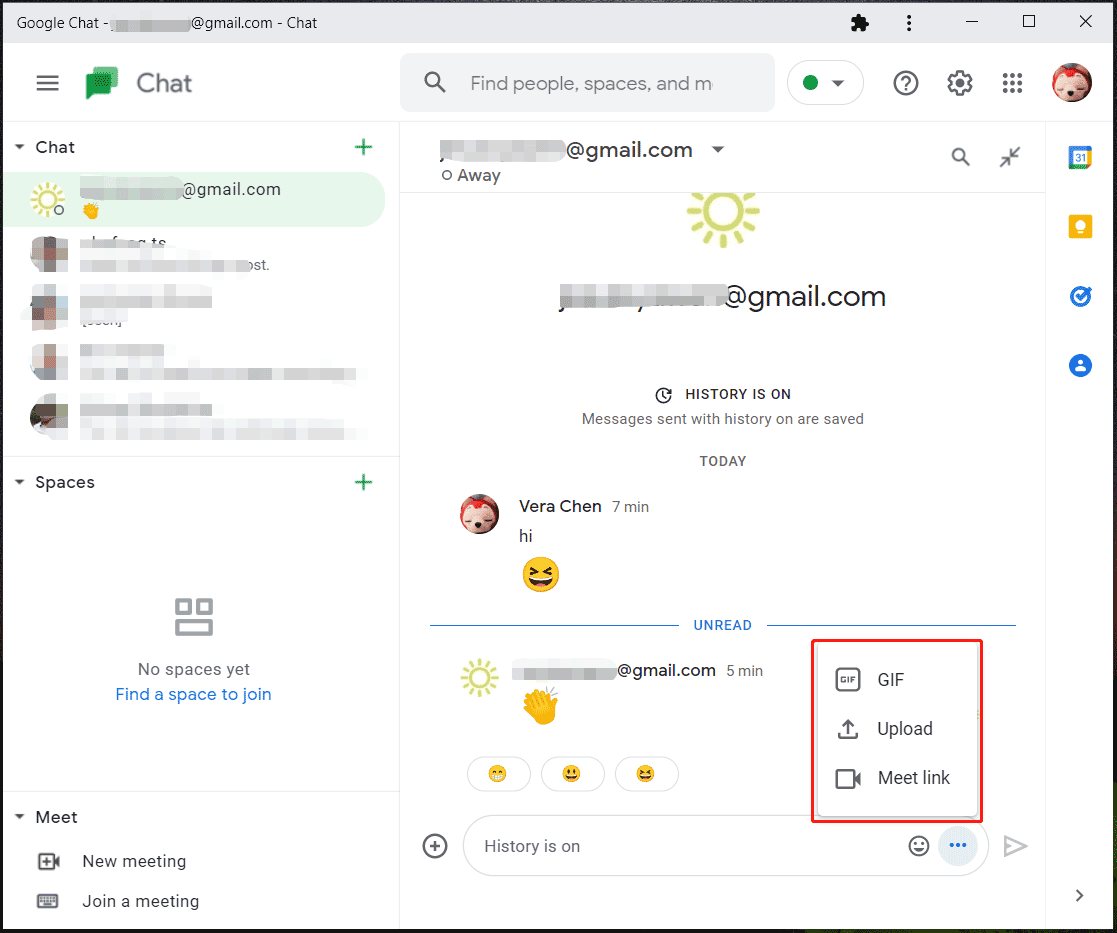 In addition to sending a message via Google Chat, you can create a space, edit/delete text in a conversation, search messages, manage notifications, etc. To know how to do these things, you can visit the official help document.
Google Chat Download APK (Android) & iOS
Google Chat can be used on iOS and Android devices. So, how to download and install it for your mobile device?
You can click the link to download an APK file for Android and install it on the device or directly open Google Play to install this app. In terms of Google Chat iOS, you can access App Store, download and install it.
Bottom Line
If you want to know what Google Chat is, how to download Google Chat app for PC, Mac, Android, or iOS & install, and use it, this post is the one you need. Follow the guide to get the app to communicate with others now.