Google Chrome saves numerous cached files and cookies on your computer. How to access and view Chrome cache files or view Chrome cookies in Windows 10? This post offers detailed instruction. To recover deleted or lost files from Windows computer and other storage media devices, you can use the free tool – MiniTool Power Data Recovery.
Google Chrome has a cache feature and it saves the cached data like files, images, scripts, etc. of the websites you visit onto your computer. It ensures fast loading of content when you visit the websites next time, without downloading partial images or files again. Chrome also uses cookies to track your online activity and login details. If you want to know what kind of files Google Chrome browser collects, you can access and view Chrome cache. You can also learn how to view Chrome cookies below.
How to Access Chrome Cache
Google Chrome cache folder is located: C:\Users\Username\AppData\Local\Google\Chrome\User Data\Default\Cache.
However, you may not find the folder by following the path above. That's because it is a hidden folder. You can learn how to show hidden files in Windows 10.
Alternative ways to view Chrome cache:
Via Chrome extension: You may also find some Google Chrome extensions that allow you to easily check Chrome cached files. Web Cache Viewer is a good choice.
Through desktop Chrome cache viewer software: You can also download some third-party software to access the Chrome cache. ChromeCacheView is one option. You can download its exe file on your Windows computer, and run the exe file. You can see the Chrome cache files in a window after running this program. Then you can select cache files, export them to a text/HTML/XML file, or copy and paste them to Excel. This application doesn't need to install.
Should You Clear Chrome Cache or Keep It
You can freely choose to clear cache or keep it. If you notice that the Chrome caches occupy much space on your computer hard drive, you can clear the Chrome cache.
To clear cache in Chrome, you can open Chrome browser, click the three-dot icon at the top-right corner and select More Tools -> Clear Browsing Data. Select "Cached images and files" if you only want to clear the Chrome cache. Remember to select a time range.
If you want to clear cache for a specific website, you can check this post: clear cache for one site.
How to View Cookies in Chrome
Chrome Cookies are different from caches. Cookies are small files that are mainly used for tracking your online activity with web pages. Cookies read information like your login details. You may find that you have to log into the websites again if you clear cookies.
If you want to view cookies in Chrome, you can follow the steps below.
Open Chrome.
Click the three-dot icon at the top-right corner of Chrome browser. Click Settings.
Click Privacy and security in the left column.
Click Cookies and other sites data in the right window.
Click See all cookies and site data A list of all cookies and sites data is listed now. You can check all cookies in your Google Chrome browser.
If you want to clear Chrome cookies of all sites, you can click Remove All. To delete data for one site, you can click the Trash icon next to the site.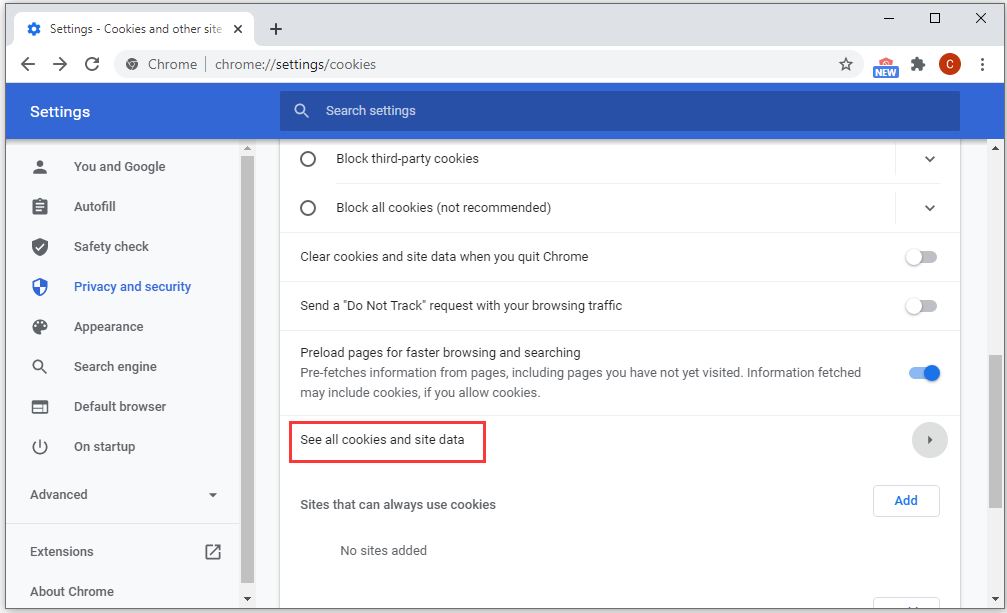 Best Free File Recovery Software for Windows
If you need a free data recovery program to recover deleted or lost files on your computer or other storage devices, you can try MiniTool Power Data Recovery.