Google Drive is a cloud file storage and synchronization service where all your files will be stored in the cloud but some of you may still want a local backup of your Google Drive files. Then, in this article on MiniTool Website, you can learn how to backup Google Drive.
Why Do You Need to Backup Google Drive?
Some people may think Google Drive is a wonderful service used to store, access, and share files. This cloud storage service has many advantages attracting users relying on the cloud; however, there is one big drawback triggering some concerns – being vulnerable to data loss.
Nowadays, the online world is rampant with cyber-attacks, like the most commonly seen forms – viruses, malware, Trojans, and so on. Those attacks can evolve with days and break your defense finally, leading to data loss.
Since cloud storage indeed has some inevitable cons, such as limited size, it is highly recommended to back up your Google Drive to an external hard drive in case of some human errors or cyber-attacks.
How to Backup Google Drive?
There are different ways for you to backup Google Drive files. First of all, you need to find a way to download Google Drive and then you can prepare a backup plan for your Google Drive files.
Method 1: Download Google Drive Files
Log in to your Google Drive account and choose all the files you want to back up. Right-click on them to choose Download and then the files will be zipped on the PC.
Actually, in this step, you've had a backup of those downloaded files on your PC and you can save them in a safe location. But as we mentioned before, an external hard drive would be a better choice to save your important data.
So here, we will teach you how to backup Google Drive to an external hard drive.
You can use this free backup software – MiniTool ShadowMaker – to help backup your data. Download and install this program by clicking the downloading button and you can gain a 30-day free trial version.
MiniTool ShadowMaker TrialClick to Download100%Clean & Safe
Open the program and click Keep Trial. Go to the Backup tab where you can choose your backup source and backup destination. When you finish that, you can click Back Up Now to execute the task immediately.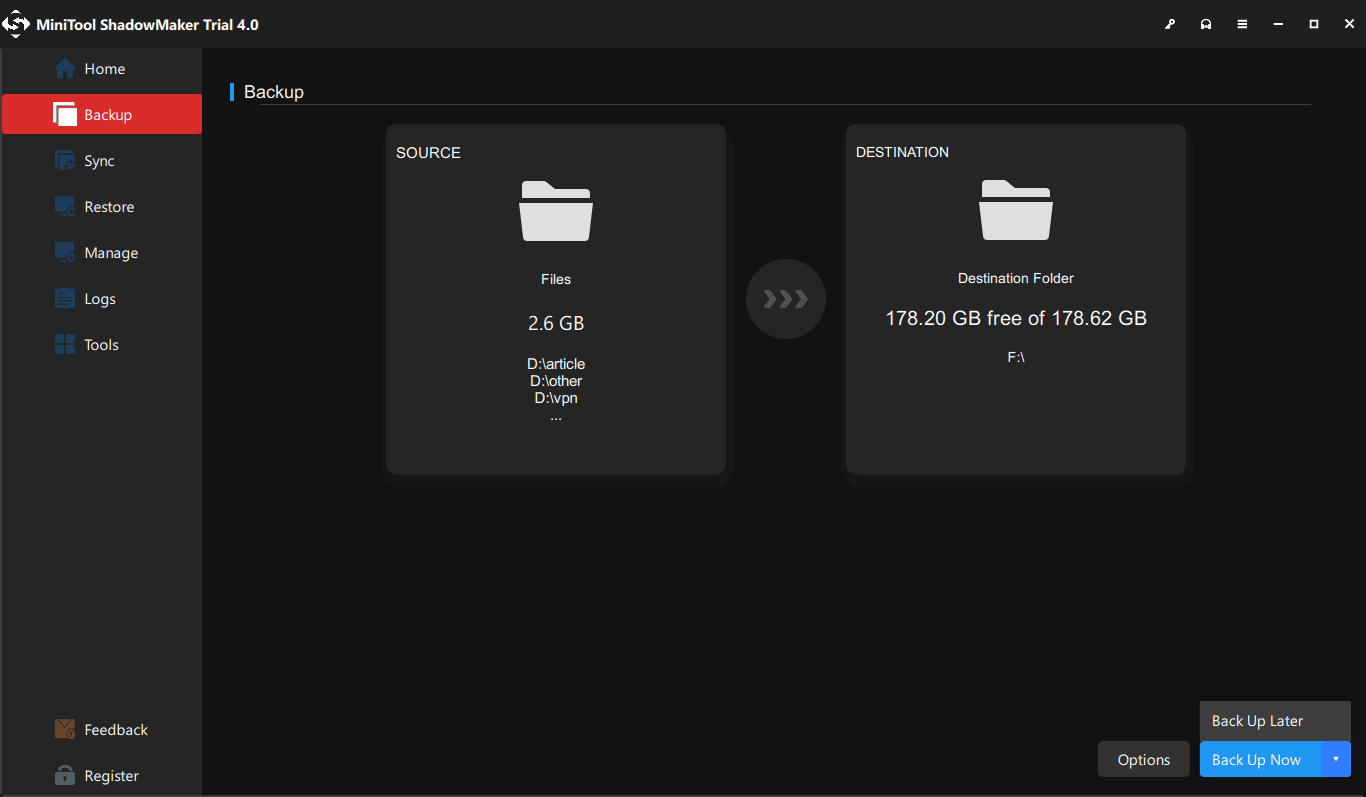 Method 2: Use Google Takeout
Google Takeout is designed to make a one-time copy of all your Google account data, including Google Drive and Gmail. you can use this tool to download all data on your desktop.
First of all, sign in to your Google account and go to the Google Takeout service page where you need to choose what Google data you want to download and follow the requirements to choose what you want. Then click Create archive and the files will be delivered.
If you have any other questions about using Google Takeout, you can read this article: [Fixed] How to Download Your Google Data with Google Takeout.
Bottom Line:
How to backup Google Drive? The methods to prepare a backup of Google Drive files are varied. You can choose the one tailored to your situation. Hope this article can resolve your issue.