The battery is an indispensible part of your mobile phones like iPhone. The normal use of your iPhone is all dependent on battery. You should realize that your battery is not going to be healthy all the time. You need to check the iPhone battery health when necessary or at fixed periods so as to decide whether a new battery is needed or not.
Apple makes its efforts to upgrade and optimize many aspects every time when the new iOS update or the new product is out. The iPhone battery is one of the components that Apple would pay much attention to. That's enough to show how important the battery is to an iPhone.
You need to keep control of the health status of your battery so that you can replace it with a new one in time when necessary. But the problem is how to know the iPhone battery health? The following content shows you how to check battery health on iPhone in different ways, when to replace iPhone battery, and other things you should notice.
Tip:
Some photos and documents saved on your iPhone can be very important that you can't afford to lose. If this is the case, you should back them up automatically or manually. However, if your data are lost from iPhone but you don't have any backup, you should use professional software like Mobile Recovery for iOS provided by
MiniTool
to start recovery at once.
MiniTool iOS Recovery on WindowsClick to Download100%Clean & Safe
How to Check Battery Health on iPhone
It's true that your iPhone's battery degrades over time; the battery degrades slightly every time when you charge it. The iPhone battery capacity (its ability to hold power) will be decreased obviously after it has been used for a long time. You'll need to check battery health iPhone when it can't last as long each day on a single charge.
How To Check/Monitor The Battery Health Of Android Phone?
3 Steps to Check iPhone Battery Health
If your iPhone is running iOS 11.3 or higher, you can view the battery health on iPhone easily in Settings.
Unlock your iPhone as you usually do and browse the apps to find Settings.
Scroll down in the Settings app until you find the Battery Select it.
Tap the Battery Health option (it's under Low Power Mode).
You'll see three options there: Maximum Capacity, Peak Performance Capability, and Optimized Battery Charging. What do they mean? Let's get to know more about these terms in the next sections.
At the bottom of the Battery page, you can find out the battery level, the screen activity over the last 24 hours or 10 days, and which apps used the most battery.
If your iPhone is running an older version of iOS, you should update it first. Then, follow the steps mentioned above to test the current iPhone battery life.
Here's how to update iPhone:
Unlock iPhone and open Settings app.
Scroll down to select General.
Tap Software Update.
Wait for the checking process.
Download & install the available updates by following the on-screen instructions.
Sometimes, the Unable to Check for Update error may appear on the screen to stop you from updating iOS to a new version. Here's how to fix it:
iPhone Show Battery Percentage
Users will find the Battery Percentage option has disappeared from its original location: Settings -> Battery when they are using the newer iPhones including iPhone X, iPhone 11, and iPhone 12. Can they still show the battery percentage?
Luckily, yes. Users only need to swipe downwards from the top-right of the screen to access the Control Center; then, they can find the battery percentage in the top-right corner.
iPhone Maximum Capacity
Maximum Capacity is used to measure the current battery capacity and compare it to the capacity when the battery is new. Thus, a percentage will be shown at the end of the option to describe the current battery status. (This percentage will be reduced over time slightly.)
If you're using iPhone in a normal way, your battery will retain up to 80% of its original capacity at 500 complete charge cycles.
iPhone Peak Performance Capability
The Performance Is Normal
If your iPhone battery is working normally, you'll see this message under Peak Performance Capability:
Your battery is currently supporting normal peak performance.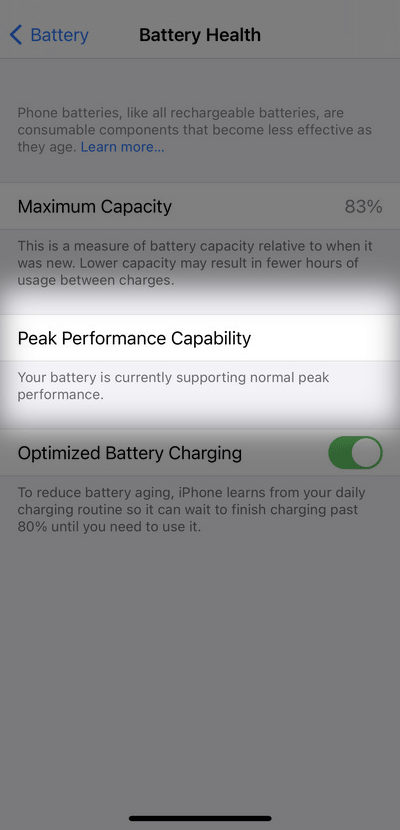 Other Situations
The message of situation 3 ~ 5 will be shown on top of the Battery Health page.
Situation 1:
If the performance management features are applied automatically after an unexpected shutdown, you'll see this message:
This iPhone has experienced an unexpected shutdown because the battery was unable to deliver the necessary peak power. Performance management has been applied to help prevent this from happening again. Disable…
Situation 2:
You'll see this message after clicking on Disable:
This iPhone has experienced an unexpected shutdown because the battery was unable to deliver the necessary peak power. You have manually disabled performance management protections.
Situation 3:
This message shows your iPhone battery health is unknown:
This iPhone is unable to determine battery health. An Apple Authorized Service Provider can service the battery. More about service options…
Situation 4:
If your battery health is degraded significantly, you'll see this:
Your battery's health is significantly degraded. An Apple Authorized Service Provider can replace the battery to restore full performance and capacity. More about service options…
Situation 5:
If your iPhone battery is not genuine, this message will appear:
Unable to verify this iPhone has a genuine Apple battery. Health information not available for this battery. Learn more…
Optimized Battery Charging
You can improve the lifespan of your battery on an iPhone running iOS 13 and later by enabling Optimized Battery Charging, which will help iPhone learn from your daily charging habits.
Can you replace an iPhone battery?
When you need to replace the battery in your iPhone, you shouldn't do it yourself.
If the battery is still in its one-year warranty, please contact Apple Support.
If the warranty is valid, please ask professional agencies for help.
Fix: There Was A Problem Downloading The Software For The iPhone!