If you want to sync Google calendar with Outlook calendar or sync Google calendar with your iPhone, check the guides below.
How to Sync Google Calendar with Outlook
If you use both Google Calendar and Outlook Calendar, you can sync your Google Calendar to Outlook. Check how to do it below.
Way 1. With Outlook.com
Go to https://calendar.google.com/ in your browser to open Google Calendar.
Locate the calendar you want to sync to Outlook, and click the three-dot icon next to it to select Settings and sharing.
In calendar settings window, click Integrate calendar in the left panel.
In the right window, copy the Secret address in iCal format link.
Then go to Outlook.com and log into your account. Click Calendar icon in the left panel and click Add calendar.
Click Subscribe from the web in the left. Paste the Secret address in iCal format link you copied.
Give the calendar a title and click Import button.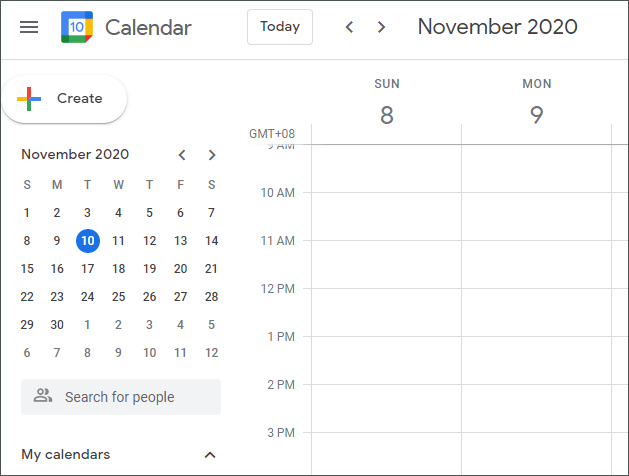 Way 2. With Outlook app for Windows
Open https://calendar.google.com/ page in your browser, click the gear icon at the top-right and click Settings.
Click Import & Export in the left panel. Click Export icon in the right window to download your calendar as an .ics file.
Next you can run Microsoft Outlook app on your Windows computer. Click File in the toolbar and click Import & Export in the left column.
Click Import an iCalendar (.ics) or vCalendar file (.vcs) and click Next.
Select the .ics file you downloaded for your Google calendar and click Open. Click Import to add the Google calendar to your Outlook calendar.
How to Sync Google Calendar with iPhone
Open Settings app on your iPhone.
Tap Passwords and Accounts in the left pane. Check the list of accounts in the right pane and tap your Google account.
If you've logged in your Google account, you will see your Gmail account address at top. Toggle on Calendars and toggle off other services in the list if you only want to sync Google calendar. Tap Save to save the setting.
Open Calendar app on your iPhone and tap Calendars at the bottom.
Select your Google account in the Calendar app and sync Google calendar with your iPhone.
Tip: You can download the Google Calendar app from App Store and sign in with your Google Account. After you sign in, all your events will be synced with your computer and you can use Google Calendar on your computer to view your events.
Related: Download and Install Google Chrome for Windows 10 PC.
How to Add or Combine Google Calendars
To add a new calendar, you can log into your Google account and open Google Calendar page. Click "+" icon next to Other calendars in the left side and click Create new calendar. Type a name and description for the new calendar and click Create calendar.
To combine multiple Google calendars, you can click "+" next to Other calendars and click Subscribe to calendar. Enter the Gmail address you'd like to associate the Google calendar. If you don't have the access, click Request access to apply for access.