If you notice that there is an executable file called HxTsr.exe on your computer, then do you know what it is and what it can do for you? If you don't know, then this post from MiniTool will give you a full introduction about it.
As you know, there are plenty of executable files stored on your computer, such as Dwm.exe and LockApp.exe. And this post will give you some information about HxTsr.exe.
What Is HxTsr.exe?
First of all, what is HxTsr.exe Windows 10? HxTsr is short for Hidden Executable To Sync Remote Servers, and HxTSr.exe is a compressed executable file that you can find in Microsoft Windows operating system. HxTsr.exe stands for Microsoft Outlook Communications.
HxTsr.exe is not an essential executable file for Windows and it is often located in a subfolder of C:\Program Files (e.g. C:\Program Files\ WindowsApps\microsoft.windowscommunicationsapps_17.7466.41167.0_x64__8wekyb3d8bbwe\HxTsr.exe).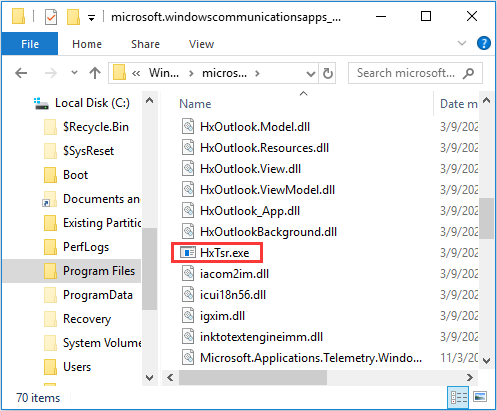 HxTsr.exe is used to establish a connection between Outlook 2013/2016 on your computer and the Microsoft server. Anti-malware or the firewall often marks the file as a false positive in that Hxtsr.exe operation can invade path-based identification rules.
The main tool that often detects HxTsr.exe as a suspicious file is Norton Security antivirus software, but in most cases, this file is safe, not malware. However, some cybercriminals may use the file's name to cover up their malicious programs.
How Do You Know If HxTsr.exe Is a Virus?
As we have mentioned above, HxTsr.exe may be a virus, then how do you know that if HxTsr.exe is a virus? You should pay special attention when you encounter the following symptoms because HxTsr.exe is most likely a virus:
exe is not in a subfolder of C:\Program Files.,
The computer is running slowly.
Application crashes or/and lags.
Error messages often pop up.
CPU usage is higher than usual.
HxTsr.exe process name in Task Manager has a suspicious graphic icon.
If your HxTsr.exe file is a malicious program, then your personal information is likely to be stolen and data may be lost. Therefore, you need to delete this file. And it is highly recommended to use antivirus software to scan your system regularly to protect your computer.
HxTsr.exe High CPU Usage
Sometimes, HxTsr.exe consumes too much CPU that causes the computer to crash. Then how to fix HxTsr.exe High CPU Usage? There are two methods you can try.
Method 1: Make Your Operating System Up to Date
If your Windows system is out of date, then you may encounter the HxTsr.exe high CPU usage error, so updating your system can solve the problem. Here is a quick guide:
Step 1: Press the Win + I keys at the same time to open Settings.
Step 2: Choose Update & Security and then go to the Windows Update tab.
Step 3: Click Check for Updates on the right panel. If there are available updates, Windows will automatically download them. Then restart your computer to perform the installation process.
After you have updated your operating system, the HxTsr.exe high CPU usage error should be fixed.
Method 2: Reinstall Microsoft Office
If updating your system doesn't work, then you can try to reinstall Microsoft Office to solve the problem. Here is the tutorial:
Step 1: Type control panel in the Search box and then click the best match one.
Step 2: Set View by: Small icons and then choose Programs and Features.
Step 3: Find Microsoft Office Pack in the list, and then right-click it to choose Uninstall. Then follow the instructions to uninstall your Microsoft Office.
Step 4: Go to the official Microsoft Office manufacture's website and install the pack manually.
Final Words
This post has introduced what HxTsr.exe is and how to identify whether the file is a virus. What's more, you can also find two methods to fix the HxTsr.exe high CPU usage error.