Do you use the printer in your work and life? Then, you must know before using it, you must download and install the corresponding driver. In this post on MiniTool Website, we will mainly introduce to you how to install, update and download Kyocera print drivers step by step.
Kyocera Drivers Windows 10/11
Kyocera Printer drivers is the required software which communicates your computer and the Kyocera printer attached to it. If you need to use the printer without any issue, the corresponding Kyocera printer driver must be downloaded, installed and updated.
In the following part, we will show you how to download, install and update Kyocera driver step by step.
How to Download & Install Kyocera Drivers on Windows 10/11?
Before using Kyocera printer, you need to download and install the Kyocera drivers on your PC.
Step 1. Go to Kyocera Official Website.
Step 2. Press Download under your country or region.
Step 3. Select Printers from the Product Category drop-down menu.
Step 4. Under Products, select your Kyocera printer model number.

Step 5. Hit Go to open a list of drivers for Kyocera printer and choose a Windows 10/11 driver to download Kyocera drivers.
Step 6. After the downloading process is finished, double-click the executable file and follow the instructions on the screen to install it.
For the printer model number, you can find it on the surface of the printer or in its manual.
To know whether your Windows platform is a 64-bit or 32-bit, type system configuration in the search bar and hit Enter to locate System Configuration.
How to Update Kyocera Drivers on Windows 10/11?
Is your Kyocera printer not working or responding after upgrading to Windows 10 or 11? When the Kyocera Printer driver is outdated, corrupted or incompatible, it will trigger Kyocera Printer not working, printing, detected or recognized. In this case, you need to update Kyocera driver to fix the related issues.
Like any drivers on your computer, it is important to keep the Kyocera drivers up to date to avoid some problems. Therefore, you had better update it regularly.   
Update Kyocera Drivers Via Device Manager
Step 1. Press Win + X and select Device Manager in the drop-down menu.
Step 2. Expand Printer queues to locate your Kyocera printer and do a right-click on it.
Step 3. Press Update driver > Search automatically for updated drivers. Wait for Windows to update and install it automatically.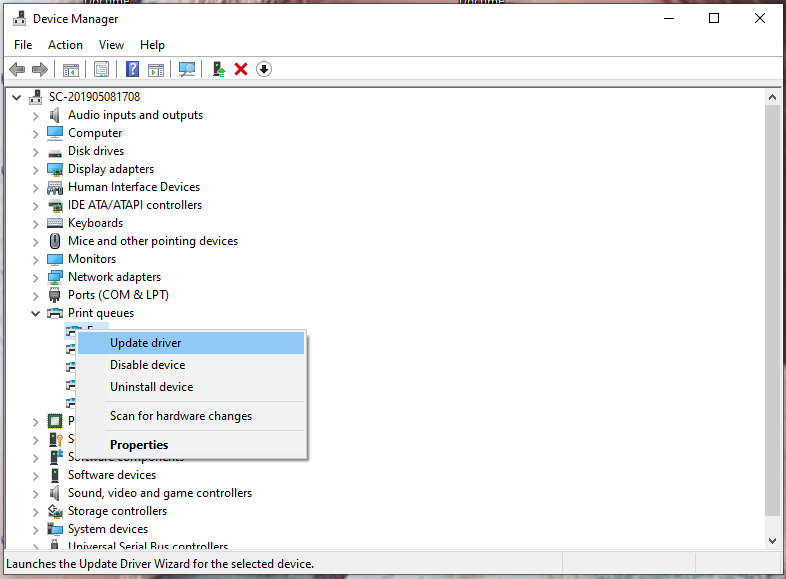 You can also update Kyocera driver manually by downloading and installing the latest version of drivers on the official website after uninstalling the corrupted or outdated one.
Wrapping Things up
Do you know what to do when your Kyocera Printer is not working? The answer is to update Kyocera driver on your device! If you have other ideas about this post, welcome to comment below or send emails via [email protected].