What is LCore.exe? What problems LCore.exe may cause? Is it safe for the computer? Should it be deleted? This post from MiniTool will show you what the LCore.exe is and how to fix the LCore.exe network usage problem.
What Is LCore.exe?
The LCore standards for Logitech Core Game device Driver. The genuine LCore.exe file is a software component of Logitech Gaming Software by Logitech. LCore.exe, the Logitech Gaming Framework, is the primary executable of Logitech Gaming Software which is shipped with all G-series keyboard, gamepads, and gaming mice.
The .exe extension on a file indicates an executable file. However, to some extent, the executable file may harm your computer, thus giving rise to some problems.
So, whether is the LCore.exe is a virus or not? Please read the following to decide whether the LCore.exe file on your computer is a virus or Trojan horse that you should delete, whether it is a valid Windows operating system file or a reliable application.
Is LCore.exe a Virus or Malware?
As we have mentioned in the above part, the executable file would be harmful to your computer. So, if there is LCore.exe file on your computer, the first thing you need do is to determine if a particular file a legitimate Windows process or a virus and determine the location of the executable itself.
In general, the LCore.exe should run from C:\Program Files\logitech gaming software\lcore.exe and not elsewhere.
So, in the following section, we will show you how to check whether the LCore.exe file is a virus or not.
Open Task Manager, navigate to the View > Select Columns > Image Path Name to add a location column to your Task Manager. If you find a suspicious directory here, it may be a good idea to investigate this process further.
Another way to check whether the LCore.exe is a virus is to use the Microsoft Process Explorer. Start the program and activate Check Legends under options, Next, navigate to View > Select Columns and add Verified Signer as one of the columns.
If the Verified Signer status of the process is shown as Unable to Verify, you should notice this process and check whether the LCore.exe is a virus.
Should I Remove LCore.exe?
There is no doubt that you could not remove the safe executable file without a valid reason, because it may affect the performance of any associated program that uses that file.
However, as for the LCore.exe file, some users have removed it and it is harmless. So, if you want to remove the LCore.exe Logitech gaming framework, you can do that.
To remove LCore.exe, you can do that in the Control Panel.
Now, here is the tutorial.
1. Open Control Panel.
2. Then choose Uninstall a program under Programs section.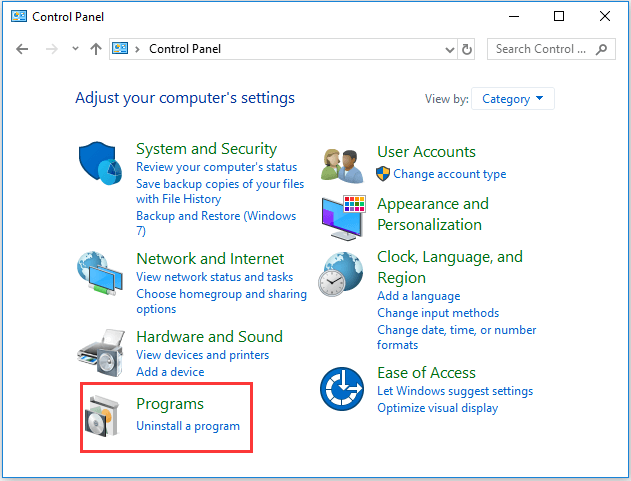 3. Then select the LCore.exe and right-click it. Then choose Uninstall to continue.
When the process is finished, you have removed the LCore.exe from your computer.
Final Words
To sum up, this post has introduced what the LCore.exe is and also has told you how to judge whether the LCore is a virus or not. In addition, we also have shown how to remove LCore.exe Windows 10. If you have any different idea of LCore.exe, you can leave a message in the comment zone.