Due to some reasons, Lenovo Power Manager does not work. Fortunately, you can repair this troublesome issue with the given methods in this post of MiniTool. Try these methods when Lenovo Power Manager doesn't work!
Lenovo Power Manager enables you to take control of your power settings. This helps you maximize performance while maintaining power-saving capability. However, you may encounter the Lenovo Power Manager not working issue after a Windows 10 upgrade.
Tips:
According to user reports, the Lenovo-developed tool does not work at all after the most recent software update is installed on Windows 10.
Why Lenovo Power Manager doesn't work? Here're some common causes for that.
There are compatibility issues with the Lenovo Power Manager.
The driver is faulty or outdated.
The operating system of your PC is outdated.
Based on these reasons, we would like to share 4 methods with you in this post.
Method 1: Run Power Manager Software in Compatibility Mode
To avoid compatibility issues, you can run the executable file of Power Manager in compatibility mode with the steps below. This operation may help you get rid of Lenovo Power Manager not working issue.
Step 1: Navigate to the Power Manager executable file, right-click on it, and then click Properties.
Step 2: Move to the Compatibility tab in the Properties window.
Step 3: Under the Compatibility Mode, look for Run this program in compatibility mode and check the box.
Step 4: Select Windows 7 or other older Windows versions.
Step 5: Now, run Lenovo Power Manager again to see if it works properly.
Method 2: Install Lenovo Settings via Microsoft Store
Lenovo Power Manager does not work if there's something wrong with Lenovo Settings. So, you can try installing Lenovo Settings to solve the issue.
Step 1: Open Microsoft Store from the search box. To do that, type Microsoft Store in the search box and then click Open in the right panel.
Step 2: Search for Lenovo Settings in the search bar of Microsoft Store.
Step 3: Download and install Lenovo Settings.
Step 4: After the installation process ends, restart your computer.
Also read: Microsoft Edge Shortcut Keeps Appearing [5 Solutions]
Method 3: Roll Back to the Previous Lenovo Device Driver
As mentioned earlier, the Lenovo Power Manager not working issue can be caused by a faulty or outdated driver. You can consider rolling back the current driver to the previous one after the discussed issue occurs. If necessary, update the driver.
Step 1: Right-click the Windows icon and then click Device Manager.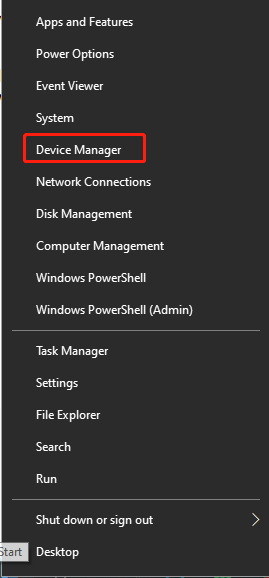 Step 2: Find and expand System Devices.
Step 3: Right-click Lenovo Power Manager and select Properties.
Step 4: Go to the Driver tab and click Roll Back Driver.
Step 5: Restart your computer and check if the Lenovo Power Manager not working issue is solved. If not, try updating the driver.
Likewise, head to the Lenovo Power Manager under System devices.
Right-click on it and click Update driver.
Click Search automatically for drivers or Browse my computer for drivers.
Method 4: Update Windows to the Latest Version
Microsoft often releases new updates to improve user experience. So, they would add new features or offer bug patches to the issues in the previous version in the new update. If Lenovo Power Manager doesn't work, try updating your Windows to the latest version.
Step 1: Open Settings by pressing the Windows + I keys.
Step 2: Click Update & Security > Windows Update.
Step 3: Tap Check for updates. If there are available updates, Windows will automatically download and install them for you. Sometimes, you need to click Download and Install to manually install the update.
Further reading:
For computer issues related to hard drives or partitions, you can fix them by using MiniTool Partition Wizard. For example, it is capable of solving issues like partition not showing up, operating system not found, boot device not found, E drive full, and other confusing errors. It also helps you clean up and optimize your PC.
MiniTool Partition Wizard FreeClick to Download100%Clean & Safe