LifeCam is a well-known line of webcams made by Microsoft. However, some users reported that LifeCam Studio was either not detected or not working on Windows 11. If you are one of them, you can refer to this post from MiniTool to find solutions.
LifeCam Studio may be one of Microsoft's best webcams. Some users report that they encounter the "LifeCam Studio not working in Windows 11" issue.
There can be a number of reasons for the issue, but the most common reason is a driver issue. If you have outdated or corrupt drivers installed, the device will either not be recognized or not work properly. Also, using older versions of Windows, compatibility issues, and USB port issues can also cause errors.
Next, we will introduce how to get rid of the issue.
Method 1: Connect LifeCam Studio to Another Port
If LifeCam Studio doesn't work in Windows 11, first you need to check the USB port. Try connecting another device to the problematic port. If something else isn't working, chances are the problem is with the port and you'll have to service it. If it works normally, you need to try the next method.
Method 2: Reinstall the LifeCam Studio Drivers
The issue can also be caused by the incompatible device driver. So, you can try reinstalling the LifeCam Studio drivers. 
Step 1: Right-click the Start button to choose Device Manager.
Step 2: Double-click both Camera and Imaging devices entry to find LifeCam Studio, right-click it and choose Uninstall device.
Step 3: Restart your PC, and then Windows will automatically reinstall the driver. Or get the latest driver from the website and install it.
Method 3: Update the Graphics Driver
You have to ensure that you are using the latest version of the LifeCam Studio drivers. You will meet the "LifeCam Studio not working in Windows 11" issue. To solve the issue, you need to update the driver.
Step 1: Open the Run box and type devmgmt.msc. Then press Enter to go to Device Manager.
Step 2: Double-click Display adapters to expand it. Then right-click your graphics card driver and choose Update driver.
Step 3: You will be asked how you want to search for drivers in the pop-up window. You should choose Search automatically for updated driver software and then follow the instructions to complete the process.
Method 4: Run Hardware Troubleshooter
You can also try to run Hardware Troubleshooter to get rid of the "LifeCam Studio not working in Windows 11" issue. Here are the steps:
Step 1: Click Start -> Settings -> System.
Step 2: Click Troubleshoot.
Step 3: Click Other troubleshooters.
Step 4: Click the Run button next to the target hardware or device that you have problems with. Your system will run Windows 11 hardware troubleshooter automatically. Let it detect and troubleshoot the hardware problems in your PC.
Method 5: Update Windows 11
Windows updates can help you fix a lot of system issues and bugs. When you encounter the LifeCam Studio is not working in Windows 11 error, you can try installing the latest Windows updates.
Step 1: Press the Windows + I keys together to Open Settings.
Step 2: Click the Windows Update section, click the Check for updates button to check if there are any new updates. Then Windows will search for available updates. Just follow the on-screen instructions to finish the process.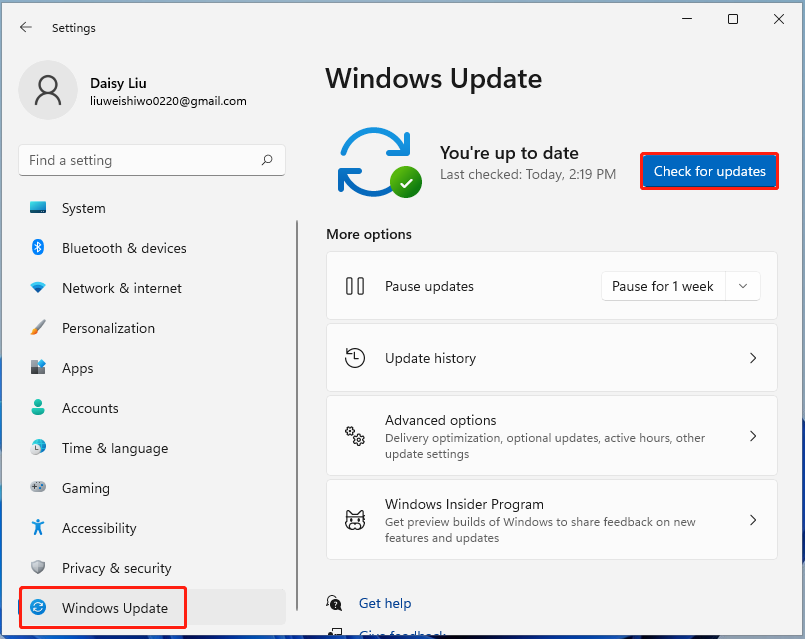 Final Words
Here is all the information on how to fix the LifeCam Studio not working in Windows 11 error. If you meet the same error, you can try the methods mentioned above. Your issue can be fixed by one of them.