This post created by MiniTool Technology gives a complete guide on how to add Steam to Discord and how to get rid of the "Discord won't connect to Steam" issue. Also, it mentions how to disconnect Steam from Discord.
Both Stem and Discord are popular services available for game users. Steam is a video game digital distribution service managed by Valve whereas Discord is an instant message app for gamers to communicate with each other.
Now, Discord and Steam join hand in hand aiming at giving you a more convenient and better experience. Let's see how to combine Steam and Discord service together and enjoy them simultaneously!
How to Link Steam to Discord?
To connect Steam to Discord, you don't have to download and install Steam on your computer. Also, you don't need to get the Discord app since you can complete the task within the web version of Discord.
1. Go to https://discord.com/ and log in to your Discord account.
2. Enter the web version of Discord (the same as the app version).
3. Select User Settings at the bottom of the left panel, the cog behind your profile picture.
4. On the next USER SETTINGS screen, choose Connections from the left menu.
5. Select Steam in the list of services that can be connected to Discord in the right area including Twitch, YouTube, Battle.net, Reddit, Facebook, Twitter, Spotify, Xbox Live, and GitHub.
6. It will ask you to sign in to your Steam account. If you have already done that, you won't see this step.
7. Click Sign in to integrate Steam and Discord.
After one or two seconds, it will tell you the result of the connection with "connected your Steam account to Discord" or "failed to connect your Steam account to Discord".
If you are told to have been connected to Discord, you will find Steam on the connection user settings screen in Discord.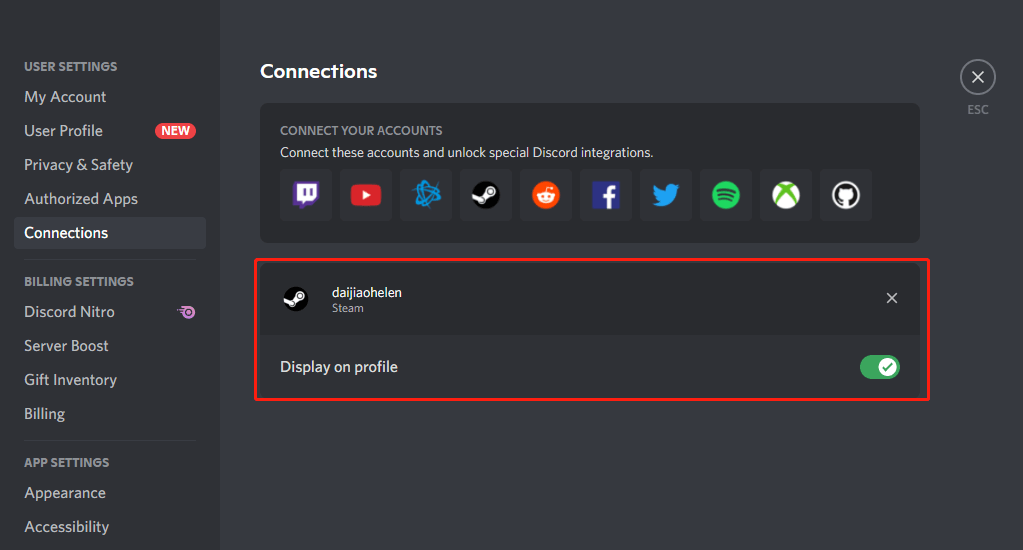 Tip: You can connect your same Steam account to several different Discord accounts.
How to Disconnect Steam from Discord?
In general, it is very easy to unlink Steam from Discord. On the Connections screen in Discord user settings, just click on the cross icon of the connected Steam display section. Then, it will ask you about "disconnecting your account might remove you from servers you joined via this account". Just confirm it by clicking the Disconnect button. Finally, the Steam section will disappear from the Discord Connections setting window.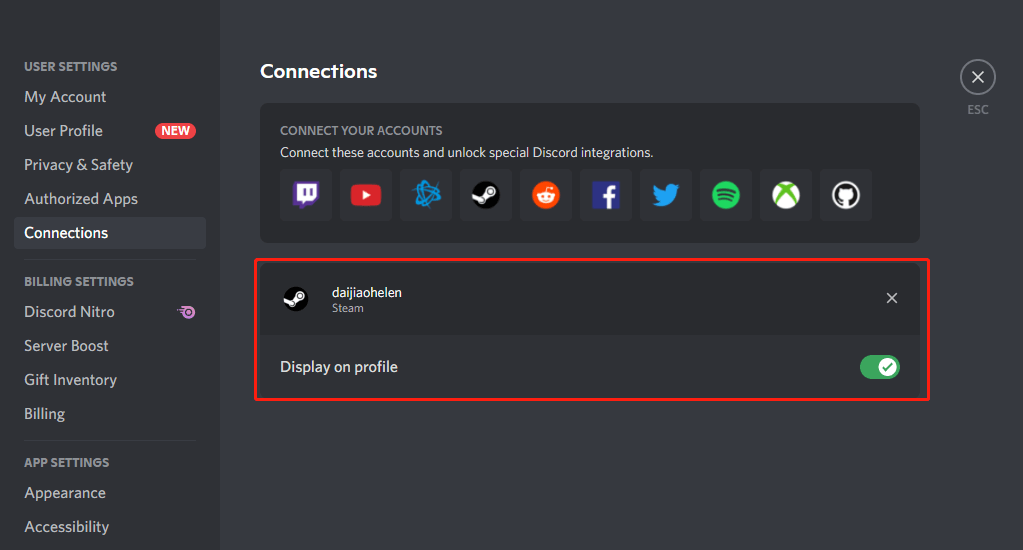 Of course, you can reconnect your Steam account to Discord if you want to. The way is the same as you first add Steam to Discord.
How to Fix "Failed to Connect Your Steam Account to Discord"?
You may encounter Discord won't connect to Steam issue with various error messages like "too many failed login attempts on this network" or "App isn't running or no new accounts are available". If you can't connect Steam to Discord, you can refer to the following possible solutions.
Try to reconnect.
Reopen the Discord webpage or restart Discord app.
Log out and log into your Discord account or Steam account again.
Make sure your Steam is running or logged in if you are using a Steam app.
Restart Steam app.
Uninstall and reinstall Discord.
Uninstall and reinstall Steam if you are using a Steam app.
Switch from Discord web version to app or vice versa.
Relink Steam to Discord with a different web browser.
Restart your device.
Reconnect Discord to Steam on a different device.
Update Discord or Steam app.
Update Windows or reinstall Windows
Make sure there is a stable network connection during the integration.
You may get your problem solved by combing two or more of the above operations. If unfortunately, your issue still exists after doing all the operations, you may need to contact either Discord or Steam support team for help.
You may also like: