This post written on MiniTool official page mainly discusses about a special kind of channel on Discord – NSFW channels. They contain adult materials that are only allowed to be seen by users who are over 18. Learn more Discord NSFW below!
It becomes more and more convenient for us to get access to all kinds of information, online from websites, applications, emails, videos, chats, TVs, etc. or offline from newspapers, magazines, handbills, billboards, books, CDs/DVDs, tapes, USBs, and so on. Yet, there is a problem that it costs us some time to tell which one is trustable, which one is what we really want, and which one is suitable for us.
Especially, for teenagers and kids, there are contents they are not supposed to see including pornography and gambling. Those contents are called adult contents. They should have reminding messages for their readers and only allow people who are above 18 years old to get in.
What Does NSFW Standards for on Discord?
Similarly, on Discord, servers containing adult content are only for adult visitors. They prevent non-adults, whose age is under 18, from stumbling upon them inadvertently by special labels called NSFW, Not Suitable For Wumpus.
NSFW Meaning in Discord
There is another definition of the abbreviation NSFW. It is said that NSFW stands for "Not Safe For Work".
How to Make a NSFW Channel on Discord?
Discord provides a channel setting that allows its users to designate one or more text channels in their servers as NSFW.
Click on the Edit Channel icon (the gear) next to your channel name.
In the Overview tab, scroll down to find the NSFW Channel option and toggle it on.
Click Save Changes in the bottom pop-up message column.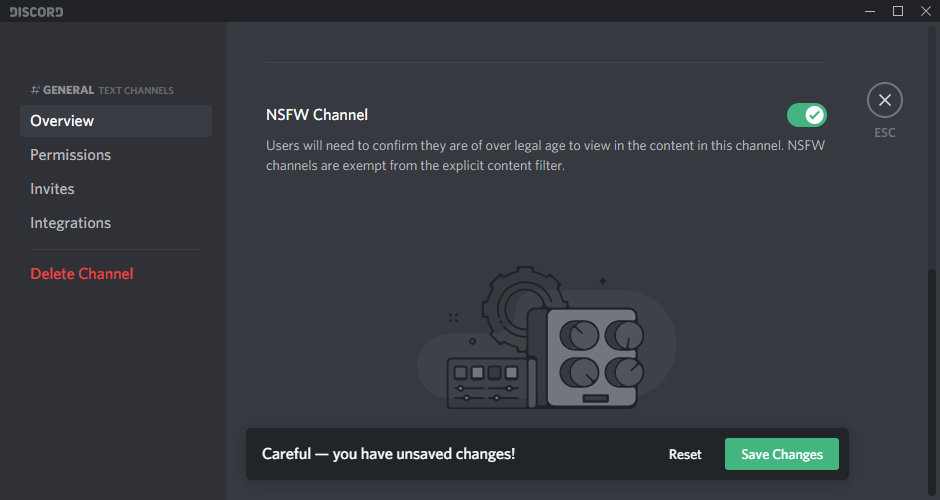 Everyone who opens those channels will be warned with a message that the channels might contain NSFW contents and requiring them to confirm that they are over 18 if they want to visit those channels.
Any content that can't be added into an age-gated channel can't include adult content like server banners, invite splashes, and avatars. Adult content that isn't placed in the Discord NSFW channel will be removed by moderators and the user who posted the content may be banned from the server.
Containing the adult contents in a dedicated place is allowed by Discord standards. Yet, there are still some contents that aren't accepted by Discord. For example, content related to sexualizes minors. For more information about what content you are not allowed to post on Discord, please refer to the official community guidelines or terms of service (TOS)/policy.
Tip: Partner/verified servers can't create NSFW channels and adult content mustn't be contained in those servers.
How to Avoid Seeing Adult Content on Discord?
If you are under 18 or just do not want to be exposed to NSFW Discord, you can specialize your Discord settings for help. To be exact, you need to turn on the explicit media filter in your privacy settings.
Click on User Settings in Discord.
Select Privacy & Safety in the left panel.
In the right area, choose Keep me safe.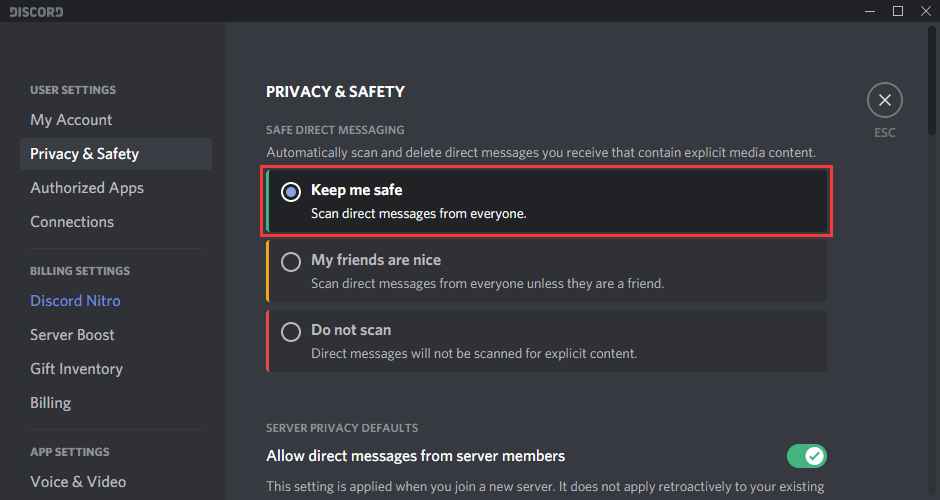 Then, Discord will scan images and videos in all direct messages from everyone and explicit content will be blocked. If you are under 18, Discord's age gate will restrict you from accessing NSFW Discord servers.
How to Unlock Access to NSFW Channels?
If you are over 18 years old and have been locked out of NSFW Discord. You can appeal by the instructions below.
Hold a photo ID that contains your date of birth and a piece of paper that shows your full Discord Tag including your username and the last 4 digits following your username (e.g. helen#0303) and take a photo of yourself.
Initiate a request to the Trust & Safety team via https://support.discord.com/hc/en-us/requests/new.
Fill in the columns according to your situation and finally upload your photo in the Attachments column.
Note:
All the mentioned info needs to be visible and readable in a single photo.
You must send the photo with the email address associated with your Discord account.
Finally, Discord claims that the info you provide will only be used to verify your age and won't be used for any other purpose.
Read more