Madden 22 not working may ruin your game experience. Luckily, this issue is not difficult to deal with. In this guide on MiniTool Website, we will show you how to fix Madden 22 not working on PC/PS/Xbox step by step.
Madden 22 Not Working
It is not surprising to experience Madden 22 download community not working when playing this game. If you happen to be on the same boat, you can fix this issue with the solutions mentioned in this post.
Before trying the fixes below, you need to reboot your controller to see if it helps you out or go to Downdetector to check the server status of Madden 22. If the server is not under its downtime or maintenance, you can try the following fixes one by one.
How to Fix Madden 22 Not Working on PS4, PS5 or Xbox Series?
Fix 1: Clear Cache & Data
It is a good option to clear all the data and cache from your console. Before proceeding, remember to back up the game files to the cloud, or you will take a risk of losing your game progress.
Fix 2: Launch the Game from EA Play
If Madden 22 not working appears on your Xbox or PS console, you can try launching the game from EA Play rather than Xbox apps or PlayStation Store.
Related article: ea-desktop-error-code-10005
Fix 3: Hard Reset Your Console
Performing a hard reset of your console can help to fix many issues in games such as Madden 22 not working, not launching, not loading on the startup screen, lagging, crashing, stuttering, low FPS and even solw game downloading issues. Here are the steps:
For Xbox Series
Step 1. Press the Xbox button to open Guide.
Step 2. Go to Profile & System > Settings > System > Console Info > Reset.
For PlayStation
Step 1. Turn off your PS4 or PS5 console.
Step 2. After your device is powered off, press and hold the Power button until you hear two beep sounds.
Step 3. Choose the corresponding option to reset your PlayStation console and then log into your account.
Step 4. Install Madden NFL 22 game and launch it to see if there is any improvement.
Fix 4: Reinstall the Game
The last resort is to reinstall Madden NFL 22 on your console. This method might be time-consuming but effective. The latest version of game files may contain some patches that are useful for issues like Madden 22 not working.
How to Fix Madden 22 Not Working on Windows 10 & 11?
Fix 1: Check Minimum Requirements
Madden 22 is a popular game that highly depends on your graphics card. Therefore, you should make sure that your computer specs meet the minimum requirements of the game.
Storage: 50GB
Memory: 8GB
OS: Windows 10 64-bit
Graphics: Radeon RX 460, NVIDIA GTX 660
Processor: Athlon X4 880K 4GHz, Core i3-6100 3.7GHz
If your device specs meet the requirements below, please follow the next solution.
Fix 2: Update Graphics Driver
Madden 22 EA play trial not working can also be triggered by the outdated GPU driver. To update your graphics driver to the up to date, you need:
Step 1. Press Win + X and select Device Manager in the context menu.
Step 2. Expand Display adapters and highlight Update driver.
Step 3. Hit Search automatically for drivers and then follow the guidelines on the screen to download and install the latest version of the graphics driver automatically.
Fix 3: Disable Antivirus Temporarily
Although antivirus programs can protect you from potential threats and infections, sometimes, they can be too overprotective and even block some normal programs like Madden 22. If you are experiencing Madden 22 trial not working at this moment, you can consider disabling your antivirus for a while to see if it does the trick.
Fix 4: Run Madden 22 as Administrator
Do you give Madden 22 enough administrative privileges? If not, this might be the culprit of Madden 22 community files not working. Here's how to do it:
Step 1. Right-click on the executive file or the shortcut of Madden 22 and choose Properties in the drop-down window.
Step 2. Under the Compatibility tab, tick Run this program as an administrator and hit OK to save the changes.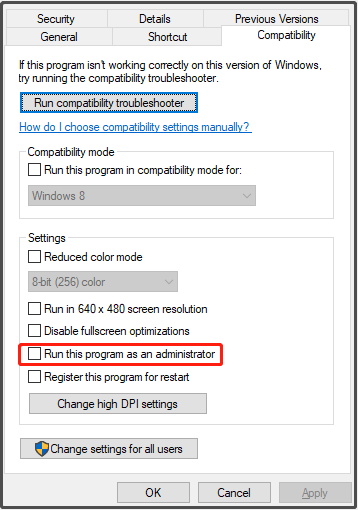 Fix 5: Repair the Game Files
At times, your game files might be corrupted or missing due to some reasons and that will stop Madden 22 from working properly. You can verify the integrity of game files in Steam or Epic Games Launcher.
For Steam
Step 1. Launch the Steam launcher and go to Library.
Step 2. Find Madden 22 in the game list and right-click on it to choose Properties.
Step 3. In LOCAL FILES, tap on Verify integrity of game files.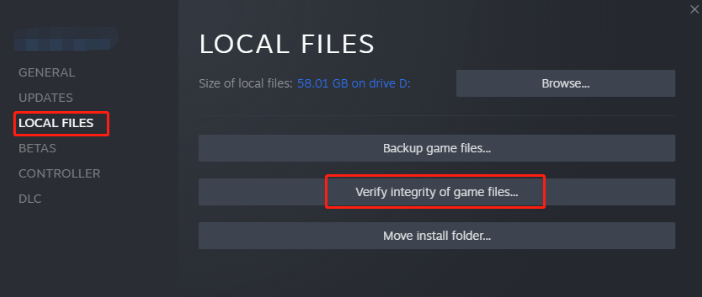 For Epic Games Launcher
Step 1. Open Epic Games Launcher and go to Library.
Step 2. Locate Madden NFL 22 and hit the three-dot icon next to it.
Step 3. Hit Verify.