What will you do when the memory error 13-71 stops you from enjoying playing Call of Duty Warfare or Warzone? If you are also bothered by this issue, here's shortlist of possible workarounds for you on MiniTool Website.
Call of Duty Modern Warfare/Warzone Memory Error 13-71
Although Activision has announced that the memory error 13-71 in Call of Duty Warzone and Warfare was already fixed. The fact that it still appears may annoy most game players like you. The good news is that we have found some easy and effective workarounds for you. Check them out below!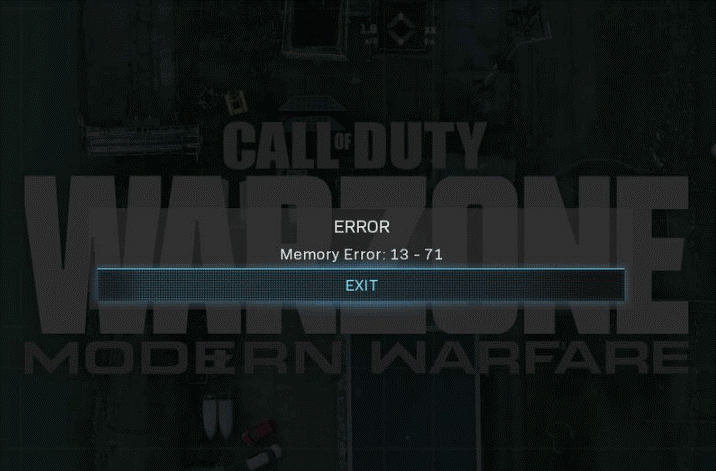 Fix 1: Use a Second Account
It is reported that many people get rid of the memory error 13-71 by creating another game account, follow the steps below:
Step 1. Create a new account with another email address.
Step 2. Load up to Call of Duty Warfare/Warzone when logging into this account.
Step 3. Proceed to the multiplayer menu and then switch your previous account.
Step 4. Leave the regiment that you belong to or enable the block regiment invites option.
Fix 2: Remove Regiment Clan Tag
If you see the COD memory error 13-71 after joining a regiment, you can fix this error simply by removing the regiment clan tag.
Step 1. Open the game and go to the startup screen.
Step 2. In Barracks, scroll down to choose Identify.
Step 3. Go to Custom Clan Tag and make sure yours is empty. If it is not empty, you can press Space (on PC), X (on PS4 & PS5) or A (on Xbox one & Series X) to get rid of it.
Step 4. Save the changes and relaunch the game to see if the memory error 13-71 is gone.
Fix 3: Disable Crossplay in Offline Mode
If the memory error 13-71 split screen appears when you are trying to join an online game, you can choose to disable crossplay in offline mode.
If you play this game on PC/PS4/PS5, you can directly unplug the internet cable to enter offline mode before launching the game.
For Xbox One or Xbox Series
Step 1. Press the Xbox button to open Guide and then go to Settings > Systems > Settings > Network.
Step 2. Click on Network Settings and choose Go Offline.
Step 3. As soon as the Offline Mode is set successfully, launch Call of Duty Warfare/Warzone and go to Options > Account.
Step 4. Disable the two options: Crossplay and Crossplay Communication.
Fix 4: Delete Saved Data
Like any other errors, the memory error 13-71 can also be triggered by the corrupted game cache. In this case, it is a good option to delete it.
For Xbox One/Xbox Series X
Step 1. Go to Guide > Games & Apps, scroll down to find Call of Duty Warfare/Warzone and hit it.
Step 2. Press Start > Manage game > Saved data > Delete all.
This method is harmless because it only deletes temporary associated with the local game installation.
Fix 5: Uninstall & Reinstall the Game
If all the methods above don't help you to fix the memory error 13-71, the last resort is to reinstall the game. This method might be a little time-consuming because the installation file is huge, please wait patiently.