Do you have a good time playing New World? You are very like to encounter some issues like FPS drops in New World and more. Luckily, you can fix New World low FPS easily using the solutions mentioned in this post from MiniTool Website.
New World Low FPS, Stuck and Stuttering
Although New World developer works very hard to optimize the game and provide you with the best game experience, some bugs and glitches are still evident when gaming. Some commonly mentioned issues are FPS drops and stuttering in the game. In this post, we will show you how to boost your FPS step by step.
How to Fix New World Low FPS, Stuck and Stuttering Win 10/11?
Fix 1: Turn on Game Mode
Game Mode is designed to provide a better game experience to you. It will disable all the running processes in the backend and that will avoid eating up too many resources. Therefore, you'd better turn it on when gaming.
Step 1. Press Win + I to launch Windows Settings.
Step 2. Go to Gaming > Game Mode.
Step 3. Toggle on Game Mode.
Fix 2: Change In-Game Video Settings
Chances are that your in-game video settings are configured wrongly hence causing New World lag, stuck, stuttering and low FPS issues. Here's how to change it:
Step 1. Launch New World and go to the Home page.
Step 2. Hit the gear icon and select Visuals.
Step 3. Change the Video Quality to Low.
Step 4. Play the game to see if FPS increases. If not, change it back to your preference and try the next solution.
Fix 3: Change Power Plan
By default, the power profile of a PC is balanced so it can balance performance and energy consumption. To assign more resources to your game, you can set your device to high performance mode when gaming.
Step 1. Press Win + R to open the Run box.
Step 2. Type powercfg.cpl and then hit Enter to open Power Options.
Step 3. Tick High performance under Preferred plans.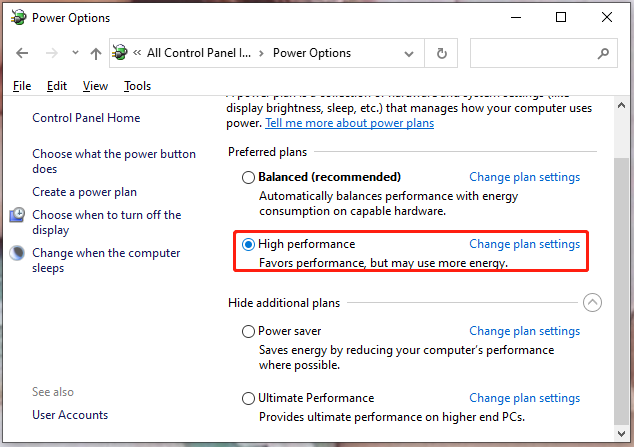 Fix 4: Disable Overlays
Although Discord enables you to communicate with your friends when playing New World, it may consume resources, especially if you enabled in-game overlays. Here's how to disable it:
Step 1. Open Discord and tap on the gear icon.
Step 2. Go to Activity Settings > Game Overlay > turn off in-game overlay.
Fix 5: Update GPU Driver
If you don't update your graphics driver for a long time, you may also encounter New World stuttering, lag and low FPS. Follow the next guidelines to update it:
Step 1. Press Win + S to evoke the search bar.
Step 2. Type device manager and hit Enter.
Step 3. Expand Display adapters and you can see your graphics card.
Step 4. Do a right-click on it to select Update driver.
Step 5. Hit Search automatically for drivers and then follow the instructions on the screen to update & install the latest versions of the graphics driver.
Fix 6: Verify Integrity of Game Files
Make sure that the game files are not corrupted or missing or else you will receive errors like New World stuck in windowed mode, low FPS or lags.
Step 1. Open the Steam client and go to Library.
Step 2. In the game library, scroll down to find New World and right-click on it to choose Properties.
Step 3. In General, hit Verify integrity of game files. Then, Steam will scan the game files for you and if there are any corrupted or missing files, they will be replaced.
Fix 7: Enable V-Sync
Enabling FreeSync or Gsync will also influence the refresh rate matching those features utilized. In this condition, you need to enable V-Sync to fix low FPS New World.
Step 1. Right-click on your desktop and choose Nvidia Control Panel.
Step 2. Hit Manage 3d settings > turn on Vertical sync under I would like to use the following 3D settings.
Step 3. Press Apply to save the changes.