What if the user account is locked Nvidia? Do you have any fixes for that? If you are still struggling with this issue and are at loss now. Congratulations, you've come to the right place. In this post on MiniTool Website, you can unlock your Nvidia user account easily.
Nvidia User Account Locked
Nvidia produces graphic processing units in computers, game consoles, phones and other electronic devices and it is also a pioneer in the GPU industry. Recently, some of you may have had issues in your account. when you are trying to log into your account, the Nvidia user account is locked. The reasons might be you have tried the invalid user name and password too many times. We provide you with three effective methods to solve that step by step, please follow our lead carefully.
How to Fix Nvidia User Account Locked in Windows 10?
Fix 1: Reset IP Address
Due to some security concerns, some websites are not allowed to function on the public IP address and then the Nvidia user account is locked. You can renew your IP address from the guidelines below.
Step 1. Press Win + S to evoke the search bar and type cmd in it to locate Command Prompt.
Step 2. Right-click on Command Prompt to choose Run as administrator in the context menu.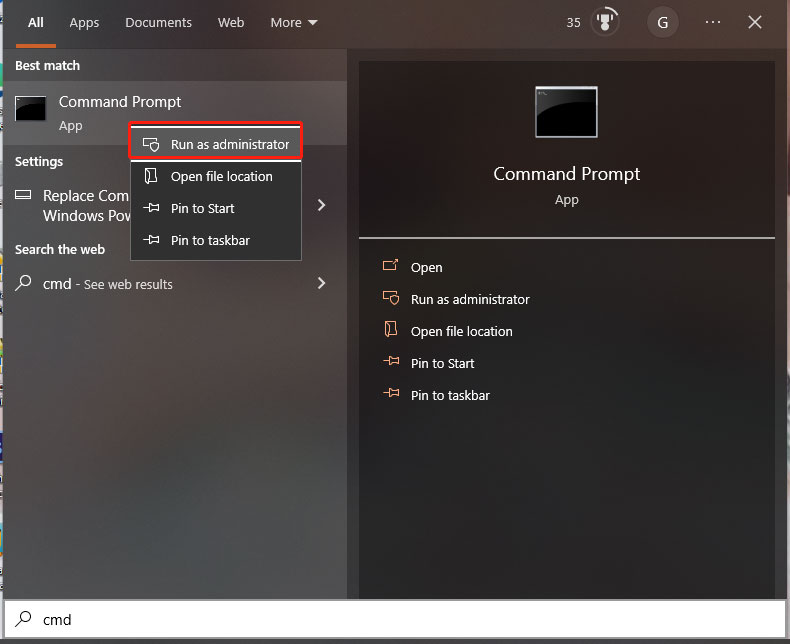 Step 3. In the UAC window, run the following commands one by one and don't forget to hit Enter after each command.
ipconfig /flushdns
ipconfig /release
ipcongig /renew
Step 4. Run the next two commands to fix the wrong network configuration.
netsh int ip reset
netsh winsock reset
Step 5. Exit the command window until this process is completed.
Fix 2: Reset Your Account Password
If resetting IP address doesn't work for you, it is a good choice to reset your account password. This method is very simple, follow the next steps:
Step 1. Go to the official website of Nvidia and tap on Login.
Step 2. Hit the green font Need help logging in.
Step 3. In NEED HELP, hit RESET PASSWORD.
Step 4. Enter your email address and press SUBMIT.
Step 5. Now open the password reset email from your email box to reset the password. If your user account locked Nvidia still appears, please try the last method.
Fix 3: Contact the Support Team
The last possibility is that your account is blacklisted due to some reason. In this condition, you have to contact the support team of Nvidia to live chat with them.
Step 1. Go to Nvidia official website and tap on the Support Option.
Step 2. Click Explore Support Options and scroll down to choose Chat now.
Step 3. Fill in & submit the requirements, and then you can chat with the customer service officer about your problem.