Oculus software not installing is a common issue in Windows 10/11. If you cannot install this app, you cannot set up your Oculus headset and use it. Fortunately, you can try some effective ways collected by MiniTool to help you solve this issue. Now let's see what to do.
Oculus Software Not Installing Windows 11/10
As a virtual reality headset, Oculus Quest 2 is popular with users and you may get one. To use it, you need to install Oculus software on a compatible operating system to set up the headset. Then, use Air Link or the Link Cable to connect Quest 2 to your PC to play Oculus Rift content.
However, the installation process cannot finish sometimes and the situation of Oculus software taking forever to install and finally failing happens. According to reports, during the installation, you may get a message saying "Sorry, we encountered an error during installation" and asking you to check your connection or restart the computer, then try running Oculus Setup again or you see another error "can't reach Oculus service".
So, how to fix this issue if it happens on your Windows 10? Find solutions from the following part.
If Oculus software is not installed on Windows 11, this is because this app is not currently supported by Windows 11. Thus, install it on your Windows 10 PC.
Fixes for Oculus Software Not Installing Windows 10
Run a Clean Reinstall of Oculus Software
To fix Oculus Quest 2 app not installing, you can try a clean install of it and see what you should do:
Step 1: Press Win + R, input appwiz.cpl and click OK to access the Programs and Features window.
Step 2: Locate Oculus and right-click on it to choose Uninstall.
Step 3: After finishing the uninstallation, open Windows Explorer.
Step 4: Go to C:/ProgramFiles. If you find the Oculus folder, delete it.
Step 5: Then visit the page of Oculus software download and click the button of Download Oculus Rift Software to get the OculusSetup.exe file.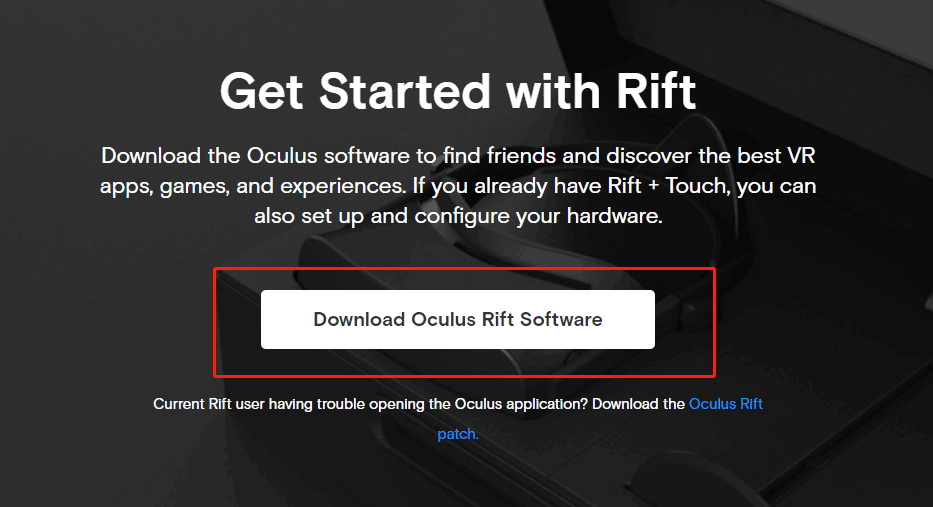 Step 6: Double-click on the exe file in Windows 10 and click Get Started to begin the installation.
Update Windows 10
If the Oculus Quest software won't install on your PC, you can try to upgrade Windows since the update may come with bug fixes including the issue of Oculus desktop app not installing.
Step 1: Click Start > Settings > Update & Security.
Step 2: In Windows Update, click Check for updates. Windows is checking for available updates and then download & install them on the PC.
Step 3: Restart the PC to finish the update.
Update Device Drivers
When Oculus software not installing happens, one of the things you should do is to make sure your device drivers are up-to-date, especially the graphics card driver. To do this work easily, you can use a professional driver update tool called Driver Booster. Or go to Device Manager in Windows 10 and update the drivers one by one.
Turn off Firewall
Windows Firewall is an important part used to protect your computer from malware attacks. But it may stop the setup from connecting to Oculus servers, leading to a failed installation. So, you can try to disable Windows Firewall to install the Oculus app successfully.
Step 1: Go to Control Panel, view items by large icons, and click Windows Defender Firewall.
Step 2: Click Turn Windows Defender Firewall on or off and turn off the firewall. Then, save the change.
Check Your Network Connection
If you receive a message saying "Check Connection", you need to do this way to make sure you have a reliable network connection. You can visit any website to check. If there is a connection issue, troubleshoot it via some ways – restart router/modem, run the network troubleshooter, update network adapter driver, reset DNS/TCP/IP, and more.
If you cannot fix Oculus software not installing in Windows 10 after trying all the ways, you can contact Oculus Support to seek help. Of course, if you find some useful ways to fix Oculus software taking forever to install but failing finally, tell us in the comment below. Thanks.