"Outriders can't connect to server" is a common internet connection error that can happen on a PC, Xbox, or PlayStation (PS) 5/4. If you are encountering this annoyance, how can you fix it to play Outriders smoothly? Go to this post and you can find some troubleshooting tips given by MiniTool.
Outriders Server Connection Error
Outriders is a third-party video game that is online-only cooperative action role-playing. Like other online multiplayer games, Outriders connection issues always happen. When launching this game on your Windows PC, PlayStation 5/4, or Xbox, you may get an internet connection error to tell you Outriders can't connect to server. This issue is very common.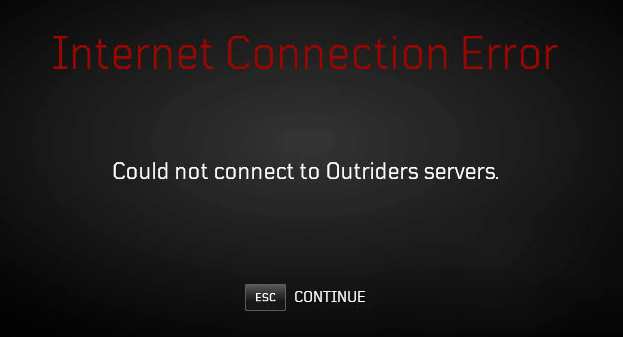 Many factors give rise to this Outriders internet connection error, including the server issue, temporary files, level 3 node ISP roadblock, Steam account not linked with Square Enix account, and more. Fortunately, you can fix it in some ways.
Fixes – Outriders Can't Connect to Server
Check Server Status
If the server of Outriders is down, the connection will be interrupted. You should go to check if the server is running properly. Just go to check the official Twitter account of Outriders. Or you can do this thing via Downdetector.
If Outriders server connection error is not related to the server, you should check your internet connection and make sure it is reliable and smooth. If not, switch to another powerful network to play the game.
Restart Your PC and Game Console
Sometimes game glitches can be caused by temporary files and you can try to clear them via a reboot to remove the error "can't connect to Outriders server".
On your PC, press the Power button and choose Restart. On your console, press the Power button for about 5 seconds to turn it off completely. Then, disconnect the power cable. After a few minutes, restart the console.
Link Square Enix Account and Steam Account
If you play Outriders via Steam on your PC, the possible reason is that the Steam account is not synced with the Square Enix account. Here is what you should do:
Step 1: Visit the Square Enix Account Management System webpage.
Step 2: Choose to login in with Steam, type in the username and password associated with the Steam account, and click Link Account.
Verify Game Files' Integrity
Missing or damaged game files can lead to "Outriders can't connect to server". You can do an integrity check to fix the Outriders internet connection error.
Step 1: Open Steam on your PC and go to Library.
Step 2: Find Outriders, right-click on it, and choose Properties.
Step 3: Click Local Files and then Verify integrity of game files.
Clear Steam Cache
Cache and cookies can accumulate in Steam over time, as a result, Outriders can't connect to server. Just follow the steps to clear the cache.
Step 1: Launch Steam with admin rights and go to Steam > Settings.
Step 2: Click Web Browser > Delete Web Browser Cache and click OK.
Step 3: Click Delete All Browser Cookies.
Step 4: Under the Downloads tab, click Clear Download Cache > OK.
Update Network Adapter Driver
If the network adapter driver is outdated, Outriders may fail to connect to its server and you can try to update it to the latest version to fix this issue. To do this work, go to Device Manager, expand Network adapters, right-click on the driver and choose Update driver. Then, choose the first option to let Windows automatically search for the available update and install it on your PC.
Use a VPN
In terms of bandwidth, Outriders has a high demand. If ISP causes latency or packet loss, you cannot play this game with an internet connection error. In this case, you can try to use a VPN to get a stable network connection.
Check Your NAT Type (Only for Consoles)
NAT issues may stop Outriders from connecting to servers, so you get the Outriders server connection error above. You need to make sure the NAT type doesn't conflict or block your console from the connection to servers.
Related articles: