Some users reported that they are hassled by the annoying "Overwatch 2 unexpected server" error. The first time it occurred can be dated back to the initial release days of the game. People have figured out a bunch of fixes for this issue. If you are interested in or are struggling with it, you can read this post on MiniTool Website.
Why Does Overwatch 2 Unexpected Server Error Happen?
The unexpected server error has commonly occurred in many online multiplayer games so you don't need to worry that there is no way out.
When the unexpected server error affects specific accounts, you can doubt the aggressive firewall or antivirus as the culprit. They may regard Overwatch as a harmful program and block it.
Or you may lose the related official information telling you the server is down and you may wait for the restoration.
Sometimes, Internet can be the one to blame if you are on a bad Internet connection.
More than that, there are some other factors that can trigger this unexpected server error in Overwatch 2 but they can share the same fixes. The next part will focus on a series of methods to resolve the "unexpected server error occurred" in Overwatch 2.
Fix the "Unexpected Server Error Occurred" in Overwatch
Method 1: Check Your Internet
First of all, you need to ensure your Internet is well-performed so that Overwatch can run well.
If the Internet is slow, you can try to disconnect and reconnect your Internet. Or you can restart the Internet Modem and Router to fix many minor Internet problems. If all measures have proved of no use, you can contact your ISP (Internet Service Provider) for professional help.
Method 2: Disable Your Firewall and Antivirus Temporarily
As mentioned, your antivirus or firewall may block your Overwatch. To avoid being blocked, you can disable them temporarily.
If you have a third-party antivirus, you can remove it for a moment and try your Overwatch to check if it is the culprit. If it is, you can change to another antivirus or just remove it when you are playing Overwatch. If you are using the built-in antivirus, you can follow the next steps.
Step 1: Click Start and go to the Settings option.
Step 2: In Update & Security, click Windows Security from the left panel.
Step 3: Click Virus & threat protection and select Manage settings under the Virus & threat protection settings section.
Step 4: Turn the Real-time protection option off.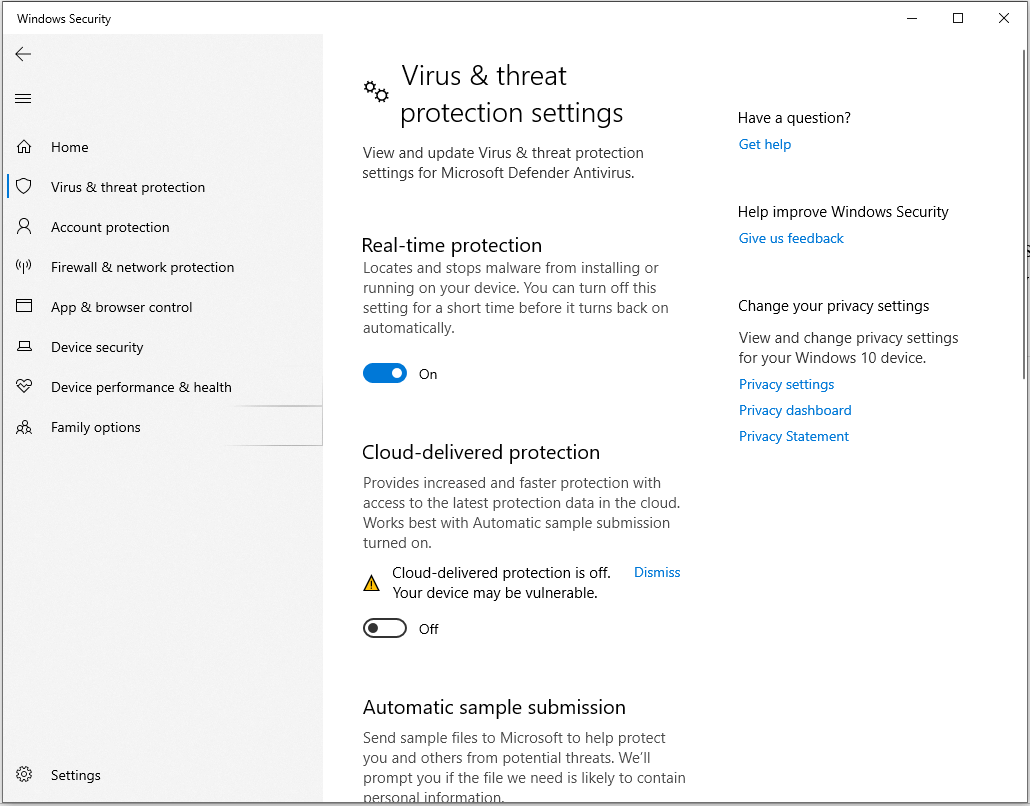 Note:
After you finish the Overwatch, you'd better turn the Real-time protection option on.
Method 3: Check the Server
If the Overwatch server is down, the "Overwatch 2 unexpected server" error can happen. Therefore, you can check the server status through some official channels.
You can follow its official Twitter account and all-important notifications will be disclosed on it. If the server is down, the related information will be issued and you can wait for the restoration.
Method 4: Restart Your PC or Console
The classic "restart your device" troubleshooting tip holds true. You can always get a new start by restarting your devices and the error may disappear. In this way, you can close the game and restart your PC or console, and then check if the error persists.
Bottom Line:
As time go by, this old issue – the "Overwatch 2 unexpected server" error can be successfully resolved by specific methods. Recently, it may occur more often than before and you can try the above fixes to resolve your concerns.
Hope this article can be helpful. Thanks for your reading.