Summary
Pioneer internal SSD APS-SL3 1TB drive is the world's cheapest one now. Some of you may don't know this drive, or some are interested in it. No matter which situation you are facing, you can read this post to learn some related information.
Internal SSD APS-SL3 Comes from Pioneer
Pioneer is a Japanese technology company. It is a world famous enterprise in the fields of incar entertainment, DJ equipments and legendary Kuro Plasma TV set.
As to its achievements in these fields, we have to mention these things: it unveiled the world's first car CD player as well as the first DVD-R drive.
Do you know how to recover data from corrupted or scratched CD/DVD? Now, read this post to get a third-party tool to do this job easily and effectively.
However, its products are not limited to these. Now, it seems like that it is, or at least one of its brand licensees is, betting on the data storage device again with the flagship SSD, which is coded with APS-SL3. And actually, its 1TB drive is the world' cheapest one now.
Pioneer internal SSD APS-SL3 Has the World's Cheapest Price
On Amazon, this Pioneer internal SSD APS-SL3 1TB only costs $93.99. Perhaps, you may ask is there any other SDD which has the similar price. Of course, yes.
Zheino is another SSD vendor. Its product matches the price of Pioneer internal SSD APS-SL3 1TB. But it is just an unknown quantity and there are some worse reviews from its users.
Besides, Silicon Power and ADATA also supply the similar kinds of products. But their prices of the 1TB drive are $1 more relatively.
Unlike its peers, Pioneer only sells its SSD drive on Amazon. When you enter its selling page, you can even discover that it sells them in bulk with significant savings. Thus, it is great news that if you want to run a NAS on the SSD drives.
Now, a 1TB Pioneer APS-SL3 SSD only cost you about 50% more expensive than a hard disk drive with the similar capacity. This represents a nice sweet spot.
Performance of Pioneer Internal SSD APS-SL3
Actually, it is an entry-level DRAM-less solid state drive. But, it still has many attractive features as follows:
It is using TLC NAND flash.
It has good protective performance, like anti-shock, anti-vibration, etc.
Lower power consumption.
It is using SLC cache technology which can delivers incredible read and write speed of up to 520MB/s and 450MB/s.
It is faster than the traditional HDD and it can supply you with fast boot up, application load and response.
The drive is using the SATA technology with a 2.5-inch model.
It is equipped with advance LDPC error correction.
Now, the available capacities of the drive contains 240GB, 256GB, 480GB, 512GB, and 1Tb. These can fully meet the installation requirements of the desktop and laptop. Besides, after getting the drive, you can get a three years warranty.
Here, you should know that the faster drives are always running NVMe but the cost will be much higher. But, to attract more and more users, the manufacturers always try to reduce the cost and price.
Samsung 860 QVO SSD is worth mentioning here. Samsung released this drive in November 2018 and it is likely to keep prices low.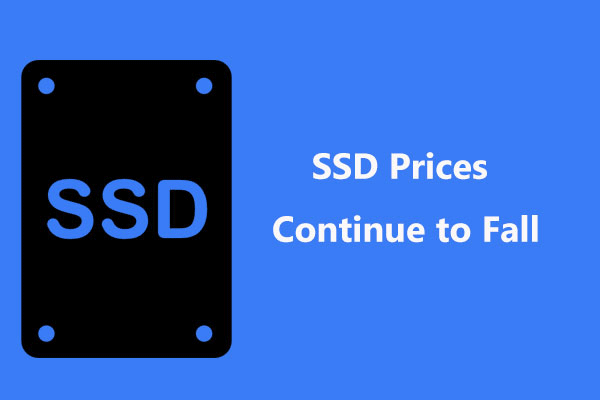 SSD prices continue to fall, and now it is your chance to upgrade your hard drive to SSD for good performance.
Other SSD Products from Pioneer
Pioneer also has other series of products, such as Internal SSD APS-SE20G, Internal SSD APS-SM1, Internal SSD APS-SE1(HHHL), Internal SSD APS-SE10G, and more. If you are interested in these Pioneer SSDs, you can go to visit its official site to get more information.