This essay talked about by
MiniTool Software
mainly introduces a kind of Windows 11 device driver named – PL2303. It involves the driver's definition, downloading, as well as possible errors & fixes. More details are below!
What Is PL2303 Driver Windows 11?
The Prolific PL-2303 USB to Serial adapter is your smart and convenient accessory for connecting RS-232 serial devices to your USB-equipped Windows host computer. It offers a bridge connection with a standard DB 9-pin male serial port connector on one end and a standard Type-A USB plug connector on the other end.
PL2303 driver Windows 11 is the specific driver to work with the mentioned PL2303 USB to Serial adapter or controller in Windows 11 operating system (OS).
PL2303 Driver Windows 11 Not Working
Some issues are related to the PL2303 driver in Windows 11. For example, have you ever encountered an error message saying "Please install corresponding PL2303 driver to support Windows 11 and further OS" in Device Manager when you try to connect a device to your computer using a USB to Serial adapter?
If so, mostly, it is the PL2303 driver that has a problem, outdated, damaged, or missing. Now, let's see how to fix the Prolific USB to Serial Driver not working issue.
#1 Update USB to Serial Driver
First of all, the most direct way you should try is to update the outdated or missing driver. Or, you can disable and reenable it in Device Manager. If the driver is corrupted, you can uninstall it and restart the computer to let Windows install a new driver automatically.
#2 Roll USB to Serial Driver Back
However, updating a driver does not always solve the problem but instead causes some issues. The PL2303 driver not working error may result in your latest driver updates doesn't work well with your hardware. If this is true, you have to downgrade your driver back to an old version.
2. Unfold Ports (COM & LPT) section.
3. Find Prolific USB to Serial Comm Port, right-click on it, and select Properties.
4. In the Properties window, go to the Driver tab, and click on Roll Back Driver.
5. It will prompt asking for the reason. Just pick one reason and click Yes.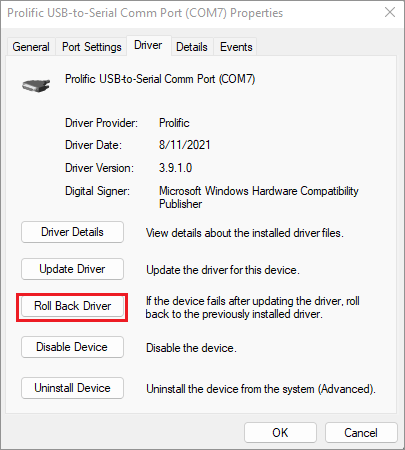 Finally, the correct driver will install itself. When it finishes successfully, just try to connect your device again. It should work now.
If you failed to roll back the current PL2303 driver, you can try to update it and manually choose the old version on your computer. If you don't have an older version at hand, you can download one following the tip of the below content.
Prolific USB to Serial Driver "Code 10" Error Fix
Another common PL2303 driver issue is the well-known "code 10" problem. The error messages can be one of the following:
The driver was not successfully installed.
…
Those warnings may appear if you use non-original or fake chipsets. The manufacturer will disable it. For a solution, just follow the below guide.
Download PL2303_64bit_Installer.exe and save it somewhere.
Remove all USB to Serial adapters from your PC.
Double-click PL2303_64bit_Installer.exe and follow the instruction to plug in one USB to Serial adapter to continue.
Finally, restart your machine.
Download PL2303 Driver for Windows 11
It mentioned downloading the PL-2303 driver in the above solution. Given many users don't know where to get the PL2303 driver for Windows 11, please copy and paste the below link into a new browser tab to go to the official website and download the driver.
http://www.prolific.com.tw/UserFiles/files/PL23XX_Prolific_DriverInstaller_v402.zip
Version: 4.0.2
File size: 10951.67 KB
Release date: March 16, 2022
Tip:
If you want the older version of the PL2303 driver for some reason like coming across the above code 10 error, just replace the "402" in the download link http://www.prolific.com.tw/UserFiles/files/PL23XX_Prolific_DriverInstaller_v402.zip with the version number you prefer.
To install the downloaded PL2303 driver, just extract the zip file, find the installer.exe file, and double-click on it. Then, just follow the on-screen steps, which are similar to installing an app.
Windows 11 Assistant Software Recommended
The new and powerful Windows 11 will bring you many benefits. At the same time, it will also bring you some unexpected damages such as data loss. Thus, it is strongly recommended that you back up your crucial files before or after upgrading to Win11 with a robust and reliable program like MiniTool ShadowMaker, which will assist you to protect your increasing data automatically on schedules!
MiniTool ShadowMaker TrialClick to Download100%Clean & Safe
Related article: