Summary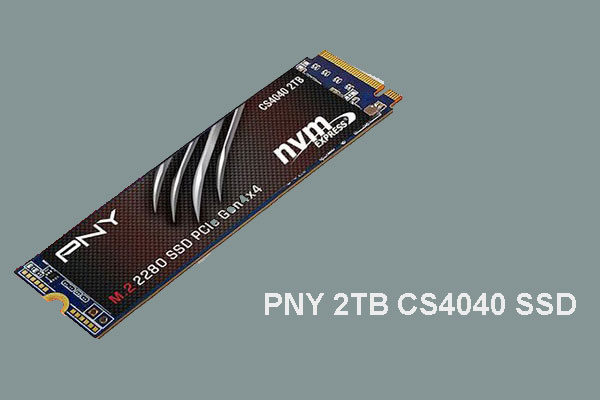 PNY 2TB CS4040 SSD is a new product which has been showcased at Computex Taipei 2019. It uses the latest PCIe 4.0 technology and the sequential read speed of the 2TB model reaches up to 4800MB/s. Read this post to get more information about it as well as some other products from the same company.
PNY Technologies Inc. a global leader in the field of consumer electronics and data storage technology. The company took part in the Computex Taipei 2019 days ago, and at that expo, it showcased several new products including PNY 2TB CS4040 SSD whose read speed reaches up to 4800MB/s.
Essencore 2 TB PCIe 4.0 SSD enters the game in COMPUTEX Taipei. Its new feature is attractive and you can see this post to get some brief information.
PNY CS4040 SSD PCIe Gen4x4 500GB – 2TB
Actually, the PNY CS4040 SSD PCIe Gen4x4 is the future generation of SSD which is configured with the latest PCIe 4.0 technology. With this technology, the SSD can run 16GT/s that doubles the transmission than previous generation.
Based on Phison's turnkey PS5016-E16 platform with 3D TLC NAND, this drive's available capacities will be 500 GB, 1 TB, and 2 TB. Until now, the drive is expected to offer up to 4800 MB/s and 4000 MB/s sequential read & write speed for models with 1TB and 2TB capacities. And the 500 GB SSD can reach up to 2100 MB/s sequential write speed. After getting this drive, you will get a 5-year warranty.
Till now, it is still uncertain when the company will launch its PCIe 4.0 x4 SSD. However, it may take its time and do some tweaking.
At Computex this year, the company demonstrated this PNY CS4040 SSD PCIe Gen4x4 with a very simplistic sticker that can barely be an efficient heat spreader. From the sticker, you can only get some general features of this drive including the information we have mentioned above.
Additionally, Phison's PS5012-E12 and PS5016-E16 controllers have a TDP of up to 8 W. Thus, a proper heatsink might be needed to guarantee the drive's consistent performance.
Some other Drives from PNY at Computex
Of course, PNY also showcased some other types of drives at the expo, like Gen 3x4 M.2 SSD, Duley Type-C OTG flash drives and Apple OTG with up to 256GB to 2TB.
PNY CS3030 M.2 NVMe SSD
As to the Gen 3x4 M.2 SSD, we should mention the PNY XLR8 CS3030 M.2 NVMe SSD.
This drive has high performance SATA SSD replacement and it can be used to get faster boot times, quicker application launches, and better overall system performance. Thus, it is really a good choice for you to obtain an NVMe upgrade from a SATA based SSD in an existing NVMe enabled PC or MAC desktop or laptop computer.
Simply put, you will enjoy fast boot up, power down and applications running speed if you use this drive on your computer. Beides, you can also get a 5-year warranty when using this drive.
Others
When you want to free up some space on the Type-C enabled AndroidTM mobile devices, you can transfer the content to PNY Duley Dual USB 3.1 Type-C Flash Drive. With PNY Duley Dual Drive, you will be able to transfer and share files between mobile devices and computer easily since the drive has a 360° swivel design and impressive 150MB/s data transfer speed.