Summary
You may fail to connect a USB device to your computer and an error message saying "power surge on the USB port" pops up. There is no need to worry since MiniTool Solution offers you four easy methods in this post to help you fix a power surge in Windows 10/8/7.
USB Port Power Surge
Have you encountered the error notification – power surge on the USB port when plugging your USB device to a USB port of your computer? Actually, this issue is pretty common and always happens in Windows 10/8/7.
To be specific, the detailed error message immediately following the notification is "unknown USB device needs more power than the port can supply". If you expand it, you can see another popup saying "a USB device has malfunctioned and exceeded the power limits of its hub port…"
This issue always happens when connecting your device to a USB port. Additionally, it can occur when you have already plugged in a device and it stops working all of a sudden.
Like other ports, a USB port also comes with a power rating. In normal cases, the default power output of a standard USB port is 500 milliamps. If you find your device draws more power than this, the USB power surge error appears.
When you having this problem, the connection is terminated and you cannot access the data on that device. So, does this mean your device is damaged? Or is there something wrong with the computer's USB ports? Or are your card readers, touchscreens, etc. consuming power? All of these can be the reasons for the power surge issue.
USB port not working? No matter you are using Windows 10/8/7 or Mac, you can read this article to find a proper solution to fix this issue.
Now, we will try the workarounds one by one and see if you can get rid of the error - power surge on USB port.
How to Fix a Power Surge in Windows 10/8/7
Initiation Troubleshooting
The first thing you should do is to perform the operations that correspond with the on-screen instructions.
Disconnect all USB peripheral equipment from your Dell, Lenovo, etc. Then, click the Reset button on the computer screen.
After reset, we recommend you to reboot your operating system and reconnect the USB device to your computer to see if the power surge on the USB port error persists.
If the issue still exists in Windows 10/8/7, try other methods.
Run the Hardware Troubleshooter
Hardware Troubleshooter is a utility that comes with Windows 10. With it, you can detect and fix problems with hardware. When encountering power surge on the USB port, you can try this tool to solve your error.
Input troubleshoot in the search bar and click this tool to the Troubleshoot page.
Find Hardware and Devices and choose Run the troubleshooter.
Alternatively, you can open Control Panel (view by large icons), click Troubleshooting > View all to the following list, choose Hardware and Devices and run the troubleshooter.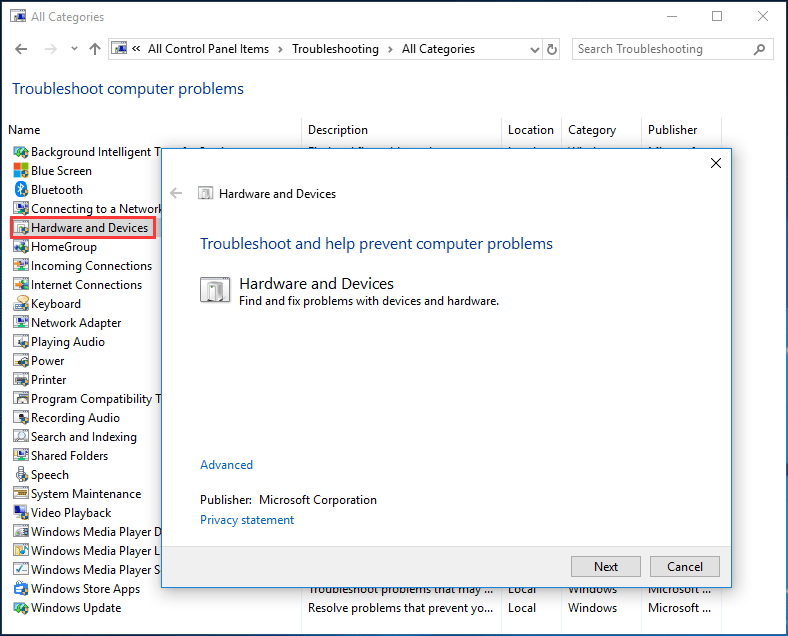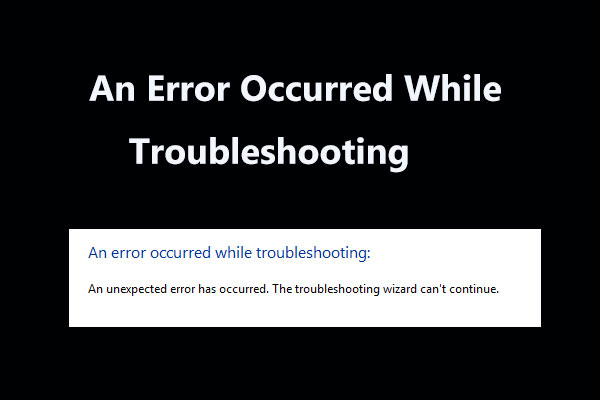 Receive "an error occurred while troubleshooting" message when using Windows Troubleshooters to fix some issues? Here are 8 helpful ways to fix it.
Then, this tool will scan the hardware and fix found problems. If the USB port power surge still occurs in Windows 10/8/7, move on to the next solution.
Reinstall the USB Controller Driver
Reinstalling USB drivers can refresh the interface that the hardware uses to communicate with the Windows operating system. This way has been proved to be effective to fix the power surge on the USB port error.
To do so:
1. Disconnect your USB device from your computer in Windows 10/8/7.
2. Press Win + X and click Device Manager to go to the Device Manager interface.
3. Click Universal Serial Bus controllers, right-click on each driver and click Uninstall device.
4. Restart your computer and let Windows reinstall the controller drivers.
5. Plug your USB devices to the PC to see if your issue is resolved.
Use a USB Hub
If the error happens on a specific device, it is likely that the device needs more voltage than the USB port being used. If you get the same error when using the same device in another PC, you can try using a USB hub that comes with its power source. It has high-speed charging ports to supply the necessary power to your device.
Just connect the USB hub to a USB port and connect the device to the USB hub.
The End
Now, four common methods have been described in this post. If you are encountering the power surge on the USB port error in Windows 10/8/7, try these solutions above and you should get rid of your trouble easily.