Windows 11/10 Printer Spooler error is a common print problem you may encounter. If you run into this issue, you cannot finish a printing task. How can you get rid of the frustrating situation from your Windows 11/10 PC? Go to read this post and you can find some useful methods given by MiniTool to fix the error.
Printer Spooler Not Working Windows 11/10
Printer Spooler is a program that is built in Windows operating system and it is used to temporarily store print jobs in the memory of the computer. After the print is ready to print the next job, this app retrieves pending print jobs from the queue until all documents are printed.
However, Printer Spooler doesn't always work well. Sometimes you may encounter some print problems, for example, printer not responding, Printer Spooler keeps stopping, Print Spooler service not running, etc.
Besides, you can encounter Printer Spooler errors. If this software is overloaded with tasks or conflicting with other things in Windows OS, or there is a glitch or bug caused by an outdated app, driver, or version of the system, Printer Spooler errors appear.
If you meet a Printer Spooler problem/error in Windows 11 or Windows 10, what should you do to help you out? Refer to the following part and you can find some useful solutions.
How to Fix Windows 10/Windows 11 Printer Spooler Errors
Restart Your PC
Many times, random and temporary bugs on the system may cause some issues including Printer Spooler not working with an error. A simple restart is a common solution. So, you can also have a try. If this cannot work, try other fixes below.
Update Windows
If there is something wrong with the Windows 11/10 system, Printer Spooler errors or problems may happen. To get rid of the trouble, you can try to update Windows to the latest version. Press Win + I to get the Windows Settings app, go to Windows Update, and check for updates. If there are available updates, download and install them.
Run the Printer Troubleshooter
Windows has multiple troubleshooters to help fix some issues related to the Internet connection, playing audio, Windows Update, Bluetooth, printer, and more. To fix Windows 11 Printer Spooler error, you can run Windows Printer Troubleshooter.
Step 1: Launch Windows Settings.
Step 2: Go to System > Troubleshoot > Other troubleshooters.
Step 3: Click the Run button next to Printer to scan your printer for any problem and fix it.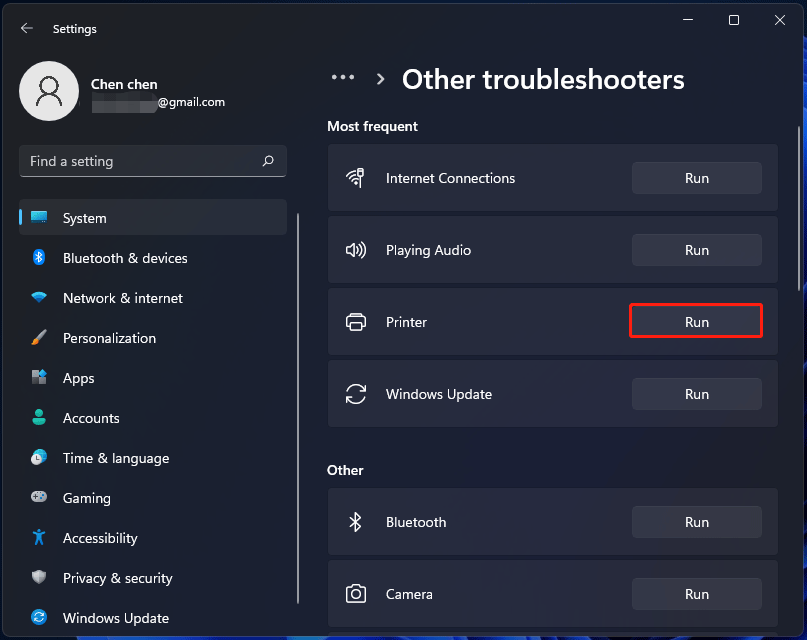 Reset/Restart Windows Printer Spooler
If the Windows 11 printer problem still appears, you can try this way by following the steps below.
Step 1: Press Win + R to open Run, type services.msc and click OK.
Step 2: Go to the Print Spooler service, double-click it to open the Properties window.
Step 3: Under the General tab, click Stop to stop this service.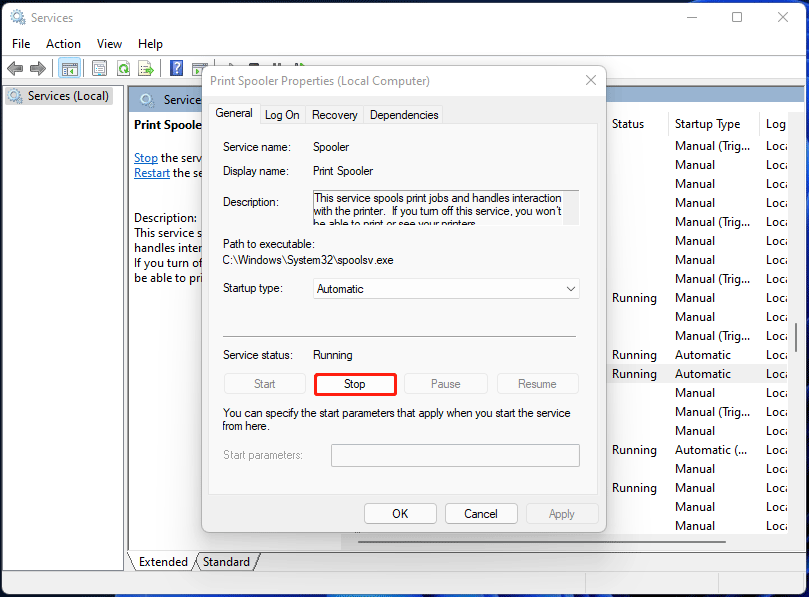 Step 4: Open the Run window, type C:\Windows\System32\spool\printers and press Enter.
Step 5: Delete all the contents in the printers folder.
Step 6: Go back to the Print Spooler Properties window and click Start to start this service again.
Then, you can try to print documents without the Printer Spooler error in Windows 11/10.
Remove a Printer and Add It Back in
To fix Windows 10/Windows 11 Printer Spooler, you can remove your printer and then install it again.
Step 1: Open Control Panel and view all the items by Category.
Step 2: Click the View devices and printers link.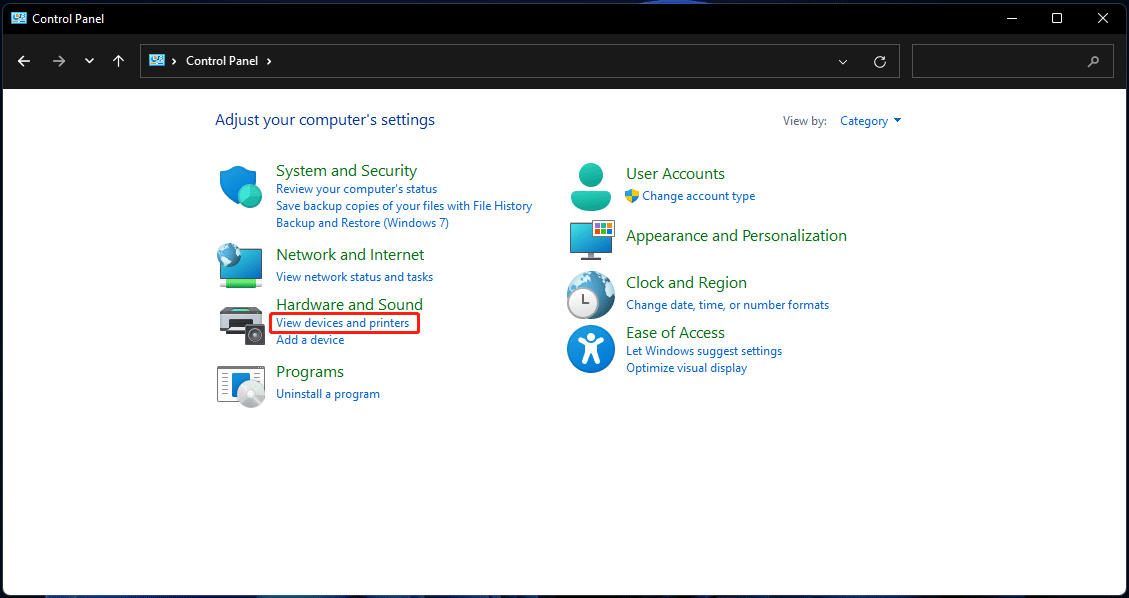 Step 3: Right-click on the printer and choose Remove device.
Update Printer Drivers
Printer Spooler not working with an error is sometimes caused by outdated drivers. To fix this issue in Windows 11/10, you should update these drivers to the latest version.
Step 1: Press Win + X and click Device Manager.
Step 2: Expand Printer queues, right-click on each printer and choose Update driver.
Step 3: Choose the first option to let Windows automatically search for updated software and install it.
Clear The Printer Queue
Printer Spooler may be overloaded with too many printing jobs, leading to the Windows 11/10 printer problem. To fix your issue, you can remove all the printing jobs and then try to print documents again.
Other Fixes for Printer Spooler Error Windows 11/10
In addition, there are some other solutions you can try to fix the Windows printer problem/error.
Use Windows Compatibility Mode: When you use an old printer, run the associated app in Windows Compatibility Mode.
Try another printing app: You may encounter a Windows 11/10 Printer Spooler error due to some bug in the app you are using. To fix this issue, use another app for printing.
Remove all other printers from your PC: Multiple printers connected to the PC can cause conflicts, leading to the Printer Spooler problem.
Final Words
These are possible ways to fix Windows 10/Windows 11 Printer Spooler error. If you have any other useful methods, let us know in the Comment below. Thanks in advance.