This post introduces a popular free email service named ProtonMail. You can easily sign up for ProtonMail email service to get a free email account to send, receive, and manage your emails. You can also download ProtonMail app for Android or iPhone/iPad to manage your inbox on the go.
What Is ProtonMail?
ProtonMail (Proton Mail) is a free email service developed by Proton AG Company. Aside from ProtonMail, this company also provides popular products like Proton VPN, Proton Drive, and Proton Calendar.
Proton Mail can be accessed through a webmail client or an Android/iOS app. It is available in various languages. It uses client-side encryption to protect users' email content and user data. It has a simple and user-friendly interface that lets you easily read, write, and organize emails. You can also easily switch between multiple ProtonMail accounts.
Is Proton Mail free? Yes, it offers a free secure email plan that included all the basic functions. Everyone can sign up for a free account to use this email service.
Check how to sign up and sign into ProtonMail below.
Guide for ProtonMail Login and Sign-up
Step 1. You can go to https://account.proton.me/login in your browser to access the official ProtonMail login page.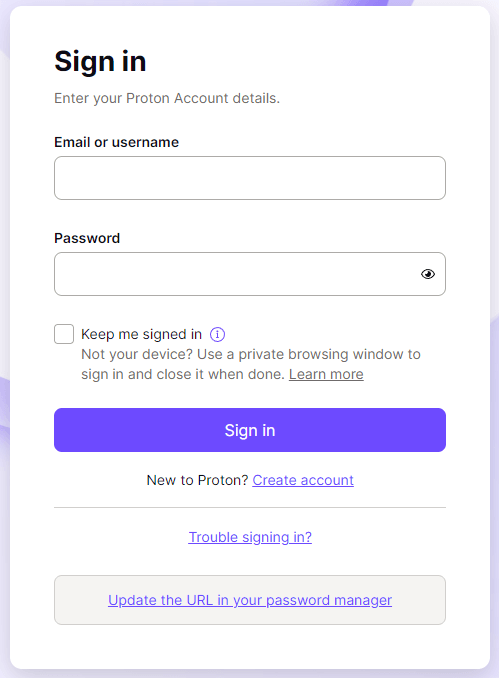 Step 2. If you already have a ProtonMail email account, you can enter your email address or username, and enter your password. Click the Sign in button to sign into ProtonMail. If you want to keep signed in, you can tick the "Keep me signed in" option.
Step 3. If you don't have a ProtonMail account yet, you can click the Create account link under the Sign in button to open the ProtonMail sign-up screen.
Step 4. In the Create your Proton Account window, you can enter a username for your ProtonMail account. The email address suffix can be @proton.me or @protonmail.com. You can choose a preferred email suffix.
Step 5. Enter a password and repeat the password for your Proton account. After that, click Create account to create your free Proton email account.
ProtonMail App Download for Android or iOS
You can also download ProtonMail app for your Android or iOS mobile devices to easily access and manage your inbox on the go.
On Android, you can open Google Play Store, and search for ProtonMail in the store. When you get to the Proton Mail: Encrypted Email page, you can tap Install to download and install ProtonMail app on your Android phone or tablet.
On iPhone or iPad, you can open App Store to search for ProtonMail to download and install the email app with one click.
Can You Download ProtonMail App for Windows 10/11 PC?
Currently, ProtonMail doesn't offer a desktop app for Windows.
To use ProtonMail on Windows, you may add your ProtonMail email account to the Windows default Mail app. You can press Windows + S, type mail, and select Mail App to open Windows Mail app. Click Other account and add your ProtonMail email account to the Windows Mail app. Then you can access and manage your ProtonMail inbox on your PC.
You may also try to use a free Android emulator for PC that lets you download and run various Android apps on PC. You may try tools like Bluestacks, LDPlayer, etc.
You can download and install Bluestacks android emulator on your Windows computer and open it. Click Play Store on its home screen to open Google Play Store. Then you can search for ProtonMail in Google Play Store to download and install it. After that, you can open Bluestacks and select the Proton Mail app to open and use it.
Fix Common ProtonMail Login/Sign-up Issues
Tip 1. Make sure to enter the correct email address, username, and password. Pay attention to the upper case and lower case of the letter.
Tip 2. Clear browser cache and cookies. Try another browser. Restart your computer and restart the browser. Temporarily disable browser extensions.
Tip 3. If it shows you enter the incorrect password for your ProtonMail account, you may reset your password.
Tip 4. Contact the Proton support team for help.
Bottom Line
This post offers a ProtonMail login and signup guide and teaches how to download ProtonMail app for Android, iOS, or PC. For other computer problems, you may visit MiniTool Software official website to find solutions.