This article explained by MiniTool Software mainly introduces a type of Realtek Bluetooth driver called A2dp. It elaborates on its definition, downloading, as well as lag issue fixing. Read the below content for details.
What Is Realtek A2dp Driver?
Realtek A2dp driver is a kind of Realtek Bluetooth sound/audio driver that allows you to use and operate devices with wireless Bluetooth. It is useful in case of a connection (a Bluetooth audio headset or Bluetooth speakers) on your PC.
Realtek Bluetooth A2dp Driver Download
In this part, it will offer several download URL links to get the Realtek Bluetooth a2dp device driver. All of them are third-party nonofficial resources. So, make your own judgment for selection! By downloading or updating the driver, you may fix the Realtek Bluetooth A2dp device driver not working issue.
# Outbyte Driver Updater
To get Realtek A2dp driver Windows 11, first of all, you need to download and install Realtek Bluetooth A2dp device Outbyte Driver Updater. Then, make use of this driver downloader to download the target driver.
This Realtek A2dp driver updater supports Windows 11, 10, 8.1, 8, 7, Vista, and XP, both 32/64-bit. It collects Windows drivers from official vendors' websites and trusted sources. This program enables you to fix Realtek Bluetooth A2dp device errors and make the device work again.
With the help of this downloader, you can detect and download all the latest versions of Realtek Bluetooth A2dp device drivers for free. It checks all files and tests them with antiviruses. So, it is completely safe to download with this driver software. Just get the newest WHQL certified drivers that work well.
#2 Driver Fusion
Driver Fusion is another Realtek Bluetooth A2dp device driver downloader and updater. It can update, backup, clean, and monitor the drivers and devices of your PC.
Automatically update driver and create backups.
Clean up old drivers and devices.
Schedule regular driver and device checks.
Monitor device performance.
Troubleshoot drivers and devices.
Identify unknown devices.
#3 Download Realtek A2dp Driver Windows 11
The following are the website addresses where you can directly download the Realtek A2dp Bluetooth device driver instead of getting it through a third-party tool. Yet, please note that some web pages have updating latency and don't have the latest version of the target driver, but the driver versions they provide most support the Win11 operating system.
Tip:
You may need to temporarily disable your firewall,
antivirus
, or VPN to ensure the success of the downloading.
How to Fix Realtek Rtk A2dp Latency Problem?
RtkA2dp is the Realtek Bluetooth device driver file. If it lags, your sound utility relying on Bluetooth will be affected. Here are some solutions to deal with the error.
#1 Use Microsoft High-Definition Audio Device Drivers
Follow the below steps to replace the Realtek RtkA2dp Bluetooth device driver with Microsoft high-definition audio device driver.
1. Open Windows 11 Device Manager.
2. Unfold Sound, video and game controllers.
3. Right-click on the showed Realtek High Definition Audio and select Update driver.
4. In the new pop window, choose Browse my computer for drivers.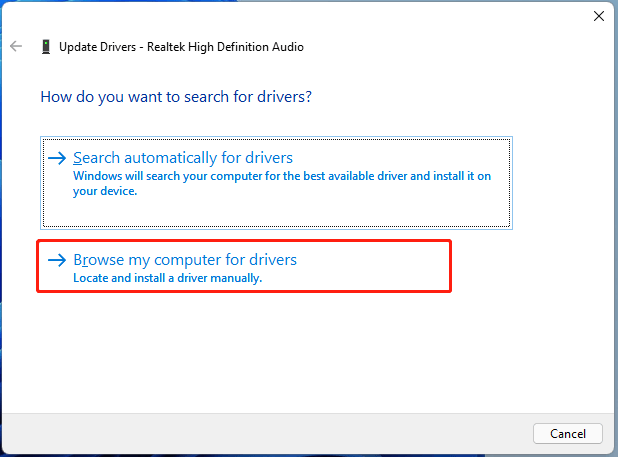 5. Then, click Let me pick from a list of available drivers on my computer.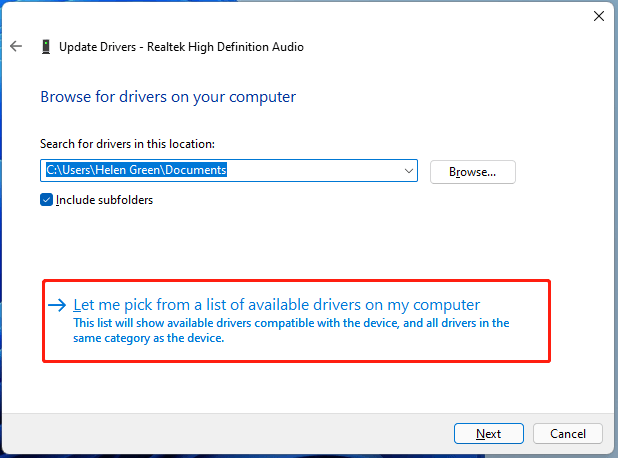 6. Next, uncheck Show compatible hardware to force the drivers affected by the problem but not written by Realtek to show up in the list. Click Microsoft in the left column and select the recent High Definition Audio Device Version in the right list.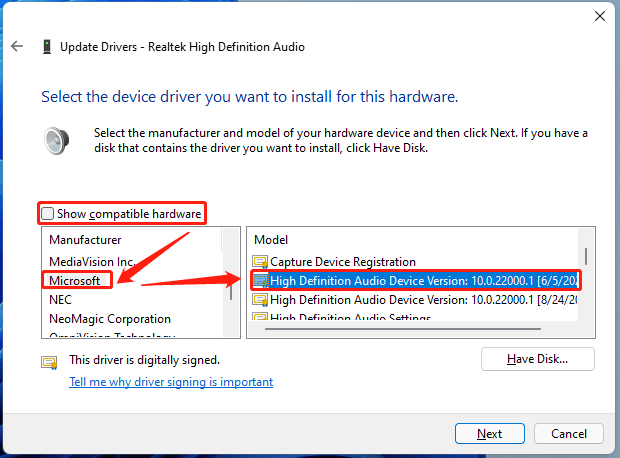 7. Click Next. It may warn you about possible compatibility problems. Just click Yes to confirm. Then, it will start installing the selected sound device driver.
8. After installation, click Close and close other windows opened before.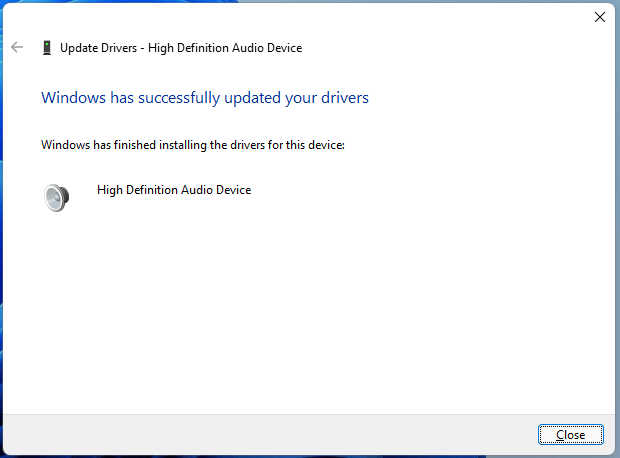 9. Finally, restart your computer even if it doesn't ask you to.
#2 Use REAL App
REAL is an application that aims at reducing audio latency on the default playback device. Besides, it can also update drivers automatically and start minimized. REAL requires Windows 10 64-bit or higher OS and Microsoft Visual C ++ 2017 Redistributable (x64) to run.
To set up the REAL app, firstly, you can install a Windows High-Definition audio driver using the steps described above. Then, download the latest version of REAL and launch REAL.exe. As long as the app is running, the Realtek audio driver latency issue will be reduced.
REAL latest version download >>
Windows 11 Assistant Software Recommended
The new and powerful Windows 11 will bring you many benefits. At the same time, it will also bring you some unexpected damages such as data loss. Thus, it is strongly recommended that you back up your crucial files before or after upgrading to Win11 with a robust and reliable program like MiniTool ShadowMaker, which will assist you to protect your increasing data automatically on schedules!
Also read: Download/Install/Remove: Realtek High Definition Audio Codecs