The article mainly introduces how to recover removed calendars and emails in Outlook. And also mentions the related email removal rules and how to permanently delete emails and calendars.
Because of work and daily life demands, we may often use Outlook to send and receive emails. Calendar is a feature in Outlook on Windows 10/11 that allows you to create appointments, events, and meetings with other people to better manage your schedule.
However, calendars and emails in Outlook may be deleted due to accidental deletion, operating system crash, or error in Outlook settings. So, how to recover removed calendars and emails in Outlook? This article from MiniTool lists several methods.
Solutions to Recover Removed Calendar and Emails in Outlook
Solution 1: Recover From Deleted Items Folder
In Outlook, there is a folder called Deleted Items Folder. It is used to store deleted emails and calendars in Outlook, and it is similar to the Recycle Bin function of a Windows system. When your Outlook calendars and emails are lost, you should first check this folder according to the following steps:
Step 1: Open your Outlook.
Step 2: Find the Folders option in the lower-left corner of the Outlook front page (if not, please click the three dots on the right to set your preferred display items). And choose the Deleted Items folder.
Step 3: Right-click the desired email or calendar, select Move, and select a suitable storage location to recover removed calendars and emails in Outlook.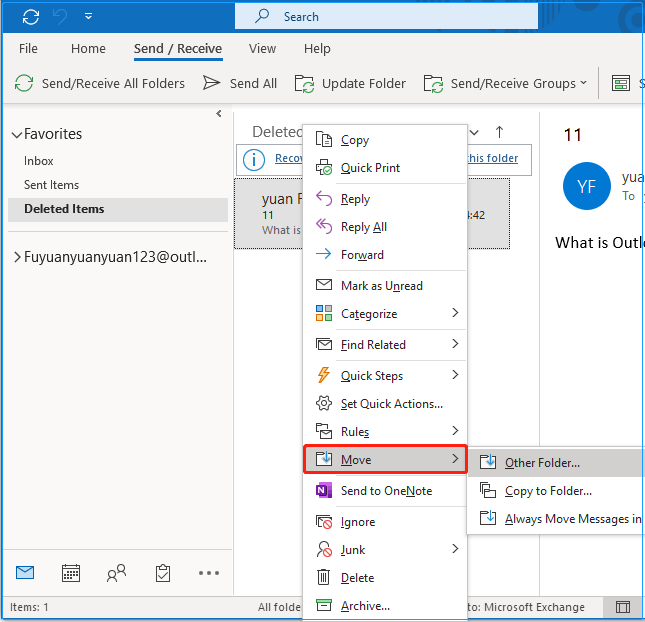 Under normal circumstances, the deleted calendars and emails will be temporarily stored in the Deleted Items folder. If there is no file here, there may be a problem with the settings of the Outlook rule. You can try to modify it by applying these operations:
Step 1: Click the File button and select Options and Advanced in turn.
Step 2: Uncheck Empty Deleted Item folders when exiting Outlook under the Outlook start and exit section.
Step 3: Click OK to save the change and exit this page.
Solution 2: Recover Deleted Outlook Emails Using Data Recovery Program
If recovering your calendars and emails doesn't work through the above method, please don't give up. There is another way to try, and that is to use a piece of data recovery software. I especially recommend MiniTool Power Data Recovery. Because it exactly supports the email file type, and you can refer to the screenshot below to select the file type in this software:
Please read this post for detailed steps about how to restore emails in Outlook with MiniTool Power Data Recovery: Top 6 Free PST Repair Tools to Repair Outlook PST Files 
Ways to Permanently Delete Calendars and Emails in Outlook
Knowing how to recover removed calendars and emails, many users may also want to know how to permanently delete unwanted emails in Outlook. Or when Outlook prompts you that the storage space is used up, you also need to clean up the files to free up Outlook space. The following three methods are listed:
Method 1: Enter the Deleted Items folder and select all files to delete. And select Yes when the page prompts you with "This will be permanently deleted. Continue".
Method 2: When you delete a file, use the shortcut key Shift + Delete instead of right-clicking to delete.
Method 3: Change the AutoArchive settings.
Step 1: Right-click the Inbox or Calendar folder and select Properties.
Step 2: Check Archive this folder use these settings and select Permanently delete old items.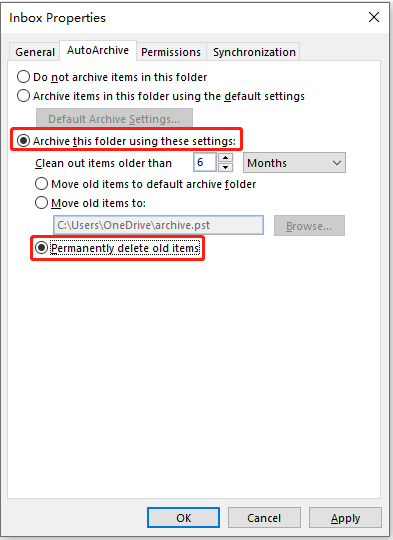 Step 3: Click Apply to complete the operation.
Articles related to Outlook calendar:
Wrapping Things Up
This article has introduced how to recover deleted Outlook calendars and emails, and I hope it can help you. If you have any questions or suggestions about the use of MiniTool Power Data Recovery, please contact us at [email protected].