Summary
As the premium brand of Seagate, LaCie announced a new mobile SSD in early 2019. Like other common SSDs, the LaCie mobile SSD enjoys a fast speed and good performance. Yet, what distinguishes it from other similar SSDs is that this LaCie external SSD is mainly developed and released for Mac users around the world.
LaCie Mobile SSD: the SSD for Mac Users
The new LaCie mobile SSD made its debut recently in February, 2019 at the Consumer Electronics Show to bring benefits for Mac users. As an external SSD equipped with USB-C, USB 3.0, and Thunderbolt 3, it can achieve a fast transfer speed, which is up to 540MB/s. Besides, this new LaCie portable SSD is able to keep your workflow on task and on point on daily basis. In addition, the stylish diamond-cut enclosure and color-matched anodized aluminum are attracting and these designs are a good way to celebrate the 30th anniversary of LaCie.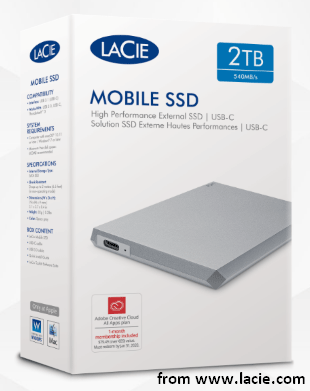 Though designed for Mac users, the LaCie SSD is also compatible with common Windows operating systems, like Windows 7, Windows 8, and Windows 10.The thin and light enclosure appeal to many people and they make it very easy to carry around the LaCie SSD. If you are interested in this new portable LaCie SSD, you can purchase it from Apple now.
Apple Is Selling LaCie 2TB DJI Copilot BOSS Drive Now!
Get Hands on More Details of LaCie External SSD
In this part, I'll introduce the new LaCie SSD to you in mainly 3 aspects: the designed, speed & performance, and data storage.
The Diamond-cut Design
An eye-catching diamond-cut aluminum enclosure has been applied to LaCie new mobile SSD. This makes the whole SSD nearly seamless; the only seam is hidden under the bevel of the device. The diamond-cut design is one of the most attracting highlights of new LaCie mobile SSD, according to many people's point of view. It seems to be the best looking external SSD ever.
The new SSD is designed on the basis of a brushed aluminum material, making it match well with the MacBooks of Apple (especially the Space Gray model). To be specific, the color of the space gray finish is a little bit darker than that of the anodization of the Mac lineup.
Fast Speed & Large Capacity
You can find a single USB 3.1 Generation 2 type-C port easily on the surface of the new LaCie SSD. Where is it exactly? Indeed, it sits next to the subtle LED pinhole, which flashes to indicate that you are using the drive.
In the product package, you can see both a USB-C to USB-C cable and a USB-C to USB-A cable. With the help of them, the LaCie external SSD product can be compatible with both the latest Macs and the hardware/PCs.
The data transfer rate is very fast (up to 540MB/s); this is similar to that of the SSDs made by Samsung, G-Technology, and Western Digital. But please remember that you can't experience the maximum transfer speeds when the USB-A to USB-C cable is used. Why? The direct reason is that USB-A doesn't give support to USB 3.1 Gen 2.
Tip:
Are you interested in the external hard drive? Do you need to recover data from WD external drive? If yes, please
go there
to know how to recover.
As for the capacity, LaCie provides you with 3 choices: 500GB, 1TB, and 2TB. You may choose the one that meets your demands the most.
High Data Security
As I have mentioned, the LaCie mobile solid state drive contains an aluminum enclosure. The aluminum material is featured with two main advantages: light and durable. So even if it falls from a height of up to 3 meters, the LaCie drive is going to stay intact. That's what makes this drive a good data storage device.
By default, the LaCie portable SSD is formatted in exFAT, which can be used on both Mac and Windows. But if you are not satisfied with this, you can reformat it easily through the Disk Utility feature in Mac OS.
Why LaCie mobile SSD is a good choice for data storage:
The LaCie Toolkit software helps to manage the SSD effectively.
LaCie Toolkit allows you to sync files between mirrored folders for automatic file backup purpose.
You are provided with a three-year warranty and a three-year Seagate Rescue Data Recovery plan.
You can enjoy the one-month subscription to Adobe's Creative Cloud All Apps plan for free.
You may need a backup and disaster recovery plan:
The practical backup and disaster recovery strategy could play an important role in an enterprise's life and death sometimes.