You must be very fretted when facing the Roblox internet connection error but if you come to this post on MiniTool Website, all your worries will go. Now, follow the instructions on this post with a cool head and a rational mind!
Roblox Connection Error
Roblox is a sandbox game which is very similar to Minecraft. The game experience may vary from map to map. But sometimes, you will get frustrated due to Roblox being unable to contact the server. In this case, you can look through the guidelines mentioned below carefully for more instructions.
How to Fix Roblox Connection Error?
Preparation Before Proceeding
Before taking any countermeasures, you should check the Roblox server status. Because any solutions won't work out for you if the server status is down. Just click here to check the status of Roblox. If it is not down, you can try the next solutions. If it is under maintenance, you can do nothing but wait for the developer to fix it.
Fix 1: Allow Roblox Through Windows Defender Firewall
Windows Defender Firewall will block some programs to access to the internet to safeguard your computer. If Roblox is not allowed through Windows Firewall by mistake, you can the next steps:
Step 1. Go to Control Panel > System and Security > Windows Defender Firewall.
Step 2. Click on Allow an app or feature through Windows Defender Firewall.
Step 3. Hit Change settings > Allow another app.
Step 4. Tap on Browse to find the executable file of Roblox, choose it and hit Add.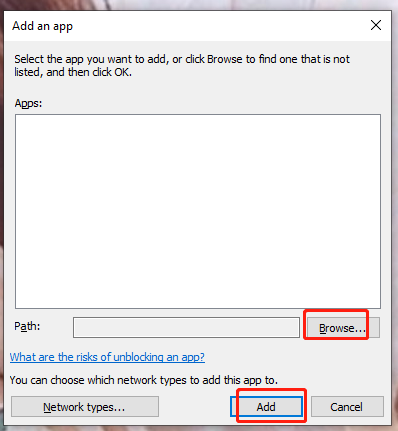 Step 5. Press OK and relaunch the game again to see if the connection error Roblox is fixed.
Fix 2: Check Network Connection
Another culprit might be a slow network connection. You can use another device to play this game to test if there are some connection issues on your computer. Reboot the router and try to use a LAN cable will make the game run faster.
Fix 3: Tweak a Browser
Roblox is a browser-depended game but it doesn't support all browsers. If you run into a Roblox connection error, it is a good choice to use a different browser. It is highly recommended to use Mozilla Firefox and Google Chrome.
Fix 4: Disable Extensions
Roblox displays ads on its website so it cannot work with ad-blockers. To fix the Roblox connection error, you need to disable them.
Step 1. Open your Google Chrome and click on the three-dot icon to choose Settings.
Step 2. On the left pane, hit Extensions.
Step 3. Disable all the extensions and restart your browser to see if the Roblox connection error still persists.
Fix 5: Reinstall Roblox
If none of the methods above is helpful to you, you need to reinstall Roblox because the installation package may be corrupted. To do so:
Step 1. Press Win + I at the same time to open Settings.
Step 2. Scroll down to locate Apps and hit it.
Step 3. In Apps & features, find Roblox and choose Uninstall.