The Rocket League connection issue may seem complicated to deal with but there are still some ways that can help you get rid of the Rocket League error 71. First of all, you need to understand what the error is and then you can deduce further solutions for the trouble. This article on MiniTool Website can be a guide.
Rocket League Error 71
When you play Rocket League on your computer or other devices, you may find the connection lost and a message will pop out to remind you that your connection to the game timed out (error 71).
That is a type of matchmaking error possibly caused by a network issue, a remote server outage, or other issues. For detailed solutions, you can refer to the next part.
Solutions for Rocket League Error 71
Solution 1: Check the Server Status
You need to check the current server status first and see if the server is undergoing maintenance and restoration, which will require you to wait for its finish.
To see the server status on different gaming platforms, there are some paths for you.
Besides, you'd better follow the official Rocket League Twitter website where all related information will be issued and the server status might be disclosed here.
Solution 2: Restart or Reset the Router
If you find the server runs well, the culprit that causes the connection timed out error might be network inconsistency. To fix a network inconsistency, you can try to reboot or reset your router.
Step 1: Unplug all hardware from your router and modem.
Step 2: After 30 seconds, plug in the modem and power on it.
Step 3: Wait about 60 seconds until your modem has successfully authenticated with your ISP.
Step 4: Plug in the router and power on it. The booting process may cost 2 minutes.
When your router and modem reboot successfully, you can check if the connection lost error has gone.
Related article: Modem VS Router: What Is the Difference Between Them?
Solution 3: Add Exception to Security Software
It is possible that your security software blocks Rocket League, leading to the rocket league connection issue. Therefore, you can make an exception for your game.
Step 1: Type Windows Security in the Start menu and open it.
Step 2: Navigate to Virus & threat protection and under Virus & threat protection settings, choose Manage settings.
Step 3: Scroll down to choose Add or remove exclusions under Exclusion.
Step 4: Choose Add an Exclusion and then a drop-down menu appears where you can choose File, Folder, File type, and Process.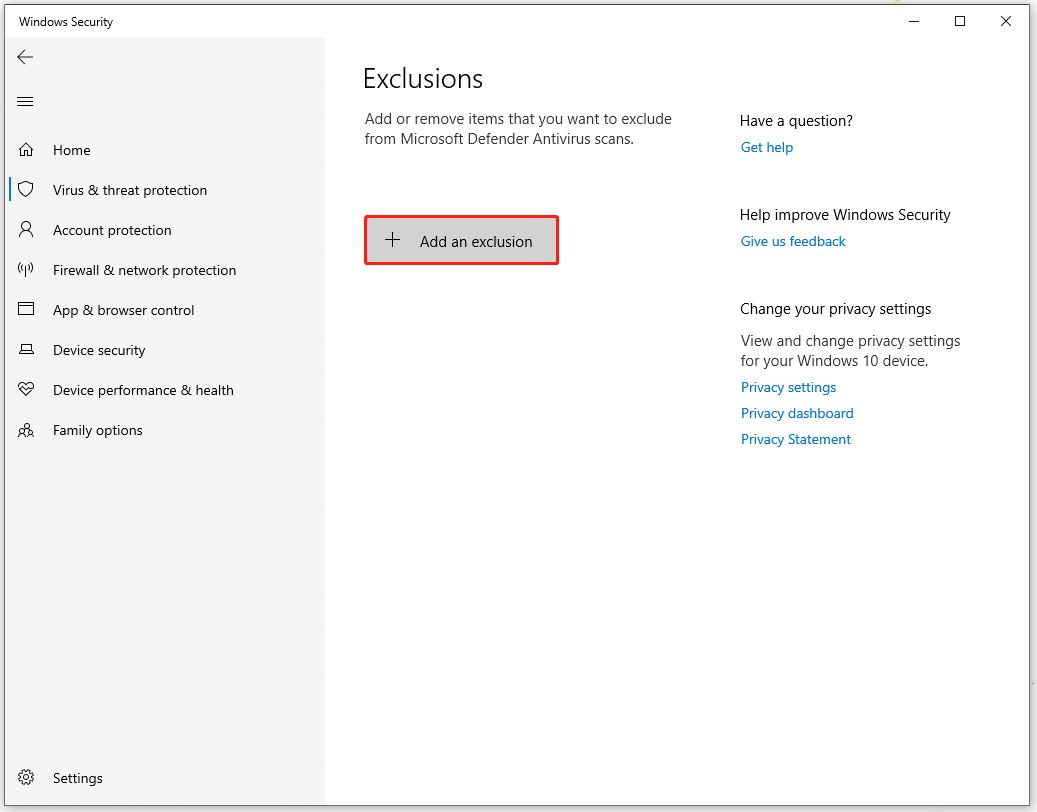 Step 5: Choose Process and then enter the process name or the full path and filename of the process or program into the pop-up box. Click Add to add the process as an exclusion.
Then you can try Rocket League again.
Some Other Advice
If the above methods are useless for you, there are some other tips that may work.
Make sure you are playing the most up-to-date version of Rocket League.
Restart your gaming device.
Update the firmware on your router.
Forward the ports used by Rocket League.
Bottom Line:
The above methods can be useful for fixing the Rocket League error 71. You can try them one by one and hope you can get a better gaming experience.