Are you looking for a post focusing on Samsung NVMe driver Windows 10/8.1/7 download and install? This is the related post and MiniTool will show you how to install Samsung NVMe driver for Samsung 950/960/970 SSD to get the optimal performance. If the Samsung NVMe driver won't install, try some tips recommended by users.
Some of you choose to install an NVMe SSD like Samsung SSD 980 PRO, 970 PRO, 970 EVO, 970 EVO Plus, 960 PRO, 960 EVO, and 950 PRO on your PC so that you can run your PC with the best performance. To let your computer recognize this NVMe SSD and make sure its normal work on the machine, you need to install a Samsung NVMe driver.
Tip: 
If you need to
transfer Windows to an NVMe SSD without reinstalling
, you can choose MiniTool ShadowMaker to clone the system disk to that SSD. Before migration, back up important files with that backup software on the SSD since the cloning process can lead to data loss.
Besides, sometimes you may run into a Samsung NVMe connection issue, it is essential to download or update the Samsung driver for your Windows. Well then, how to install Samsung NVMe driver for Windows 10/8.1/7? Go to reading the next part.
Samsung 950 Pro NVMe Driver or 960/970 NVMe Driver Download for Windows 7/8.1/10
Samsung offers its own NVMe driver for NVMe SSDs to bring optimum compatibility and overall performance. If you are using a Samsung 970 PRO, 970 EVO, 970 EVO Plus, 960 PRO, 960 EVO, or 950 PRO NVMe SSD, you can directly get the NVMe driver from the Samsung website.
Step 1: Visit the Samsung Magician & SSD Tools & Software Download website.
Step 2: Scroll down to the Driver section or click Driver from the navigation bar.
Step 3: Locate NVMe Driver and click the DOWNLOAD button to begin downloading it on your PC.
How to Install Samsung NVMe Driver Windows 10
After getting the Samsung_NVM_Express_Driver_3.3.exe file, double-click on it to start the installation.
1. Select a language to continue.
2. When seeing the following window, click Next to continue.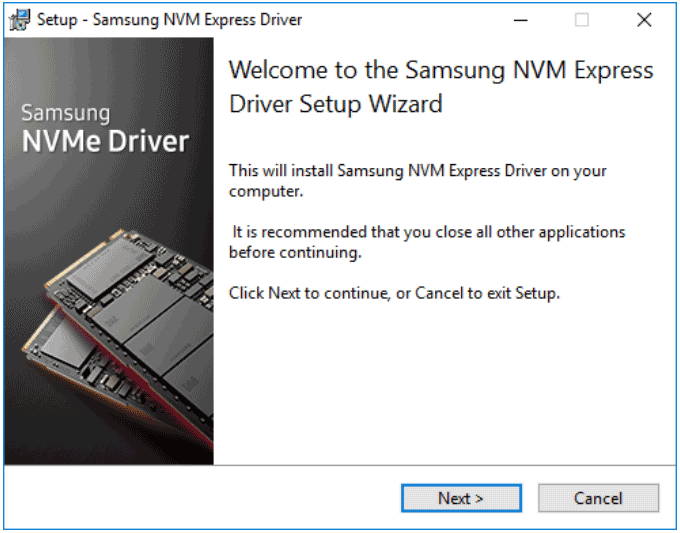 3. Accept the license terms.
4. When the Samsung NVM Express driver is ready to install, click the Install
5. Decide whether restart the PC now or later.
After installing the NVMe driver for your SSD, you can go to Device Manager > Storage controllers to check if you can see Samsung NVMe Controller. If yes, this means the installation is successful.
Note:
This given Samsung NVMe driver is only compatible with Windows 7, Windows 8.1, and Windows 10. Besides, there is no official Samsung 980 PRO driver. That is, the given NVMe driver is not applied to
Samsung 980 PRO SSDs
.
If you want a Samsung NVMe driver for Windows 11, you cannot get it from the Samsung website. You can search for "Samsung NVMe driver Windows 11" to look for the answer. Two options are given to you.
Windows 11 Install NVMe Driver's Up-to-Date Version
Someone recommends installing a new version of Windows 11 NVMe driver for a Samsung SSD with a professional driver update tool. Driver Easy, Driver Booster, DriverMax, etc. can be the best Windows 11 driver update software. You can download and install one on your PC to automatically update the Samsung NVMe driver for Windows 11. Of course, the update tool can be compatible with Windows 10/8.1/7.
In addition, you can update Windows 11 NVMe driver for Samsung 980 PRO, 970 PRO, 960 PRO, etc. SSDs via Device Manager. Just open this app, expand Storage controllers, right-click Samsung NEMe Controller and choose Update driver. Then, click the first option to let Windows automatically check for, download, and install the latest driver.
Samsung NVMe Driver Won't Install
According to some forums, many users have reported that they couldn't install the Samsung NVMe driver on Samsung 980 PRO SSD or install Samsung PRO 970 NVMe driver in Windows 11/10. You can get the error saying "Samsung NVM Express Device is not connected. Connect the Device and try again".
We collect some recommended tips:
Download and install the Microsoft NVMe driver for your SSD.
Change the SATA mode in BIOS to AHCI or switch from RST to AHCI to install the Samsung NVMe driver. If NVMe drives don't use SATA but PCI express lanes, this way doesn't apply and you can follow the steps in this video of Samsung NVM Express Device is not Connected.
Run the installer from the C: drive instead of the D: drive where your Downloads folder is. This would install the NVME driver.
Some users said the Samsung NVMe driver is for a Windows install. So, you can also have a shot.
If you still cannot solve your issue, ask Samsung Support for help.