It is said that Samsung has released the Endurance with new Pro lineup. Unlike other similar memory cards, the Samsung Pro Endurance is mainly designed for video recording. It can be used widely in cameras, smartphones, tables and many other devices. Now, I am going to introduce this wonderful Micro SD card to you.
Samsung memory cards are famous all over the world since they are tough and stand-up to daily use. Over the past years, Samsung has been doing well in Micro SD card developing and digital devices manufacturing. Unsurprisingly, the release of Samsung Pro Endurance wins many people's applause. The product package includes a full-size MicroSD to SD card adapter for cameras and card readers that use the larger format.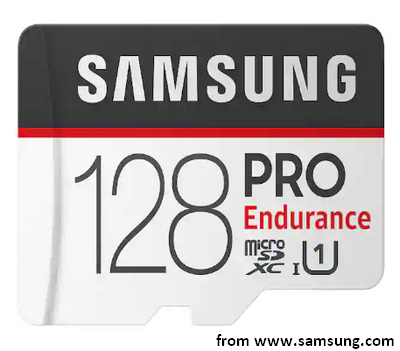 The main obvious advantages of the new Micro SD card when compared to other memory cards are:
Higher capacity
Optimized performance
Improved endurance
Slightly smaller
More excellent build quality
Up to five-year limited warranty
…
Here's how you can deal with the Micro SD card not formatted error:
Samsung Pro Endurance Review
A Good Choice for Dash Cams
As I have mentioned, you can find the Samsung Pro Endurance SD card in many devices, cameras, smartphones, etc. (like other similar memory cards). Yet, this Samsung memory card can be used in action cams and dashboard cameras. That is to say, the Samsung SD card can deal with non-stop video recording, which is actually a tough task for commons cards since they are not designed for continuous writing. Thus, it is a good choice to capture all your crucial moments.
The endurance of Samsung Pro Endurance is about 25 times longer than other SD cards which focus more on speed.
A Reliable Choice for Security Cams
By adopting Samsung Pro Endurance Micro SD card, you can achieve maximum endurance for security cams, body cams, and surveillance. Certainly, a trustworthy card is essential when an accident or emergency happens. It has been proved the Samsung Pro Endurance SD card is a wonderful choice for crucial moments and prolonged write-intensive apps.
Capacity & Speed
Samsung provides you with 3 choices in terms of capacity to meet different needs:
32GB (with a 2-year limited warranty)
64GB (with a 3-year limited warranty)
128GB (with a 5-year limited warranty)
The read speed and write speed of Samsung Pro Endurance memory card are respectively: 100 MB/s and 30 MB/s.
To be specific, the 128GB model can cope with 43,800 hours of 1080p video recording; it equals to five years of around-the-clock use. Definitely, other cards would have gone on strike already.
In contrast, the 64GB Samsung card provides up to 26,280 hours of 1080p video recording and the 32GB model offers up to 17,520 hours of 1080p video recording.
This PRO Endurance memory card gives support to 4K and FHD (1920×1080) in the high endurance segment, which is said to be in need of 26 Mbps. It offers an exceptional resolution to video monitoring.
Security
In order to suffer from the situations from real-world, the Samsung Pro Endurance is made to be resistant to:
Magnets (which can produce a magnetic field)
X-rays (a form of electromagnetic radiation, similar to visible light)
Water (up to 72 hours in seawater, IEC 60529 & IPX7)
Extreme temperature (ranging from -25°C to 85°C)
Please take actions immediately to recover data if a memory card is corrupted.
Verdict
As a result, Samsung Pro Endurance is suitable for the ever-growing segment of the market. The systems like video recording and surveillance are expected to record constantly. Besides, it should overwrite old data once full. This is totally different from how a standard memory card is used. Though the read and write speeds are not the fastest, they are fast enough for the use cases it is designed around.