Portable SSD often attracts many people since it is faster and less vulnerable when compared to the traditional hard drive, which has moving parts. But the bad news for people is that the price is a lot more expensive. Yet, for people who care more about the performance and speed, SSD is a good choice. For instance, the T5 lineup of portable SSD of Samsung is a successful issue as a consumer-level portable SSD.
To tell the truth, the release of Samsung X5 SSD caused another round of buzz. Though its price is pretty high at launch, it still appeals to a lot of people. And recently, there's an obvious drop at the price, making it the perfect time to buy.
Samsung X5 SSD Runs at Lightning Speed
The Samsung X5 SSD is a top-class drive which adopts both Thunderbolt 3 technology and NVMe. The Thunderbolt 3 is able to deliver up to 40 Gbps, while the NVMe is able to provide astonishing speed.
The speed of this Samsung X5 drive is much faster than the T5 or any other portable drive; it is actually the fastest-ever portable SSD of Samsung. The sequential read speed and sequential write speed are up to 2,800 MB/s and 2,100 MB/s respectively. By using it, you are able to improve your storage tasks on Windows PCs and Macs to the ultimate heights.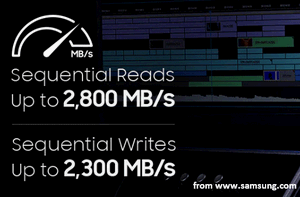 As a result, this new Samsung portable SSD is very suitable for the tech-savvy professionals to render or compile high resolution contents while keeping all the beats. The X5 is able to deal with heavier data at incredibly quick speeds.
Speed Comparison
When you compare Samsung X5 drive to a Portable SSD equipped with SATA interface, you'll find:
The read speed is 5.2 times faster than the SATA portable SSD.
The write speed is 4.5 times faster than the SATA SSD.
When you compare this Samsung X5 portable SSD to an external hard disk, you'll find:
The read speed is 25.5 times faster than the external HDD.
The write speed is 20.9 times faster than the external HDD.
To be more specific, you are allowed to transfer a 20GB 4K UHD video from PC to the X5 (or vice versa) in only 12 seconds – how amazing it is!
FYI: how to troubleshoot an external hard disk if it is not working:
Samsung X5 SSD Is Built to Be Durable
The Samsung portable SSD is designed with a full-metal body and a non-slip mat on the bottom. It is equipped with a dynamic and streamlined shape and a glossy top (the designers get inspiration from a supercar). The practical ridged bottom could help to avoid slips when held.
This X5 SSD is shock-resistant and drop-resistant. It won't break even if it falls from up to 6.6 feet mainly due to two reasons:
The body has no moving parts.
The body is reinforced by magnesium alloy.
Thermal Management Technology
Besides, the Thermal Management Technology is a safeguard included to keep X5 from overheating. The application of DTG (Dynamic Thermal Guard) technology helps to maintain the optimal performance and temperature. There is also a heat sink that is used to prevent the surface temperature from rising above 45°C (113°F). Besides, you can enjoy a 3-year warranty since you buy the Samsung X5.
Samsung X5 SSD Takes Good Care of Your Data
The X5 is believed to be the fastest external storage device up to now. After connecting it to your Thunderbolt host device, you can set it up quite easily. It is formatted with exFAT by default and includes the portable SSD software of Samsung:
Optional password protection
AES 256-bit hardware data encryption
So you can enable the encryption without performance penalties.
Optional Password Protection via AES 256-bit Encryption
The integration of Samsung's own Portable SSD Software makes it easy to encrypt the data and add password protection to sensitive files. In this way, your private information and intellectual property can be well protected. The optional password protection is designed on the basis of AES 256-bit encryption so as to make sure your data is absolutely secure.