Summary :
You may encounter the mic not working issue when using Voice Chat in Sea of Thieves. This is a common situation and many users have reported it. What should you do if you are bothered by Sea of Thieves mic not working? Follow these solutions offered by MiniTool in this post.
Sea of Thieves Microphone Not Working
Sea of Thieves is an action-adventure game that was published by Xbox Game Studios and developed by Rare. The player plays the role of a pirate to complete finish voyages from different trading companies to become the pirate legend finally.
Since its release, it has gained much popularity of users. But, many users report that there are always some issues with this game. In our previous post, we have described a common problem - Sea of Thieves not launching.
Today, we will introduce you to another issue and that is Sea of Thieves mic not working. Since this s a multiplayer game, meaning players can contact with each other for parting, trading, PvP, etc. But once the issue happens, they cannot make a voice chat.
According to users, some can use the mic in steam or discord and many other games but it doesn't work in this game. It is not fun to play without a voice chat or mic. Well then, how can you fix this issue if you are also experiencing it? Some simple and effective solutions are introduced below.
Solutions to Sea of Thieves Mic Not Working
Allow Your PC to Use Mic in Windows 10
When Sea of Thieves voice chat not working due to the mic issue happens, one of the main reasons for this is the privacy settings of Windows 10.
Usually, you may ignore the prompt to ask you whether or not the game can be given permission to use the system's microphone when you launch the game. The dialog box will disappear when closing the prompt window and it cannot come back via any in-game menu.
Even so, you can allow Sea of Thieves to access the microphone outside of the game. And here are the steps you should follow.
Step 1: Completely turn off this game if it is open.
Step 2: In Windows 10, go to Start > Settings > Privacy.
Step 3: Under the Microphone tab, ensure the switch of Allow apps to access your microphone is On.
Step 4: Scroll down to the Choose which apps can access your microphone section, find the Sea of Thieves app and ensure it is also allowed to access the mic.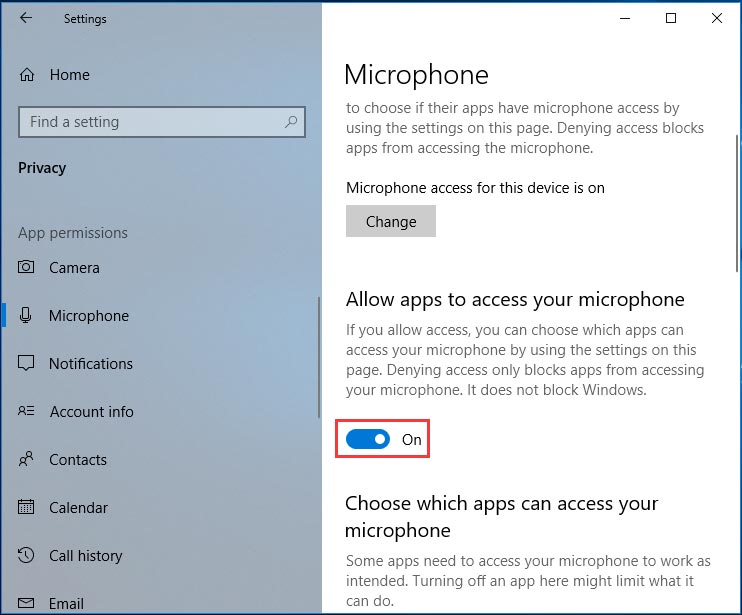 Fix the Xbox One Audio Chat Settings
In terms of the console version of the game, you can try these methods:
Reconnect Audio Devices
You only need to disconnect and reconnect the microphone, headset, or Kinect. But for the Kinect, you need to set the option of Kinect Microphone for Chat in the Settings menu to On when it is connected to the console.
Adjust the Microphone Permissions of Xbox One
Step 1: Got to Settings and choose an account.
Step 2: Select Privacy and online safety. Remember to choose App privacy.
Step 3: Go to Xbox Live privacy > Communication and multiplayer.
Step 4: Select Voice, text, invites.
Step 5: Adjust the microphone setting.
Bottom Line
Are you bothered by Sea of Thieves mic not working? Now after trying these methods in this post, you should easily get rid of the issue and now you can make a voice chat with other players.